Sofia Rows Solo, Thanks To Her Coach's Innovation
Play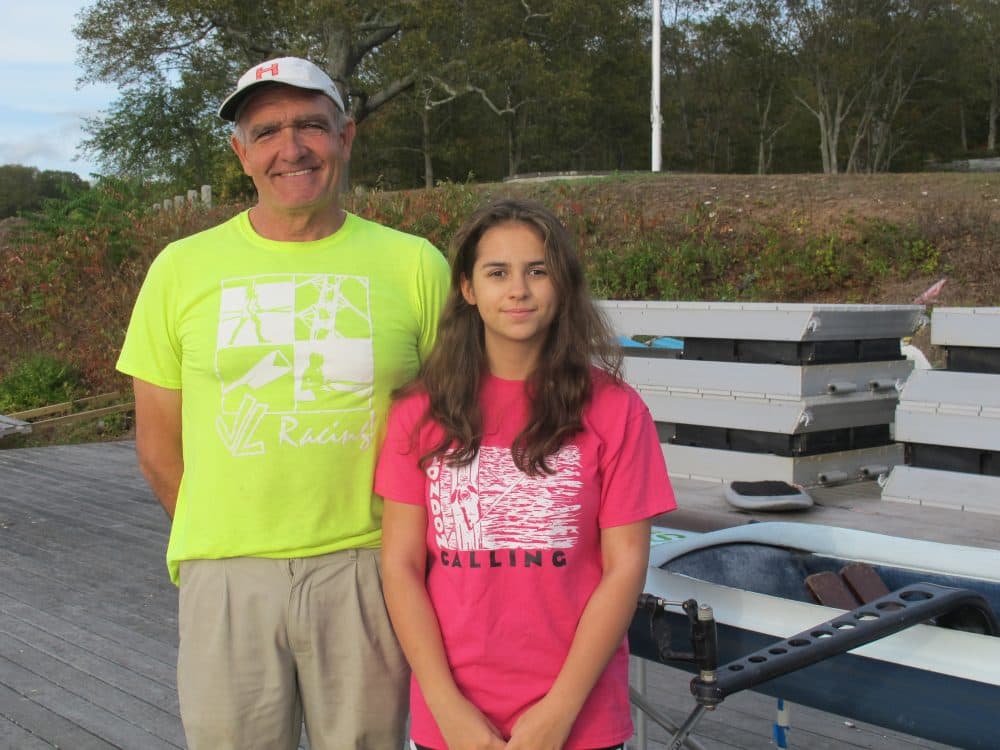 This article is more than 5 years old.
Ask Bob Berry what it's like to row with Sofia Priebe, and he'll tell a story from the Coastweeks Regatta in Mystic, Connecticut. This was in 2016.
"She and I, we rowed in a pair, which is a sweep oar for each person," Bob says. "And I could only pull whatever pressure she had to keep the boat straight."
Sofia and Bob are not a well-matched pair. Bob's this big, burly guy, and Sofia's barely a teenager.
"So when we got to the last 250 meters, I told her, I said, 'Sofia, this is it. Give it everything until we cross the finish,'" Bob says. "And I had to give it almost everything I have to keep that boat straight. I couldn't believe it. She rows like she's over six feet tall and she's only, maybe, five feet?
"We had to settle for third. We missed second place by 11 seconds to this college crew, which is -- that's incredible. This little, tiny girl."
That was last year. Sofia is now 14. But she's still only about 5-foot-2.
And the thing Bob doesn't mention about Sofia when he tells that story is — she's blind.
Sofia was born with a rare inherited retinal disease. She's been losing her vision since birth. Some days she can still see colors. Some days she doesn't see anything at all.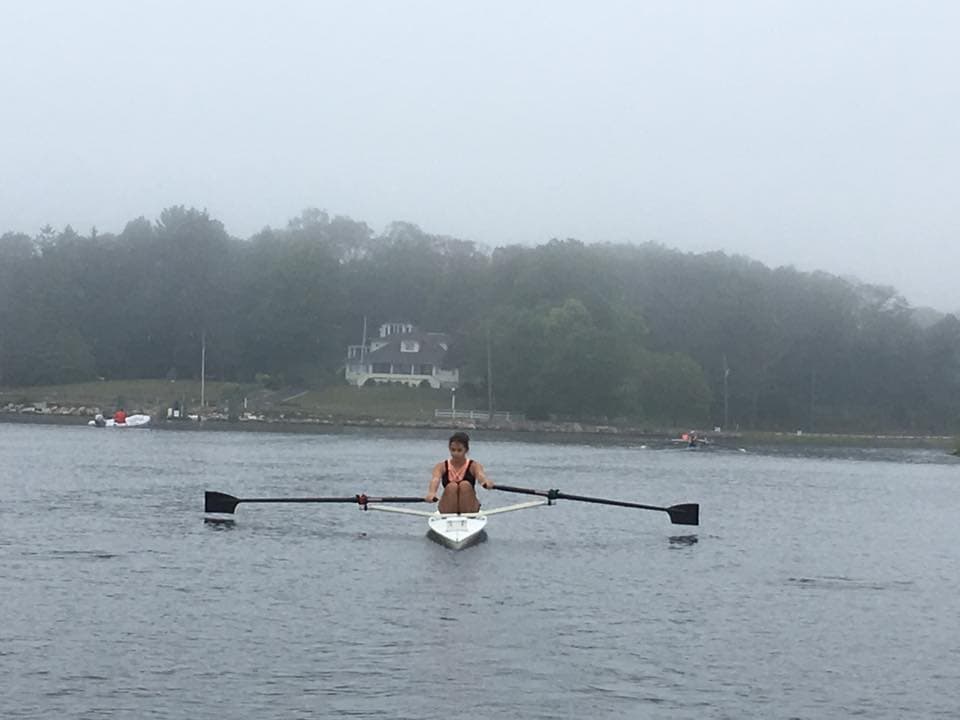 'You Don't Need To See To Row'
Bob is Sofia's coach. And when he learned he'd be coaching a rower who's blind, he wasn't worried about it at all.
"You don't need to see to row," he says. "It's a feel that you can feel in a boat. You can blindfold a complete crew of eight, and they'll all stay together. You don't need vision — except you need to know where you're going."
In the Paralympics, blind rowers are placed in boats with sighted crew members with physical disabilities. They steer the boat.
But before we continue with our story, there's one more thing you should know about Sofia.
"She's very shy," Bob says. "Yeah, she's not a very talkative person. If you get her to talk today, you'll be doing something."
OK, no sense in trying to build the suspense. I did not get Sofia to talk. When I asked her why she started rowing, she said she didn't know. When I asked what she liked about rowing, she said she didn't know. Actually, the only question she seemed to be able to answer was whether it was fun to row with her older brother, Dante.
"No, he's kind of annoying, I guess," Sofia says. "Just yells at me the whole time."
So, I did what any reporter with a reluctant interview subject would do. I called someone else.
Sofia's mother, Laura Manfre, says she signed Sofia up for rowing a couple of years ago.
"And, it was kind of hard to tell, does she like it?" I ask.
"It's kind of hard to tell anything at this age," Laura says, laughing. "She does like the rowing. She is enjoying it. You definitely caught her on a bad day. So in that regard she is a perfectly normal teenager."
Yeah, a normal teenager, except some doctors say Sofia will lose what remains of her vision by the time she finishes high school.
Laura says Sofia's been dancing since she was 3 or 4, but it's become more difficult as the moves get more advanced and Sofia loses more of her sight. That wasn't a problem with rowing, because Sofia always rowed as part of a team.
Still, rowing on a team wasn't enough for Sofia's coach, Bob. Because rowers, at least the rowers who aren't blind, can leave the rest of the team on shore, if they want to.
"I don't want her to feel that there's — 'Well, you can't do that,'" Bob says.
A Coach's Innovation
Bob knows what it's like to be told you can't do something. He grew up in Gales Ferry, Connecticut, a village on the western bank of the Thames River.
When Bob was young, there weren't rowing programs for working-class kids in Gales Ferry. Bob would watch the crews from Harvard and Yale practice on the Thames ahead of their annual summer regatta, and wish he was on the water with them.
"Oh, absolutely," he says. "Wanted to go out there, wanted to go out on a practice with them."
Bob was never far from the sport. Later, he'd be hired to take care of "Red Top," the historic Harvard boathouse.
Bob was 45 by the time he finally got the chance to try rowing for himself. A few years later, he became a coach. He's determined to share the sport with anyone who wants to give it a try.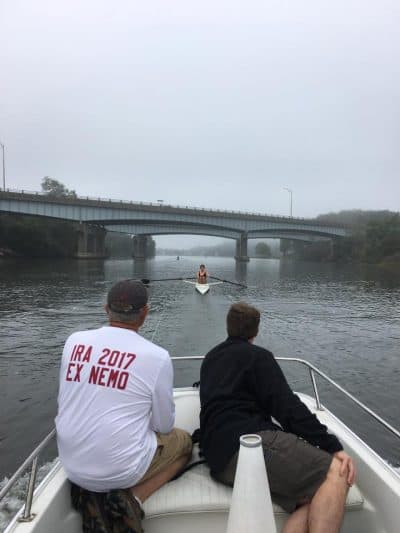 So, without any sort of prompting, Bob started to research ways for Sofia to row on her own.
"He was so excited about this," Laura recalls. "And, he rows a single himself, so he loves that freedom of being out on the water on your own. And really wanted her to experience that."
Sofia wasn't exactly enthusiastic about the idea.
"'OK, sure,'" Bob remembers Sofia saying. "Yeah, that's it. So that could be, like, 'Yeah!' She might be exploding inside with enjoyment. But she doesn't show it."
Bob didn't need much encouragement. But, he soon discovered that all the available options seemed to include the one thing Sofia didn't like about rowing: all that yelling.
"People have done it just by following them, giving verbal instructions: 'Keep it even.' 'Pressure on port.' 'OK, even it out.' So over the winter I came up with this," Bob says.
"OK, so you spent the winter on this, so tell me — " I begin to say.
"I wouldn't say I spent the winter — I spent one winter afternoon on it."
Bob called a friend who owns a machine shop. They took apart a couple of smashed up remote control cars and attached the components to a rudder on Sofia's boat. Bob planned to follow behind Sofia in a launch, using the remote to steer.
He called his invention the "Remote Coxswain."
Last spring, Sofia Priebe went for her first solo row on the Thames River. Bob's girlfriend took a video on her cell phone.
Laura, Sofia's mom, watched.
"I wasn't nervous at all," Laura says. "She really is a great rower. And worst case, she swims well. So I wasn't too worried."
'She Seemed Pretty Happy To Me'
A few months later, Bob decided Sofia and the "Remote Coxswain" were ready to compete in a regatta. So he talked to the race committee at Coastweeks. They said, sure, Sofia could row in the singles. But wouldn't she prefer to compete in the class for rowers with disabilities? Bob said no.
"I know that she wouldn't want to be in the adaptive event," he says, "which is half the distance: 1000 meters instead of 2000."
The race committee agreed. They ran Sofia's boat last, so that Bob and the remote control could follow behind in a launch.
"I gave her the signal, 'This is the last 250 meters, empty the tank, let it go,'" Bob says. "And she did, right to the end."
Bob says Sofia performed well. And so did his "Remote Coxswain."
"Straightest line," Bob says. "Straightest race, probably, ever rowed on that course, ever."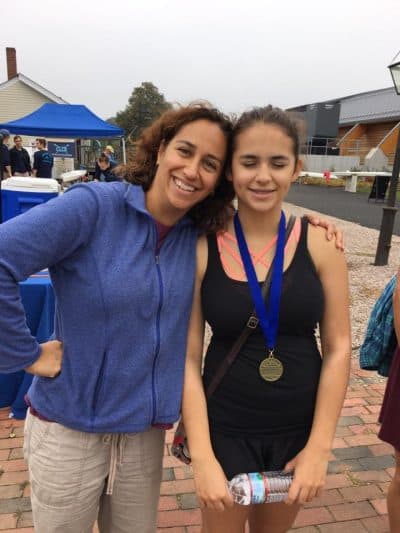 When I asked Sofia if she was proud of how she did in that race, she shrugged her shoulders as if winning or losing didn't matter. But her mom's not buying it.
"Yeah, she's — I think she's lying," Laura says, laughing. "When the times first came out, it showed that she came four out of six."
"And when they said fourth for her, I could see her face — she wasn't happy with that," Bob says.
Bob had entered Sofia in the class for racing sculls. But she was rowing a much wider and heavier recreational boat.
"So she was against boats that are a lot faster," Bob says.
The race committee took another look at the results. Enough recreational boats had entered the race to warrant their own class. So, they made a new announcement: Sofia had won ... by a lot.
"When she found out she actually won in her class, she seemed pretty happy to me," Laura says.
There are photos. And I have to say, Sofia looked pretty happy, too.
Laura Manfre and Chuck Priebe are the co-founders of "Sofia Sees Hope," an organization that raises money to support those with rare inherited retinal diseases like Sofia's. 
This segment aired on November 4, 2017.