Fritz Pollard: The Small Running Back Who Broke Big Barriers
Play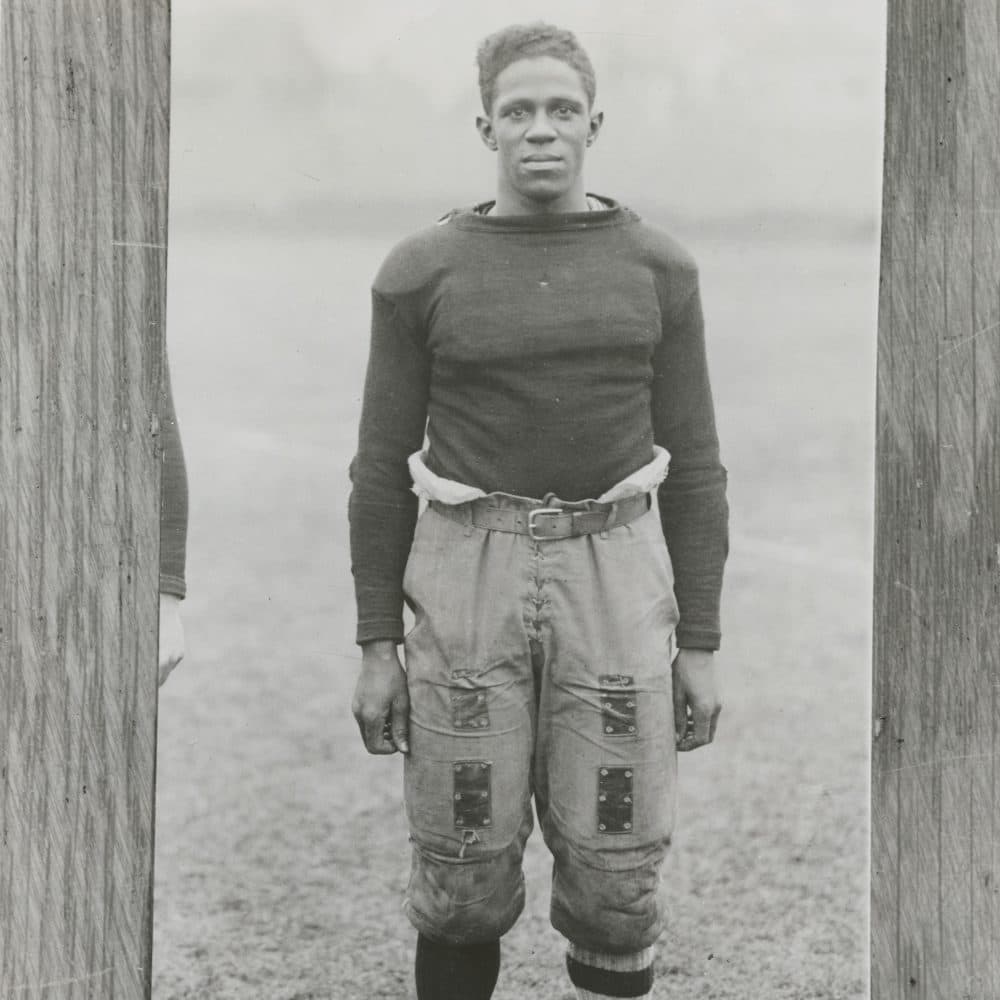 This article is more than 4 years old.
This story re-aired on July 4, 2020. It originally aired on January 13, 2018.
The story of Frederick Douglass "Fritz" Pollard spans generations.
"My earliest memory of him was when he gave me this football," Fritz Pollard III, Pollard's grandson, says with a laugh, "and would take me around in the backyard and show me how to run pass patterns. The first time he knocked me down, I was sort of shocked that he hit me that hard. But then I realized that I wasn't hurt, so you just get up. And you just keep getting up." 
Story continues below
Subscribe to the podcast
That was a lesson Fritz Pollard the elder was well-qualified to teach.
Fritz Pollard was born in Chicago in 1894, the seventh of eight children. His mother was Native American, his father an African American who boxed professionally during the Civil War. Pollard ran track and played baseball and football at Chicago's Lane Tech High School, where his athleticism was celebrated.
Racism And Respect At Brown
In 1915, he enrolled at Brown University on a Rockefeller Scholarship. According to Fritz Pollard III, things changed:
"His teammates, basically, really wouldn't talk to him or anything until they saw what he could do." 

What Pollard could do was rack up yards — 60, 70 and 80 yards at a time. Once he got the ball, the tough, 5-foot-6 halfback flew downfield, his trademark baggy football pants flapping in the breeze.
"Once they saw his talent, he won them over," Pollard III says. "And his personality also won them over. So from then on, they had his back no matter what."
That would be useful. As the only African American on the field, Pollard was the subject of verbal abuse and worse. In the college game of 1915, punching, kicking and eye-gouging at the bottom of the pig pile were routine. Pollard was often a target.
"He learned how to protect himself by rolling over and kicking his feet like a cat if somebody tried to pile on and drag their feet on him to cut him," Pollard III says.  
His teammates also protected him.     
"They would all wear baggy uniforms, so that way no one could tell in the game who he was," Pollard III says. "And sometimes they even darkened their faces with shoe polish, so they couldn't tell who he was."
I ask Pollard III if that happened during games.
"Yes, during games! Back then, in 1915 and 1916, that's unheard of."
But there was little Pollard's teammates could do to protect him from abusive fans.
"They had death threats when they played certain schools in certain areas. And these were Ivy League schools that still were as racist as anywhere else. It went all through the country," Pollard III says. 
"There were times when he had to be escorted onto the field by the police," says Dr. Steven Towns, another of Fritz Pollard's grandsons. "The Yale fans used to sing 'Bye Bye Blackbird' when he came on the field."  
Brown earned an invitation to the 1916 Rose Bowl. The New Year's Day game against Washington State University almost didn't happen. Pollard's grandsons know the story, which began at the team's hotel.
"They wouldn't let my grandfather sign in," Pollard III says. "So they said 'Well, take us back to the train station, because if you won't let him stay, we're going back.' Brown was going back to Rhode Island if they weren't going to let my grandfather stay in the hotel."
"The team then refused to stay, and the hotel worked it out", Towns says. "Meaning they let him stay."
Pollard had become the first Black player in Rose Bowl history. And he would go on to break other barriers.
Earning Respect In The Pros
After a stint in the Army at the end of World War I, and three years coaching Lincoln University's football team, Fritz Pollard signed with the Akron Pros in 1920, the inaugural season of the American Professional Football Association, the forerunner of the NFL. He was one of a handful of Black players in the league. And he flourished.

"He rarely came out of the game," Pollard III says. "He played quarterback, he was running back. He did punt returns, kickoff returns. He even did the punts and the kicks, where they used to do the dropkick for the field goal. There wasn't a thing he didn't touch in the game."
Pollard's accomplishments notwithstanding, Aaron Dodson, of ESPN's "The Undefeated," says not everyone welcomed him into the pros.
"And there was a group of players who just didn't really like that fact that this Black man was not only in the league, but he was also an elite player in the league."
Pollard spoke about that in a 1974 NFL Films interview:
"I'd look at 'em and grin. Didn't get mad and wanna fight 'em. Just look at 'em and grin, and the next minute run 80 yards for a touchdown."
He did that a lot. Before the Akron Pros' first game against the powerhouse Canton Bulldogs, he tried it out on a football legend.
"Jim Thorpe walked up to him and said, 'Do you know who I am?'", according to Pollard III.  "And he goes, 'Yes, I know who you are. I've heard about you'. And he goes, 'Well, I've heard about you, too'. And he called him the N-word. And my grandfather, not to miss a step, called him the N-word. And Thorpe just sort of stepped back and looked at him. He said he was going to kill my grandfather. He said, 'Well, if you're ready to kill me, you can find me down there in your end zone.' And, opening play, my grandfather took the kickoff all the way back for a touchdown. And he's waving for Jim Thorpe to come on. And after the game, Thorpe said he's the best back he's ever seen."   
Pollard led his Akron team to an 8-0-3 season and the very first pro football title. According to Towns, after that the star player of the Decatur Staleys let the football world know that he, too, disapproved of Pollard's presence.
"George Halas said he'd never play a team with the N-word on it again," Towns explains.  
George Halas was one of the NFL's founders and a future Hall of Famer. Despite Halas' hatred, or maybe because of it, Pollard was a major draw. Some fans showed up to see him run. Others to see him get pummeled. Some credit Pollard and Jim Thorpe with saving the league, which struggled early on to compete with baseball, boxing and horse racing.
Because of his star power, Pollard was well paid. He made $1,500 a game by one estimate. That's about $20,000 these days. In 1921, Pollard became the NFL's first Black head coach when he was named Akron's player-coach. In 1923, he became the first Black professional quarterback. But Steven Towns says his grandfather didn't receive the respect he should have.
"Unfortunately, he used to have to get dressed in his car. Can you imagine that? Your star player having to get dressed in his car and then come onto the field?" Towns asks.
In some ways, it's hard to quantify just how good Fritz Pollard was as a player, because statistics from the 1920s are unreliable and incomplete. Fritz Pollard's pro football playing career ended in 1926. The following year, there were no African Americans in pro football.
Pollard had already begun a career as an entrepreneur. He had established the first Black-owned investment firm in the U.S. in 1922. He would go on to be a newspaper mogul and talent agent for many Black entertainers, including Lena Horne and Pollard's former Akron Pros teammate, Paul Robeson.
"Jim Thorpe walked up to him and ... he called him the N-word. And my grandfather ... called him the N-word. And Thorpe just sort of stepped back and looked at him. He said he was going to kill my grandfather."

Fritz Pollard III
Pro Football Bans Black Players
Pollard flourished as a businessman. But in the early '30s, he noticed a disturbing development in the NFL. And it motivated him.
"In 1933, the league sort of enacted this 'gentleman's agreement' that barred African American players from the league," Dodson says. "And he took it upon himself to continue those opportunities for those Black players who had proven, like himself, that they were able to play in the National Football League at the highest level."
Pollard's response was to barnstorm with a team that included Jackie Robinson's older brother, Mack, and Paul Robeson. They called themselves the Brown Bombers.
"Named after Joe Louis," says Dr. Charles Ross, director of African American studies at the University of Mississippi.  "They played out of Harlem. He was the coach of that team. And, ultimately, he really wanted for them to showcase their talents and potentially apply pressure to the NFL owners to have to answer as to why Black players were not on these NFL rosters. To say, 'Hey, you know, we're pretty successful. We're very competitive against these white semi-pro teams. How come they aren't getting this opportunity to play in the National Football League?' "

Pollard III says they were more than competitive:
"The Brown Bombers were 29-0. Never lost a game. Their talent was just so incredible. It had to have been some kind of team."
"They were beating some of the pro teams so badly that they had to hold the score down, because they were afraid that they weren't going to play them anymore," Towns says. "So it was a little bit more than an exhibition game. When you got white players at that point in time playing Black players, it meant something."
The Brown Bombers folded in 1938, one of the many casualties of the Great Depression. It's hard to know exactly how much pressure Pollard's barnstorming team put on the NFL, but the league finally reintegrated in 1946.
Pollard Inspires A New Generation
Fritz Pollard faded out of the public eye in the decades following the demise of the Brown Bombers.
"He really didn't talk about his legacy in terms of the league," Dodson says. "He was a very reserved man, and once his football career was over, it was over."  
Pollard focused on his family and his businesses. He watched from a distance as Jim Thorpe, George Preston Marshall and George Halas, who had opposed the inclusion of Black players in the pros, were inducted into the Pro Football Hall of Fame's inaugural class of 1963. But as time went on, Pollard's legend grew, until some of the league's most powerful men took notice.
One of them was NFL Commissioner Paul Tagliabue, who, according to Towns, would hand out books celebrating his grandfather's life.
"Tagliabue told me that he kept a case of books. And he said he would pass those out to people who would come into his office, because he was just so amazed at my grandfather's accomplishment," Towns says.
Frederick Douglass "Fritz" Pollard died in 1986 at the age of 92. He was finally inducted into the Pro Football Hall of Fame in 2005, along with Dan Marino, Steve Young and Benny Friedman. Towns was at the ceremony. So was Pollard III. He says his grandfather was too positive to allow the Hall's refusal to induct him in his lifetime to get him down. But, says Pollard III,  that was no excuse for the delay.

"He should have been in the founding class, there's no doubt about it. And most of the Hall of Famers say he should have been in the founding class."
You Can't Keep Fritz Pollard Down
Pollard's influence lives on, thanks in part to the efforts of the Fritz Pollard Alliance (FPA), which promotes equal NFL coaching and front office opportunities for minorities. Former NFL player and FPA Chairman John Wooten says Pollard was the obvious choice to be that organization's inspiration.
"All-American. First Black to play in the Rose Bowl. Outstanding, coming from Brown. So when we started the organization, that's why we took the name that we took," Wooten explains.
But Wooten's been fighting an uphill battle. At the time I spoke with him, there was controversy surrounding the Oakland Raiders' hiring of Jon Gruden to a 10-year head coaching deal without interviewing a single minority candidate as per the NFL's "Rooney Rule." And the league is still discussing ways to adjust that rule to make it more effective.
Ross worries that the league and a younger generation of fans still don't appreciate Pollard's significance.
"It's really a shame that he's someone that really remains kind of in the shadows," he says. "He's someone that really deserves a lot more exposure, a lot more recognition, based upon the circumstances that he faced and what he was able to achieve."
Consider the progress that's been made in the three decades since the death of Fritz Pollard. He's now a Hall of Famer. An influential watchdog organization bears his name. Black quarterbacks are no longer considered novelties. Maybe in this sense, Fritz Pollard just keeps getting up.
This segment aired on January 13, 2018.