Super Bowl Haiku XXIV
Play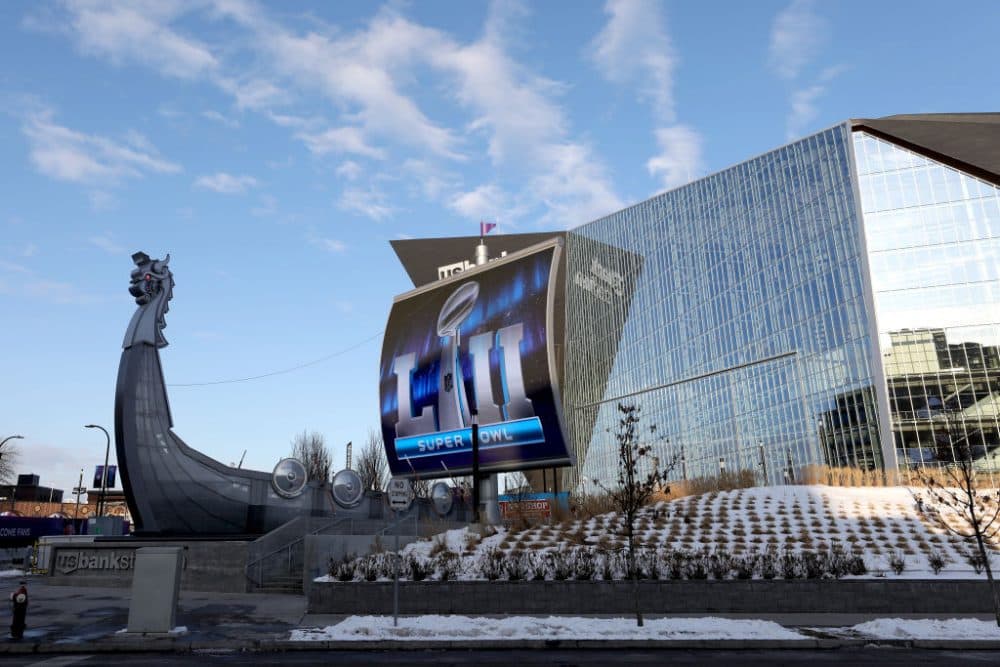 This article is more than 4 years old.
Super Bowl LII looms large and loud, so it's time for the 24th installment of Only A Game's beloved tradition, Super Bowl haiku. Before the Eagles and the Patriots play in the big game,  get into the spirit — or out of the spirit, if you wish — with a few of our favorite poems by Bill Littlefield and some of our more dactylic listeners.
You can read them below or click the red arrow at the upper left to hear the Hut-Hut Haiku Players wax poetic.

Haikus fly about
Like a spiral lofted high
"Oh joy," let us shout!
(Peter A. Merkel)
Super Bowl Haiku
makes my head hurt, my ears ring
without concussion
(Walter Dixon)
No Haiku ideas
"There once was a man named Tom ..."
Have a limerick!
(Jed Martinez)
Cheering cheering cheer
Super Bowl is almost here
Everybody cheer
(Koto Davis, 11 years old)
Eagle as symbol.
Nothing more patriotic …
Except Patriot
(Bill Littlefield)

Philly — New England.
Revolutionary Bowl.
Yeah. Sort of. I guess.
(Bill Littlefield)
Five thousand dollars
One seat in Minnesota
How much are nachos?
(alienlanes5)
All of Asgard aches
Vikings must be gracious hosts
Thor pounds his hammer
(Scott Suma)
Philly fans are wack
No Airbnbs for them
Double lock your doors
(Bethany Bradsher)
"A fan punched a horse?"
He asked her that. She said, "Sure …
they climb greased poles, too."
(Bill Littlefield)
"The horse climbed a pole?"
"No," she said. "Some guys did that.
The horse laughed at them."
(Bill Littlefield)

PHILADELPHIA
If Franklin was the owner
They'd be the Turkeys.
(Scott Suma)
Lone bird swoops earthward
To see Super Bowl for free!
Too bad it's indoors.
(Bill Littlefield)
Brady's magic arm
Clad in magic pajamas
At his magic side.
(Bill Littlefield)
Stitches in his hand?
Brady plays if they have to
Sew his head back on.
(Bill Littlefield)
Patience rewarded!
No glove! What wound did ever
heal but by degrees?
(Carol Hannenberg)
Part predator bird …
Part mutt, as in "underdog,"
Eagles, soaring, bite.
(Bill Littlefield)

It's the only time
Of year we eat onion rings
I do not know why
(Doug Woodsum)
Hot chicken nuggets
Soda, fries, popcorn, nachos
Wear elastic pants
(Ryan Lee)
Super bowl, hurray!
Ski lift lines super short, yeah.
More Super Bowls, please
(Rodney Cencich)
Confused Timberlake
In land of the Timberwolves
Sings at the wrong game
(Gary Waleik)
My teenager says,
"You cannot say, 'How awful!'
And keep on watching."
(David Barron)

Patriots haiku?
That's the five, seven, five thing?
Hope they don't catch us cheating ... shhhhh.
(Frizbane Manley)
Amendola ... Gronk ...
Brady, Brady, and Brady
I got nothing else.
(Bill Littlefield)
Asteroid coming!
It could hit the stadium!
That'll move the chains
(Dan in Westminster)

Minneapolis:
Icy wind has fans inside
Hoping game won't end.
(Bill Littlefield)
A flying mascot
Philly fans mispronouncing
What IS an Egg-le?
(Alex Pope)
It is 2 minutes
Yet, it goes on forever
Thus, we get warning!
(Peter A. Merkel)
Thought our lead was safe
I failed to cover my man
Cleveland here I come
(Gary Webb)
The Pats win the game
Dad is jumping and yelling
Let's ask for iPhone!
(Stephen Reynolds)
A Patriot loss!
An offseason with Giselle.
Brady always wins!
(Guy Burney)
This segment aired on February 3, 2018.