'He Knew Football Had Everything To Do With It': A CTE Journal
Resume
"He was a linebacker and fullback. But he was also a shorter guy," says Ali Epperson.
She's talking about Zac Easter, whom she dated when they were both in high school almost a decade ago in Indianola, Iowa.
"So I think he was only, like, 5-foot-4, but a really hard hitter. He quickly found out that if he used his head he could take down any player, no matter how big the other one was," Ali says. "He learned to use his head as a battering ram. He was wild on the field, and even the bigger guys on his team were afraid to go one on one with him."
Zac had started playing football when he was 8, and though he was not diagnosed with a concussion until he was in high school, from the age of 10 he'd often complained of headaches. But he'd never considered quitting football, and his parents hadn't thought about what the hitting might be doing to their son.
Then before the 2009 high school football season, Zac's father took him to a camp in Missouri to see how well the senior might do against players from throughout the Midwest. A head-to-head collision left Zac woozy. He and his father went home.
Neither of them worried that the collision and wooziness would prevent Zac from showing up on time when his team began practicing.
"He would suffer a blow or feel really dizzy and have all these symptoms," Ali says. "But he loved football, and he didn't want to take himself out of the game. And he didn't want to disappoint his friends or his family and, most of all, his teammates or himself. So he just kept quiet."
During the fourth game of his senior season, Zac suffered another concussion. He was sidelined for three weeks. Almost immediately after returning to the field, he got hit again. He appeared disoriented, as if he didn't know what to do when the play was over. After the game, his brothers said he seemed oddly absent. He was described as "emotionless" and "vacant."
That episode marked the end of Zac's football career, though he wanted to keep playing. But according to Ali Epperson, the consequences of that career, and of all the football Zac had been playing since he was 8, were becoming more and more evident.
Memory Loss And Behavioral Changes
After a brief stint in a community college, Zac moved back to Indianola. He was involved in a traffic accident and sustained another concussion. He tried to stay in touch with Ali. She found him more and more remote.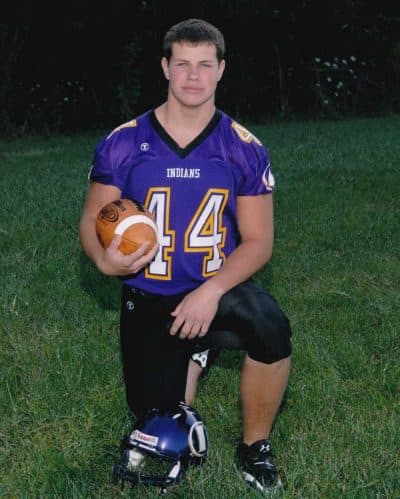 "There would be conversations, we would be on the phone, whether actually talking on the phone or just text message, and he would bring up a subject or ask me a question or tell me a story that, you know, we had talked about just a few days earlier, or even ask me things that he had asked a few minutes earlier," Ali recalls.
"There would be some weekends where he would go out and party and be very social and, you know, engage in activities that probably weren't great for him, like drinking a lot, knowing what we know now about [Chronic Traumatic Encephalopathy], but then, he would go two weeks without hardly talking to anyone or leaving his apartment."
Zac told Ali he was struggling with headaches, memory loss and mood swings. And when she returned to Indianola, she saw some of the problems for herself.
"There was one time, our group of friends were hanging out, playing pool together. He could not remember, like, what ball he was supposed to be going after – the striped or solid pool balls," Ali says. "And he did a good job of trying to cover it up and blame it on – we had been drinking – so blaming it on the drinking, but he truly could not remember.
"I know it was exhausting for him, and at times he simply just couldn't do it anymore, and so that's why he would, kind of, isolate himself from everyone. Sometimes even from me," Ali says. "And I think at the end, it was too much exhaustion for him when he knew it was always going to be like that, it was only going to get worse."
Over the course of several years, it did get worse. Though Zac saw dozens of doctors, none of them was able to offer him much relief from the pain and confusion that characterized his days. One morning in the middle of November 2015, Ali got a phone call from Zac that she'll never forget.
"It did not sound like the Zac I had known for the past five or six years," Ali remembers. "And that was one of the most terrifying moments, was hearing him in that state of panic and pain and exhaustion and everything else."
"What did you do?" I ask.
"Well, I was, at the time, I was a 1L in law school in Cleveland, Ohio, so I still wasn't home," Ali says. "And I called him, and he, you know, it was 10 a.m., 10:30 back home, and he was already just completely inebriated and just freaking out, felt like he was hearing voices and didn't understand what was happening and just kept saying that it was never going to get better. He didn't know what to do and that he was sorry and just felt like he was going out of his mind.
"That is terrifying to hear. But I got him calmed down for a little while. But it was later that night when he was still drunk and still freaking out that he attempted to commit suicide."
"Did he feel like football had anything to do with this?" I ask.
"He knew football had everything to do with it," Ali says. "He suffered silently from his symptoms for about six years. I was the first person he opened up to about it completely. And he did that in May of 2015. And I want to say, starting in March or April, he really started looking into CTE and got really scared. He knew 100 percent that that's what he had, and it was terrifying for him."
Zac's deterioration – which, remember, was continuing six years after he'd played his final football game – was terrifying to his family, too. It was also mystifying. His brothers had both played football. His father and mother were still enthusiastic fans. Sundays were still for football games on TV, except for the days when family members attended Green Bay Packers games together. Ali says the game is still a big part of life for the members of Zac's family.
Zac's Journal
Even before that phone call with Ali in November, during which Zac had talked about suicide, he'd begun keeping a journal. Ali said Zac needed it for doctors' appointments. Without it, when he was asked how he'd been feeling, he couldn't provide an answer. She thinks that with the journal, Zac was also writing a kind of letter to himself, perhaps because he was finding it more and more difficult to communicate with anybody else.
"My depression kicked into full gear, and I started having symptoms of anxiety. I feel like I've started to become delusional, or I've been hearing and seeing things. Over the years I've been starting to forget peoples' names and just forget daily things."
Then, in December, Zac reached out to Ali again with a text. In part it read: "Thank you for everything. You've helped me through so much, and never blame yourself for anything."
"And it was the most past-tense text I've ever received," Ali says. "I knew what he was about to do. I didn't know it before, but at that point, I tried to start calling him and get a hold of him, and contact his family and try to get them to figure out where he was. Because I was still 20 minutes away. My friend put me in his truck and we rushed back home, but it was on our way home that I got the call from his mom that he had died."
"What did he do?" I ask.
"He shot himself in the heart in order to protect his brain and donate his brain to science," Ali says.
Examination of Zac's brain confirmed his self-diagnosis. Dr. Bennet Omalu, the same man who'd discovered CTE in the brain of former Pittsburgh Steeler Mike Webster back in 2002, found the condition in the brain of this young man who'd never played beyond high school. After Zac's death, his parents made public their son's journal.
"September 2015: I'm scared. If I can't get help or get better, I may just want to end it all ... as in suicide. I'm just so tired of feeling so sh---y and anxious."
Ali Epperson was among the first people to read the pages of Zac's journal.
"It was hard. I couldn't read them at first. It took me a while to really get through all of them," she says. "It was written in such Zac form that anyone who read it felt like they were talking to Zac, but it was also, again, just devastating to hear again what he was going through and how hopeless he felt himself. You never want to have someone you love go through that, and to really have that down in writing is even, I think, harder to comprehend and to make peace with."
Helping 'Make People Take This Issue Seriously'
In an effort to make peace with a terrible loss, Ali and Zac's family have created an organization called CTE Hope to educate players, their families and their coaches about brain trauma.
One of the messages Ali and the Easters try to convey is that even kids born into football-loving families shouldn't start playing tackle football as early as Zac did. Then there's what they've learned about treatment, which is that a lot of doctors haven't learned everything they should know about concussions in particular and head injuries in general.
The work of CTE Hope is not well-funded, and it's too soon to measure the impact of the message Ali Epperson and the Easters are trying to convey, but Ali feels they're moving the discussion of CTE in the right direction.
"I am optimistic, if for no other reason than I've already seen his life have such an impact on people," Ali says. "We've had a lot of parents and even players who say they're not going to play anymore because they don't want this to happen. You know, that's the whole point, to help people, and bring awareness and make people take this issue seriously."
---
Listen to the BBC radio documentary "The End Zone," featuring Bill Littlefield.
This segment aired on February 3, 2018.