Littlefield: Baseball Is Coming — And With It, Home Runs For Everybody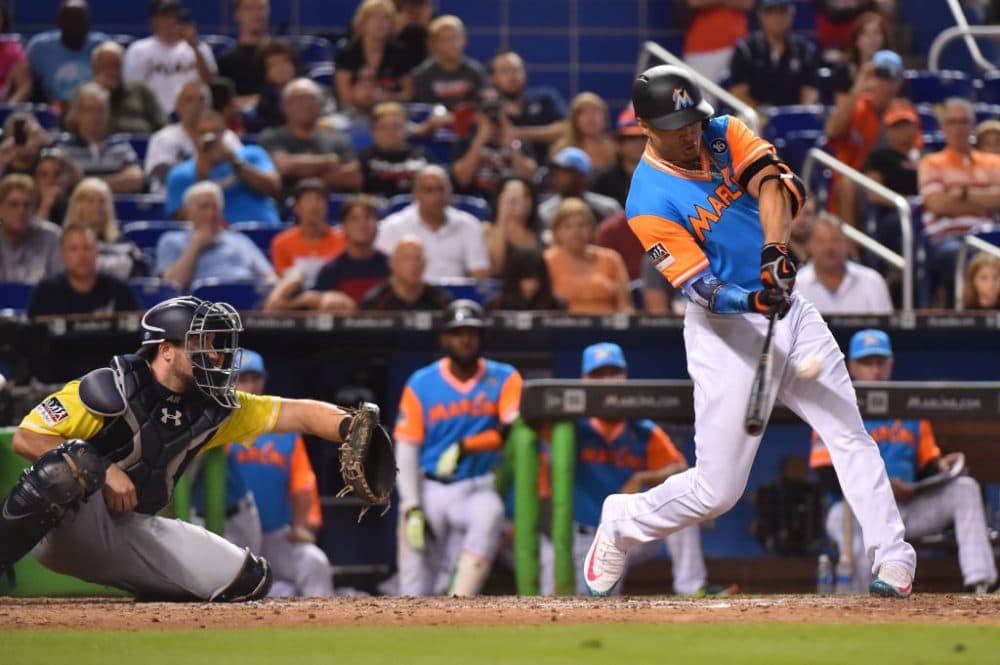 This article is more than 4 years old.
Soon it will be time for baseball.
This is good, because preseason discussion has begun to get scientific. Just the other day, ESPN's FiveThirtyEight unveiled a study that had applied CT scans and thermogravimetric analysis to baseballs.
These advanced techniques revealed that the balls in use last season were livelier than their predecessors. Throwing two baseballs against a wall would also have done that. Apparently various changes in the density of the core of the ball and its molecular profile and other stuff have altered the baseball's wind resistance. When struck by a bat traveling through the strike zone on an upward trajectory, the current ball travels something like 11 feet further than a ball in use four or five years ago would have done.
That means an outfielder chasing today's baseball would have to be 11 feet closer to the wall to catch it, unless the ball had already left the park, which is what more and more of them have been doing over the past several years. Hence the leap into thermogravimetric analysis.
In 2014, major league regular season games averaged 0.86 home runs. Last year, the average was 1.26 home runs, unless we count that World Series in which the Astros and Dodgers combined to hit 25 home runs, meaning that the per game average was seventy-'leven higher than it had been in any previous World Series, as well as higher than the Dodgers would have liked, since they were second-best at hitting home runs, as well as at winning games.
Baseball purists need to know this stuff so they can calculate the relative value of Babe Ruth, who stopped hitting home runs in 1935, and Giancarlo Stanton, who hit 59 of them last season.
This hobby hurts nobody, I guess, but good luck to the numbers-crunchers trying to compare today's stats to stats from the days when Bob Gibson and Pedro Martinez wouldn't have been allowed into a major league clubhouse.
But I digress. Major League Baseball denies the baseball has been energized. I don't know why they would lie, and neither does Justin Verlander, who has a better reason than I do to think about it, because he's a pitcher. The other day he said the CT scan on the ball and the thermogravimetric thing didn't surprise him, and also that he doesn't much care if the ball's juiced, so long as the pitchers on both teams have to throw the same ball. This seems sensible to me.
Verlander did say he thinks MLB should stop lying about the juiced baseballs, which would make for an interesting opening day.
"Yup," Commissioner Rob Manfred might say with a grin, "you caught us! We did it! So more home runs for everybody! Enjoy the fireworks! Play ball!"