Through Thick And Thin, Home And Away, Soccer Fan Cheers On
05:17
Play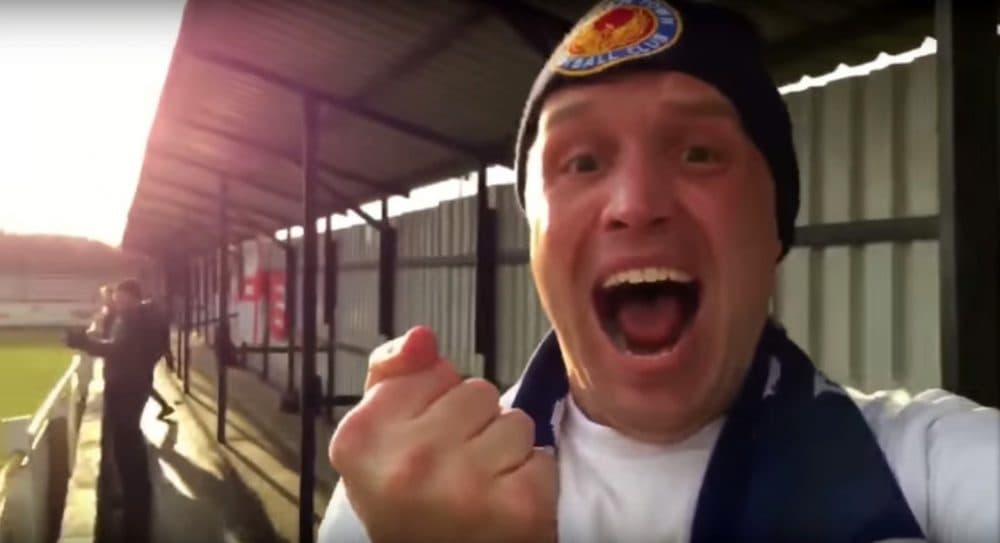 This article is more than 3 years old.
"My name is James Beardwell, and I live in Witham in Essex."
Story continues below
Subscribe to the podcast
Maybe you know of Witham in Essex. It's hard-by Hatfield Peverel, a short ride from Tiptree Heath, just a bit south of White Notley. And like lots and lots of cities and towns in the U.K., Witham in Essex has a soccer team: Witham Town. James Beardwell has autism, and he loves Witham Town enough to follow the lads anywhere.
"I travel on the public transport: on the trains for long journeys, and buses for shorter journeys, like to Heybridge and Maldon, Tiptree, and stuff," James says.
Perhaps you cheer on Manchester United or Chelsea or Liverpool. Those clubs play in the Premiership, which is a league six or seven levels above the Bostik League North Division, wherein Witham Town nestles, inspiring the loyalty of James.
"And every time, at the Witham Town home and away matches, I sang loud as possible, to sound like a hundred to a thousand fans, to raise the top of my voice as loud as I can," he says.
'My Witham Town Support'
On a particular weekend in February, James, bright in his yellow team jersey and blue team scarf, did what he's accustomed to doing during the soccer season.
"I'm currently on the train on my way to Grays Athletic for Witham Town-away match to Grays Athletic in Avely," James says during the trip.
He makes and posts videos of the journeys:
"I'm going to keep up the support going throughout the 90 minutes," he says. "And it needs to be a lot better, because the Witham Town players would really appreciate my Witham Town support."
Such support — and you'll learn soon enough how energetic it is — would likely inspire other fans, right? Sure. And perhaps it would have done so at that game against Grays Athletic. But when James reached the pitch, he discovered that he was the only Witham Town supporter to have made the trip to Grays.
"Ah, well," he must have thought. "Sing loud. Carry on."
"And I sang so loud as possible," James explains. "And I remember that song I was singing behind the goal at Grays Athletic was "The Beardwell's on Fire."
Someone on the opposite sideline caught James on video.
"Did anybody ever say to you during that extraordinary performance, 'James, shut up. That's enough?' " I ask.
"No, because some people say, what an amazing supporter I am," James says, laughing. "And they said they couldn't believe how loud I was, because they think I'm really loud to sound like a hundred to a thousand fans."
Hard as it may be to believe, given the level of support, 90 non-stop minutes of song and shouting from their No. 1 — and that day only — fan, Witham Town lost the match. When it was over, some of the players sought out James.
"Sorry about the result, buddy," one member of the team says.
"No, that's all right. I kept the loyal support," James says.
"What up, man?" asks another teammate.
"Loyal support. Unlucky, mate," James says.
Inspiring A Following
The connection evident in those exchanges, it's real. James recently told the Witham Town players that he was planning to marry. He said the whole team would get invitations.
The video of James singing was posted online after that match against Grays Athletic. It was widely appreciated. James knew that, because when Witham Town next took to the pitch, he had company.
"We had about 407 attendants," James says. "It was the highest-ever attendance we had in Witham Town's history. And I'm really pleased we got more attendance."
Pretty obviously, James was responsible for the team's sudden popularity. Certainly it wasn't Witham Town's record. They've been hopeless, or, "useless," as they say in the U.K. Fourteenth in their division, which dismayed James not a whit.
"I would never stop supporting the team, Witham Town, because I'll always be there, through thick and thin, watching Witham Town, home and away," he says.
"It doesn't seem to matter to you that the team loses. The game is great, anyway," I say.
"Yeah, the game is great," he says. "Because I just really enjoy — just keep supporting the team. Because not many people do that."
Right. Not many people do that. And can there be any doubt that James will do it at the next away match, even when the rest of those Witham Town fans have found somewhere else to be?
This segment aired on April 14, 2018.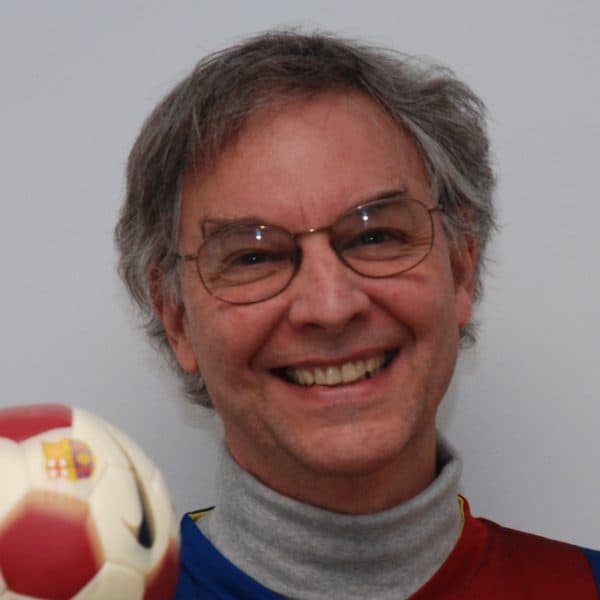 Bill Littlefield Host, Only A Game
Bill Littlefield was the host of Only A Game from 1993 until 2018.