'California Kid' Finds Meaning As A Minister — Then U.S. Surf Team Head Coach
Resume
Joey Buran's not a kid anymore. In fact, he's a grandfather. But sometimes the old nicknames, they die hard.
"Even at the age of 57, there's people that see me and they go, 'Hey, it's the California Kid,' " Buran says.
Jim McKay called him that when he covered Joey Buran for Wide World of Sports in 1978. Buran has embraced the nickname.
As a teenager, Buran became enamored of the surfing competition called the Pipeline Masters. It featured the best competitors and the most spectacular waves. For surfers, it was a very big deal, at a time when there weren't so many big deals.
"I remember in junior high telling my teachers that I was going to be a pro surfer," Buran says. "At that time, there was no pro tour. The pro tour started in 1976, and even then it was very sketchy."
The first time Buran won a surfing contest, in 1978, his first-place check for $3,000 bounced, which must have been disappointing.
"Actually, it worked good for me, because I got a lot of coverage from it," Buran says. "Because that was a storyline: 'Young Pro Surfer Wins First Contest, Check Bounces.' "
'The Wimbledon Of Surfing'
The check was phony, but the win was the real thing. And it was the beginning of the California Kid's opportunity to range well beyond California.
"I mean, I did the world tour. I traveled to South Africa, Brazil and Japan, and these different places," Buran says. "But my goal was always to win the Pipe Masters. The Pipeline Masters is the Wimbledon of surfing. It is the Masters in golf, the green jacket. That's what it is in the sport of surfing."
According to Buran, part of the charm of the Pipeline Masters is that everybody who cares about surfing is watching. But the real draw is the type of waves in that competition.
"It's what we call a barrel, or a tube," Buran explains. "It's hollow. And so the objective is to get deep in that barrel and to get spit out like a cannon. Either you make it or you get detonated."
This wouldn't be much of a story if all Joey Buran did was dream about those waves, would it? Nah.
At 24, after six years as a pro surfer, Buran tore it up at the 1984 Pipeline Masters. He won. Watch the video sometime.
It's not hard to understand how those waves could thunder through a teenage surfer's dreams.
Buran had announced that after the tournament he would leave competitive surfing. Maybe he was that sure he'd win. He figured Dec. 17, 1984, would be the most dramatic and triumphant day of his life. For a few minutes after the trophy presentation, maybe it was. But then ...
"All of a sudden it started pouring rain," he says. "Like, within five minutes, it was heavy, heavy, monsoonal type of rain. So everyone left. And literally within 15 minutes of being crowned the king of the surf world, I literally was standing on the beach in the pouring rain with my three surfboards, by myself. And the thought was so clear and so profound in my mind: 'This is it? Like, this is my life? There's gotta be more than this.' "
'A Dark Place'
For a while, there really wasn't. Buran organized some surfing tournaments. He returned to the Pipeline Masters a year later — Buran made the semifinals. But he felt as if his life had peaked and maybe it should end.
"It's a dark place, and if you've never been there, it's hard to understand," he says. "And I've been there."
The depression became more serious, the despair more intense.
"I just could not find a clear purpose to live," Buran says.
In 1986, Buran tried to kill himself with a drug overdose.
"I tell people, 'I know how low you can go,' " he says. "Because I've been strapped into a straitjacket in a hospital and have the doctors talk to me like there's something wrong with me, which, usually, if you try to take your own life, that's how they talk to you."
A Minister And Coach
As Joey Buran tells the story, it wasn't what the doctors had to say that turned him around. He does recall one of them — perhaps it was a psychiatrist — telling him he needed to forgive himself. As he walked away from that meeting, Buran realized he didn't see it that way.
"I do not believe I have the authority to forgive myself," he says. "I believe that authority belongs to God. And from that point in time on, I began to read the Bible and listen to Christian radio, and, eventually, about six months later, I gave my life to Jesus Christ."
"You have to have that vulnerability and that approachability, and try to find that code, if you will, with each kid. And that's kind of my strength."

Joey Buran
Buran found satisfaction in ministering to youngsters, telling them to stay away from drugs and obey mom and dad, but he was always introduced to those groups of kids as the former Pipeline Masters champ who'd become an evangelical Christian. He helped to start churches in Virginia and in Vermont, but he returned to the Pipeline Masters as a competitor a couple of times in the '90s. And then, one day in 2007…
"I was a pastor in a church here in Orange County, which I've been in ministry for 30 years," he says. "That morning it came upon my mind that a door was going to open up to me in the surf industry again. It just — as I was spending time, what we call devotional time — that thought crossed my mind, like, 'Wow, that would be crazy if something opened up with surfing.' I got to the church office, and there was a phone message from the great coach, Mike Parsons, who was also a great surfer, and he said, 'Hey, Joey, it's me, Mike. We want you to consider being the head coach of the USA Surf Team.' "
When Buran accepted the offer to coach team surfing, he had a plan.
"You know, I tended the flock," he says. "They just happened to be the best surfers in the United States under 18, and I had a great relationship with all of them."
That relationship lasted for two years, during which the favored U.S. team won medals that weren't gold. Maybe that's why the relationship ended, though Joey Buran says his departure from the U.S. team coincided with his desire to spend more time with his own children.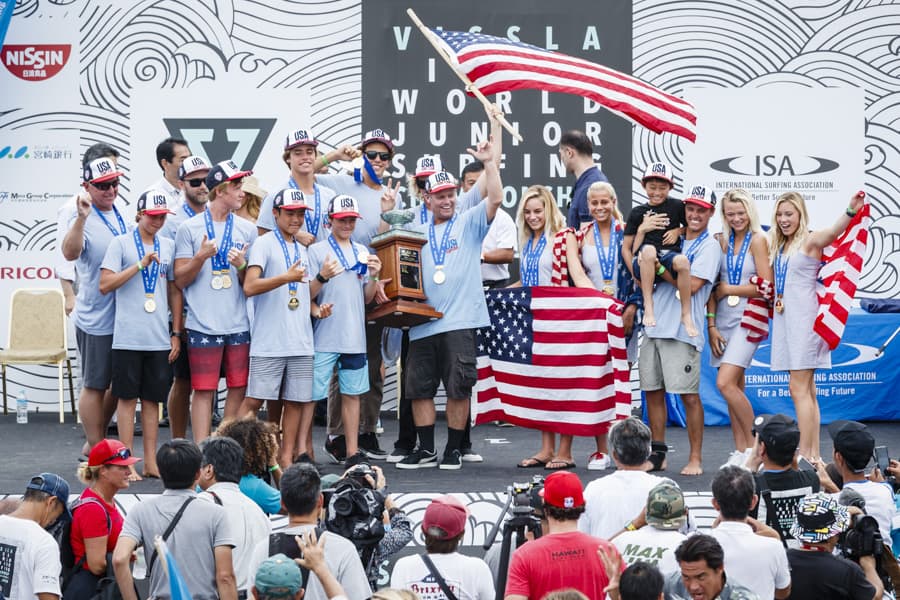 Around The World And Back To Team USA
But surfing was still a calling card. Buran made a film featuring his exploits. And everywhere he took it, he found opportunities.
"And when I went to England in 2010, the British Surfing Association was like, 'Oh, my goodness. Joey Buran, the coach, the U.S. team, he's here. We should get him to work with our kids.' "
He recalls with a smile carrying the Union Jack at the World Championships in 2011. He'd always competed in a wetsuit featuring an American flag.
A year later, the Brits decided their team should have a British coach. Eventually, Buran came to see that decision as just another opportunity ... in Chile.
"I spent three years going back and forth to Chile, to help build their program in surfing and, again, marching in parades with Chile," he says. "You know, when you're marching through a parade saying, 'C-H-I-L-E, Chi-, Chi-, Chi-, -le, -le, -le,' it's very different from people chanting 'U-S-A. U-S-A.' "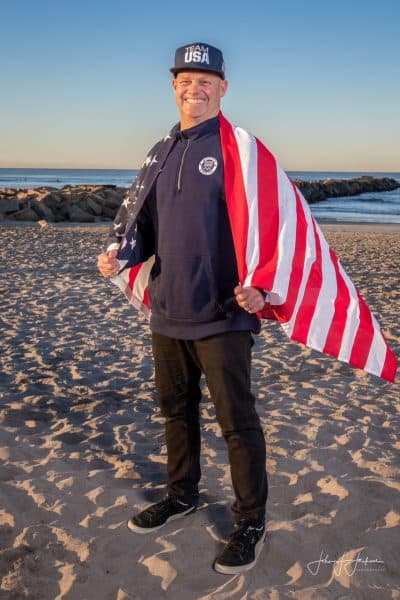 The difference was also evident on the scoreboard. Despite Joey Buran's encouragement, the Chileans usually came in last.
"It was very enjoyable," he says. "It was so different than coaching the USA Surf Team, where anything less than gold is failure."
The pressure of those expectations must not have put off Coach Buran. At the beginning of 2017, USA Surfing called again, and Buran came back. I wondered if — when he returned — he still regarded the young surfers as a flock he'd tend.
"I approach it this way: If I work for Starbucks, I'm not there to be a pastor. I'm there to make lattes. And that's what I'm gonna do," he says. "But, in doing that, I'm still true to my character and who I am. I stood alone on the beach as the Pipe Masters Champion with the Lord. And I stand alone with the Lord in every situation I'm in. But I'm not hired by Starbucks to be a preacher. So my job, how I witness, is to do the best job possible."
The sport of team surfing will be included in the Olympics for the first time when the world's athletes gather in Tokyo in 2020. As the guy presently coaching the U.S. team, Joey Buran has been hearing about that.
"I had some people in the neighborhood, a couple, about a week ago. They saw me walking my dog," he says. "They're like, 'Hey, you know, it's gonna be incredible. You get to walk in the opening ceremonies in Tokyo.' And I said, 'Well, Tokyo's 2 1/2 years away, and I've done enough funerals as a minister to know that I'm not guaranteed tomorrow. So, if it happens, great.' "
Joey Buran says he's just trying to stay in the moment. Good place for a surfer to be ... and for a pastor as well, I suppose.
This segment aired on June 2, 2018.