Tragedy, Joy And Disappointment: The Story Of Football In Egypt
Resume
In 2011, Bob Bradley moved to Cairo. He's an American, the former coach for the U.S. national team. He'd been hired in an attempt to coach the Egypt side to the 2014 World Cup in Brazil, ending what many people see as a curse over Egyptian football.
But the timing was awful. The Egyptian revolution in Tahrir Square broke out earlier that year, and the Egyptian football league was only played intermittently. But Bob Bradley carried on his job. He selected a team and kept his players fit by pulling together international friendly games.
"Things were going pretty much well until 2012," says Hatem Maher, a Cairo-based sports reporter who has been covering football in Egypt for over a decade. "But things dramatically changed after the 2012 disaster in Port Said."
Deadly Clash
On Feb. 1, 2012, Al Masry, the Egyptian Premier League team in Port Said, hosted Al Ahly, a team from Cairo.
"Traditionally, the fans of Port Said do not like Cairo and do not like Al Ahly because they always believe the club is getting special treatment from authorities because it's the most popular club in Egypt," Hatem says.
"So, we had football-related problems even before the revolution, but the difference was that before the revolution, security was very strict, so it was very difficult for the fans to get in any fights."
It's important to mention here that when Hatem talks about fans, he's talking about group of hardcore fans known as Ultras. It's common for Ultra groups to be involved in physical clashes or insulting chants at matches, and rivalries are often drawn along political or religious lines.
"After the final whistle, fans of Al Masry just were allowed to pour onto the pitch and to the opposite stands, where Al Ahly fans were standing."
The fans clashed on the pitch. Al Ahly fans were beaten and stabbed as the cameras kept rolling. The stadium doors, which people were trying to escape through, were locked from the outside. Seventy-four people died at Port Said that night.
"Many of the more than 70 Al Ahly fans who died, died because of a stampede, and others were thrown from high from the stands," Hatem says. "It was an unforgettable night. I went to the railway station right after the game to wait for the returning fans who returned with the corpses of their friends. This was a very sad day, and one I would like to forget, although it's very difficult."
It was one of the most tragic events in recent footballing history and a night that changed the way a lot of players and fans felt about the game.
"It was the first time that Egypt was approaching a World Cup qualifying campaign amid little interest in the team, and little interest in football in general."

Hatem Maher
"I personally know many Al Ahly fans who abandoned football altogether after the Port Said disaster," Hatem says. "They said, 'If people are dying because of football, then it's not worth it.'
"Doing sports coverage at the time, for me, sometimes I thought it was irrelevant. I personally thought I should switch to any other field in journalism, because people no longer cared and because I, emotionally, was greatly affected by what happened in Port Said."
'Little Interest In Football' Amid 2014 World Cup Qualifiers
Premier League games were canceled indefinitely, and some members of the national team retired altogether.
"There was no football in Egypt and, actually, nobody cared," Hatem says. "Egypt was approaching a World Cup qualifying campaign amid little interest in the team, and little interest in football in general."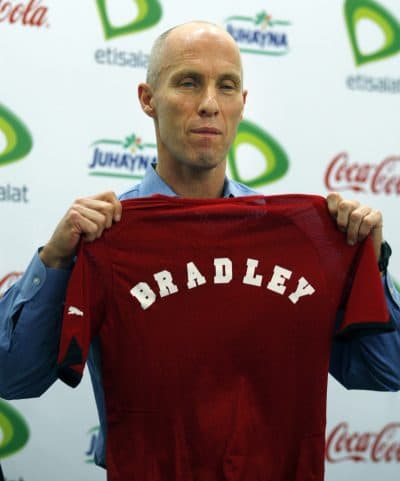 Over the next year, Bob Bradley carried on his job and put together a team for the World Cup qualifiers. It wasn't easy, but he did it. And they did well in the World Cup qualifiers — they were actually unbeaten in their group. With a win over Ghana, Egypt would be heading to the 2014 World Cup.
And as the team inched closer to qualifying, fans started coming back to the sport. They wanted to see their side play in Brazil.
"That was a dream for many, because many people were not even born when Egypt played at the last World Cup in 1990," Hatem says. "So the build-up to the Ghana game was filled with social media comments and people even in the streets and in cafes speaking about the Egyptian national team for the first time."
Mohamed Salah And The Bid For The 2018 World Cup
Egypt lost that game, 6–1. But the loss didn't do anything to diminish the renewed interest in the game. Enthusiasm for football was back in Egypt. And it carried over into the next qualifying round for the 2018 World Cup. Egypt were seeded in a good group, but by their second-to-last game, they weren't confirmed to qualify. It was against Congo, and it was their best chance of reaching the finals. If Egypt won, they'd be headed to the World Cup in Russia. If not, they'd have to face Ghana again.
Roughly 75,000 showed up to watch the game at the Borg El Arab Stadium in Alexandria. People all around the country were watching from cafes and living rooms. It was a huge occasion.
The game remained scoreless through the first 60 minutes. Then Mohamed Salah, an Egyptian who plays for Liverpool, got the ball.
"We thought it was over," Hatem says. "He scored, I think, in the 63rd minute or something, so people expected that this would be enough for an easy win. But that was not meant to be, as usual. Egypt always gives its fans a heartbreak, and that happened when they equalized."
Congo scored in the 86th minute, with just four minutes of game play left. You can hear the disappointment in the commentator's voice. The cameras cut to shots of Egypt fans holding their heads. It looked like their World Cup hopes had been pulled out from underneath them at the last minute.
"Personally, it was also the happiest moment in my entire life, not just in football. I mean, the best moment of my life."

Hatem Maher on Mohamed Salah's penalty kick against Congo
"After they equalized, a hopeful long ball was sent to the area," Hatem recalls. "And Mahmoud Trézéguet was held down, and out of nowhere the referee points to the spot."
Egypt was awarded a penalty kick. Salah would take the shot. And the stadium erupted. Egypt had been given one last-ditch opportunity to secure their place in the World Cup.
"I think this is one of the most happy moments in the history of Egyptian football," Hatem says. "Even before he took the penalty, I liked what Liverpool coach Jürgen Klopp said when he said, 'It's the first time for him to see people celebrating a penalty as if it has already been scored.' "
After the fervor subsided, Salah placed the ball down on the spot and took a minute to compose himself. Egypt fans looked down with clenched teeth, their hands clasped over their eyes.
"I actually did not watch the penalty itself. I could not," Hatem says. "I preferred not to watch it and just wait for the reaction of the people to know whether it has been scored."
The referee's whistle blew. Salah stepped towards the ball and struck right while the goalkeeper dove left.
A wall of noise erupted from the crowd, and the Egypt team chased Salah in celebration. Cameramen, coaches, substitutes all ran onto the pitch and mobbed  Salah. Technically, the game wasn't over yet, but it might as well have been.
"Personally, it was also the happiest moment in my entire life, not just in football," Hatem says. "I mean, the best moment of my life."
"Could you describe, as you remember it, the the scene in Cairo after that match?" I ask.
"There were wide celebrations all over the city," Hatem says. "I roamed the streets of Cairo after the game. I went to Tahrir Square, and that was, for me, a very emotional time because it was the first time I see any scene of celebration in Tahrir in years. There have been severe restrictions on protests in Tahrir in the past five or six years. It was the only time that all people with very different affiliations gathering together in the iconic Tahrir Square to celebrate a football achievement. And celebrations went all over the night."
Egypt had done it. For the first time since 1990, for the first time in the young generation's lifetime, they'd qualified for the World Cup. Not only that, but they also had Mohamed Salah. Things were hopeful.
Salah's Setback, World Cup Campaign Cut Short
But a few months later during the Champions League final, Salah's club, Liverpool, faced Real Madrid. It was May 26, just a few weeks before the World Cup was due to start. And, 26 minutes into the game, Real Madrid's Sergio Ramos pulled Salah down onto his left shoulder, and he had to be taken off. If it was a dislocated shoulder, he'd almost definitely miss the World Cup. As the cameras followed him towards the locker room, he had tears in his eyes.
"Many people just put their hands on their faces because they feared the worst when Salah limped off with tears in his eyes," Hatem says. "For many people, that was an indication that it was a very serious injury. People, literally, were refreshing their web pages every five seconds just to see any updates on Salah's injury.
"The fear that engulfed people at the time was great, because they felt that Egypt would not make anything in the World Cup if Salah did not make it."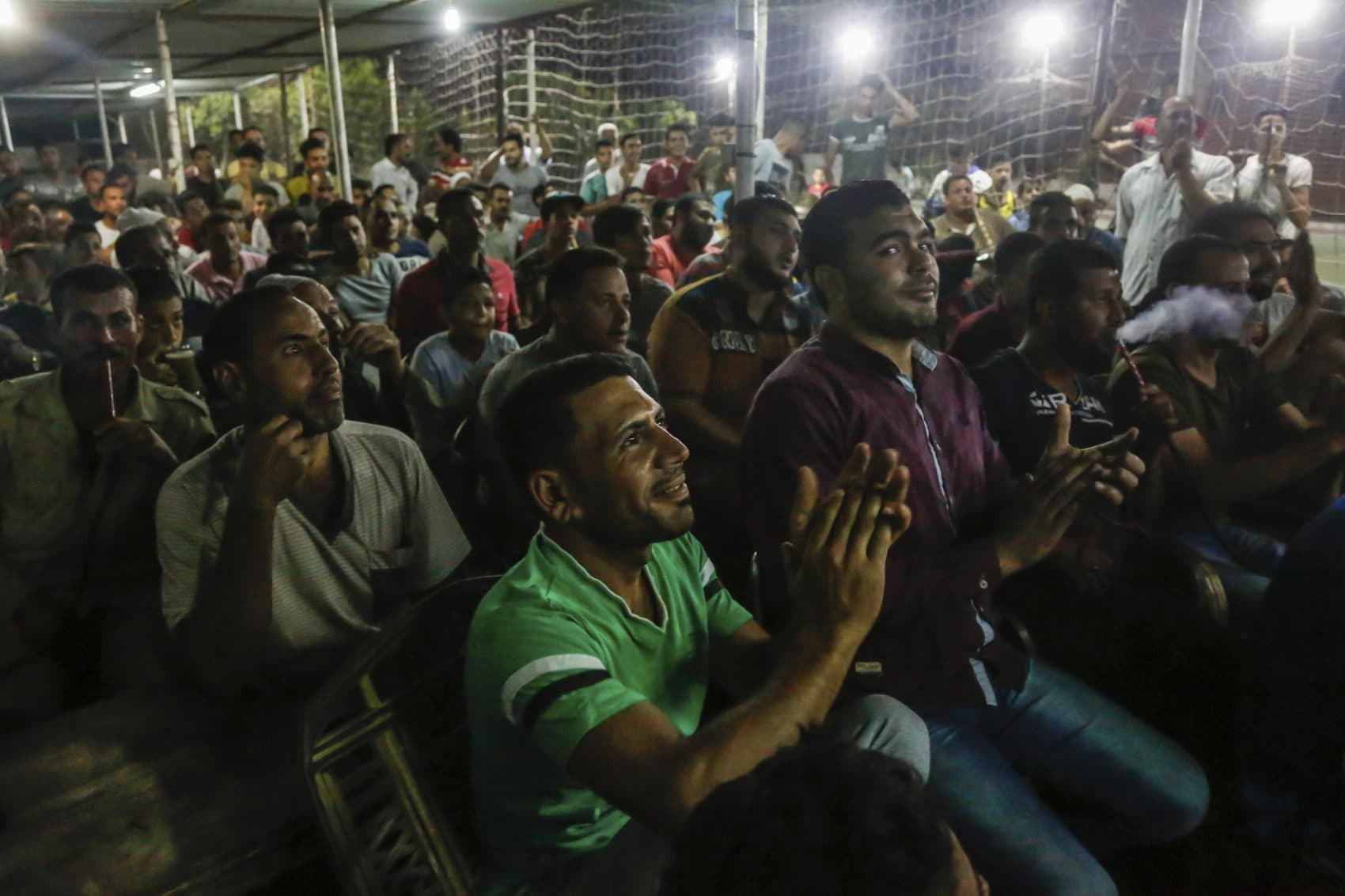 Two weeks ago, In Egypt's first game against Uruguay, Salah was on the bench because of his injured shoulder. Egypt lost, 1–0. And in their next game against Russia, they lost by an even bigger margin. With Salah back in the starting 11, they lost, 3–1. Which left them with no chance of advancing to the next round.
"People were very angry because they thought we could have done much better in the game," Hatem says. "Because it was a manner that many people considered humiliating, to concede three goals in that way."
An Unceremonious End To The Curse
Egypt's first World Cup campaign in nearly 30 years ended when the referee blew his final whistle that evening. But it wasn't a total disaster. In the 73rd minute, with his team 3–0 down, Salah was awarded a penalty.
Of course, he scored, and it was Egypt's first goal in the World Cup since 1990.
"For many, that was a consolation that we needed," Hatem says, "because in Egypt, we had a player at the 1990 World Cup — I'm not sure if you heard about him — he's called Magdi Abdelghani, who scored our only goal at the 1990 World Cup against against Holland. Since then, Magdi Abdelghani has been bragging about the goal he scored. He always speaks about how great he was because he was the only player to score at the 1990 World Cup. So it became like a joke in Egypt. When we qualified for the World Cup, Salah was interviewed by an Egyptian channel and he said, 'When I score, I will dedicate my goal to Magdi Abdelghani to finally silence him.' "
I asked Hatem if Salah scoring that goal was at least any kind of consolation — if, in some way, Egypt fans could be proud that they didn't come home from the World Cup completely empty-handed.
"Surprisingly, they are very, very disappointed," Hatem says. "Expectations, notably, rose over the past few months, especially at a time when we are having very difficult economic problems. Recently, we have seen inflation hitting highs, and there were recent economic measures, austerity measures, that made the lives of people much harder. So, for many that was a great opportunity to have something to cheer about. That was the thing many people spoke about. They said, 'We were finally ready to be happy about something, and even that, our dream was shattered.
"Hopefully, at least, we ended our curse. So we can have a chance after four years."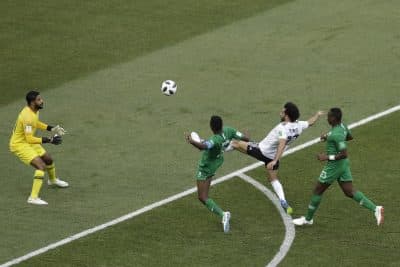 On Monday, Egypt lost their last game against Saudi Arabia, 2–1. Salah, the biggest talking point of the Egypt team this year, scored his second goal of the tournament. But after the goal, he didn't kneel to the ground in his now famous celebration. He just turned, unsmiling, as his teammates ran to congratulate him.
This moment seemed to reflect the mood surrounding Egypt's unceremonious exit from the tournament. Instead of the World Cup their fans had hoped for, they'll go home with zero wins under their belt, amidst rumors that Salah will retire from international football.
---
To hear more stories like this and radio documentaries from the Middle East, check out the Kerning Cultures podcast.
This segment aired on June 30, 2018.