Bryce Carlson's Solo Row Across The Atlantic
Play
This article is more than 4 years old.
In 2015, Bryce Carlson ran 3,100 miles from California to Maryland, along with 10 other athletes, while scientists studied how ultra-endurance running affected them.
The group ran about a marathon a day, for 120 days. Carlson, then a Purdue biology professor, began to dream about what challenge he'd take on next.
"I started reading a little bit, some books written by individuals who had done ocean rowing," Carlson says. "And, I don't know, the idea just stuck with me. And the more I thought about it, the more I read about it, the more excited I got about it."
The Plan
So Carlson, a former University of Michigan rower, began planning a 2,000 mile solo row across the North Atlantic, from Newfoundland to England. He would aim for the world record of 53 days, 8 hours and 26 minutes.
First, Carlson had to come up with money for the journey. Over the next couple of years, he raised what he'd need through personal loans, credit cards, crowdfunding and sponsorships. He collected over $100,000, including $75,000 for the custom boat he would name after his grandmother Lucille.
Earlier this year, Carlson hauled Lucille 2,000 miles from his home in Cincinnati to his starting point, St. John's, Newfoundland.
"So, Lucille is about 20 feet long," Carlson says. "It's very lightweight, but also incredibly strong and durable. At the front of the boat, taking up about one third of the overall length, is a large cabin. So once I climb in through a hatch and close the hatch, I'm in a pretty safe little capsule in there."
Lucille was built to self-right. She features an open cockpit with a sliding rowing seat. Over the front and back compartments are solar panels to generate electricity for the navigation and communication systems.
"It's a really incredible design," Carlson says. "And my appreciation for the design only grew as I got out onto the water and saw just how brilliantly it handled in the roughest weather."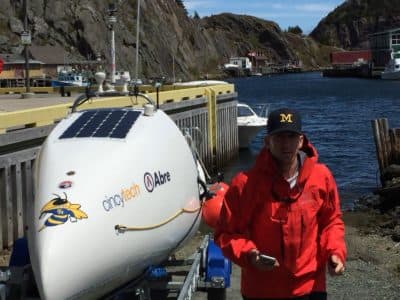 The Voyage
At 7:30 a.m. on June 27, Carlson launched from Quidi Vidi Lake. He rode the outgoing tide through a narrow outlet toward the open sea.
"And then, as soon as I got out through that gap, I started to see some of the big waves that were developing just offshore."
Before long, he was in the middle of those waves.
"I had forgotten to take my seasickness meds," Carlson says. "I had forgotten to take some Dramamine before I left. And I started to feel a little bit nauseous, and then realized 'Oh, yeah, that's probably something I should have remembered.' "
Carlson is a methodical planner. But at the end of his first day on the water, the biology teacher stopped thinking, if only for a moment, about auxiliary oars, water supply, and dehydrated meals.
"I poked my head outside the cabin, and I saw bioluminescent plankton for the first time in my life," Carson says. " I look into the water, and I see the glow.
"They're effectively invisible to the naked eye during daylight. But here at night, they come to life when agitated by waves or agitated by my hand raking through the water. I was experiencing something I had only read about before. And there was just an incredible joy that came from that.
"You know, during the day, it's easy to get…I don't know, maybe a bit of a big head, thinking about how special I am to be rowing across this big, difficult body of water," Carlson says. "But then, at night, to realize I am one of a trillion organisms. It was certainly very humbling."
The Storms
Out in the North Atlantic, humility can come in many forms. And Bryce Carlson would experience more of them. His primary desalinator failed early in the trip. The manual backup unit produced only a little water for a lot of effort, which sometimes prevented him from rowing. He tired of eating rehydrated dehydrated meals, power bars and chocolate. And then, on June 30, he was hit by the first of many storms that would greet him along the way.
"When I was upside down on the ceiling, I look out the hatch, and I see the waterline up, basically, above the hatch door...That's kind of a terrifying moment."

Bryce Carlson
"And I woke early in the morning," Carlson says, "about 5 o'clock in the morning, to the boat getting flipped over by some waves that had broadsided the boat.
"When I was upside down on the ceiling, I look out the hatch, and I see the waterline up, basically, above the hatch door. So I'm looking into the water through my hatch. That's kind of a terrifying moment.
"I also see water start to pour into the boat. And I'm getting a little bit freaked out trying to figure out where's the water coming from to seal that off really quick. And I found that I had left the air vent open. And I quickly shut that, and the boat righted itself. But now I had water pouring out from behind the electronics panel, and now I've got like a million things going through my mind."
…like "Will I be able to communicate and navigate? Can I even continue the row?" And there was another problem; the autopilot mechanism, which kept the proper course while Bryce rowed, had detached from the rudder.
"And so, I have to climb out of the cabin to reattach it," Carlson says. "On that day, I probably had 30 mile an hour winds, so the wind chill was probably high 20s. And in rough seas, that's a little bit risky. I don't really wanna go overboard."
Carlson estimates that Lucille capsized about a dozen times on his voyage.
"I didn't sign up for this thinking it was going to be a sunny paddle across the pond with dolphins and whales and jellyfish," Carlson says. "And so in those moments, I didn't wish that I was somewhere else, or that I was having an easier go of it. Because I knew I had no control over changing the circumstances I was in. I just had to endure it. And so I focused my mind on enduring it."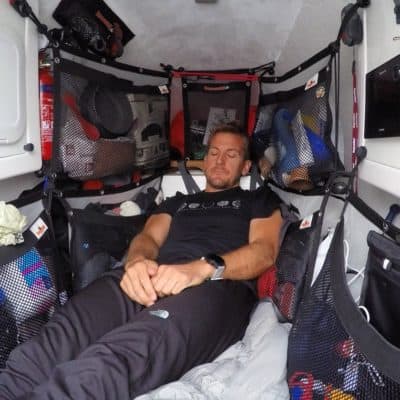 In between storms, Carlson stuck as closely as possible to his daily routine.
It went something like this:
He'd rise at 6 a.m. After a meal of granola, he'd hit the oars at 7:30 or 8. He'd row for a half hour, take a water break, then go back to rowing. He'd snack every hour. Every four or five hours, he'd have a more substantial meal.
He'd keep that up until 8 at night, tie everything down, call his friend Alex and his girlfriend, Pria, and go to sleep in his cozy watertight cabin at about 10.
Bryce says his various aches and pains often kept him up. Hourly checks on heading kept him from getting enough sleep. And that was just on the calm nights.
"During some of the biggest storms, I'm getting some waves crashing up into the bow cabin and the side of the boat," Carlson says. "Those waves crashing felt like a car crash. The noise was deafening. And, on some nights, that crash was occurring every few minutes."
A Slight Adjustment
The original plan was for Bryce to make landfall on the mainland, in Penzance. But a couple hundred miles off the English coast, the winds turned. Lucille had lost her centerboard, which caused the boat to drift. Bryce was forced to steer straight into the wind to maintain an easterly course.
"After a couple days of that and very little sleep, I was starting to lose the battle," Carlson says. "I mean, I couldn't afford time even to pump more water or to make myself food, because the boat was drifting so much that I couldn't afford to stop rowing for more than a few minutes at a time."
Carlson was barely keeping his pace. So he altered his voyage to end in the Isles of Scilly. The Ocean Rowing Society considers the Isles of Scilly to be part of the English mainland, so Carlson knew that landfall on one of them would count as an official crossing.
"The relief in the moment was powerful, but also I think that there was a little bit of disappointment that I wasn't able to live up to my own expectations," Carlson says.
The Arrival
 On Aug. 4, Bryce Carlson entered St. Mary's Harbour.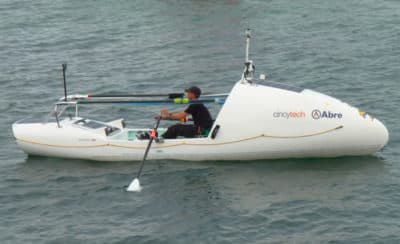 "The cannon goes off, and music starts blaring, and they had smoke flares. I mean, it was just absolutely spectacular," Carlson says. "And I turned the corner around the pier, and saw I don't know how many people. Certainly more than a hundred. Maybe 300 people?
"I was expecting one or two people, maybe, to be at the harbor. But my friend Alex and my girlfriend, Pria, who were waiting in Penzance, set to action on a moment's notice and, gosh, just organized the most brilliant welcome I could have imagined."
Bryce Carlson had broken the record for a west-to-east solo row across the North Atlantic by more than 15 days. But that accomplishment had come at something of a cost.
"To get through everything I endured over the 38 days and change, I really had to put emotionality on the shelf and evaluate all the variables in any given moment without emotion," Carlson says. "Very logically. And so I felt numb to some extent, as I rowed into the harbor. I was certainly happy to be finishing, but I wasn't nearly as excited, I think, as I would have thought I would be.
"I don't know that it's sunken in yet, to be honest."
Bryce Carlson, a guy who ran across the U.S. so scientists could learn about the effects of ultra-endurance, is back to his job teaching science at a private school in Cincinnati. He's partnering with an educational app developer to turn his experience into a classroom curriculum.
In that sense, his voyage continues. But it's no longer solo.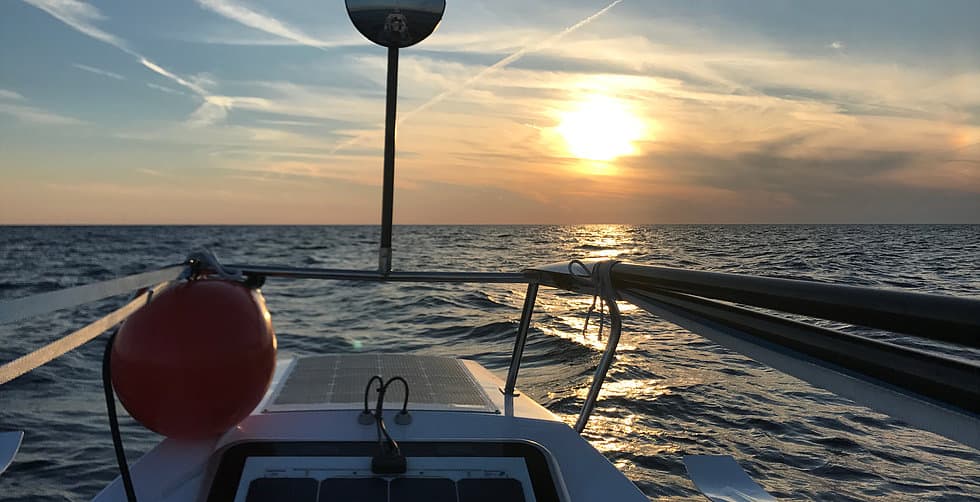 This segment aired on September 8, 2018.