English Soccer Pro Disputes 'Rubbish' Video Game Portrayal
Resume
Kevin Ellison is a 39-year-old midfielder on a fourth-tier soccer club in England called Morecambe FC. They're known as the Shrimps.
"I think it's cause it's — it's a seaside resort, obviously, where the football club's based," Kevin says. "Not a stone's throw from the football ground — the soccer ground as youse would say — a stone's throw from there is a beach."
At 39, Kevin Ellison's a little old for a pro athlete — but he says he still feels fit. He still loves the sport. Life is pretty good.
At least it was. Until Kevin's 13-year-old son recently brought some unfortunate news to his attention.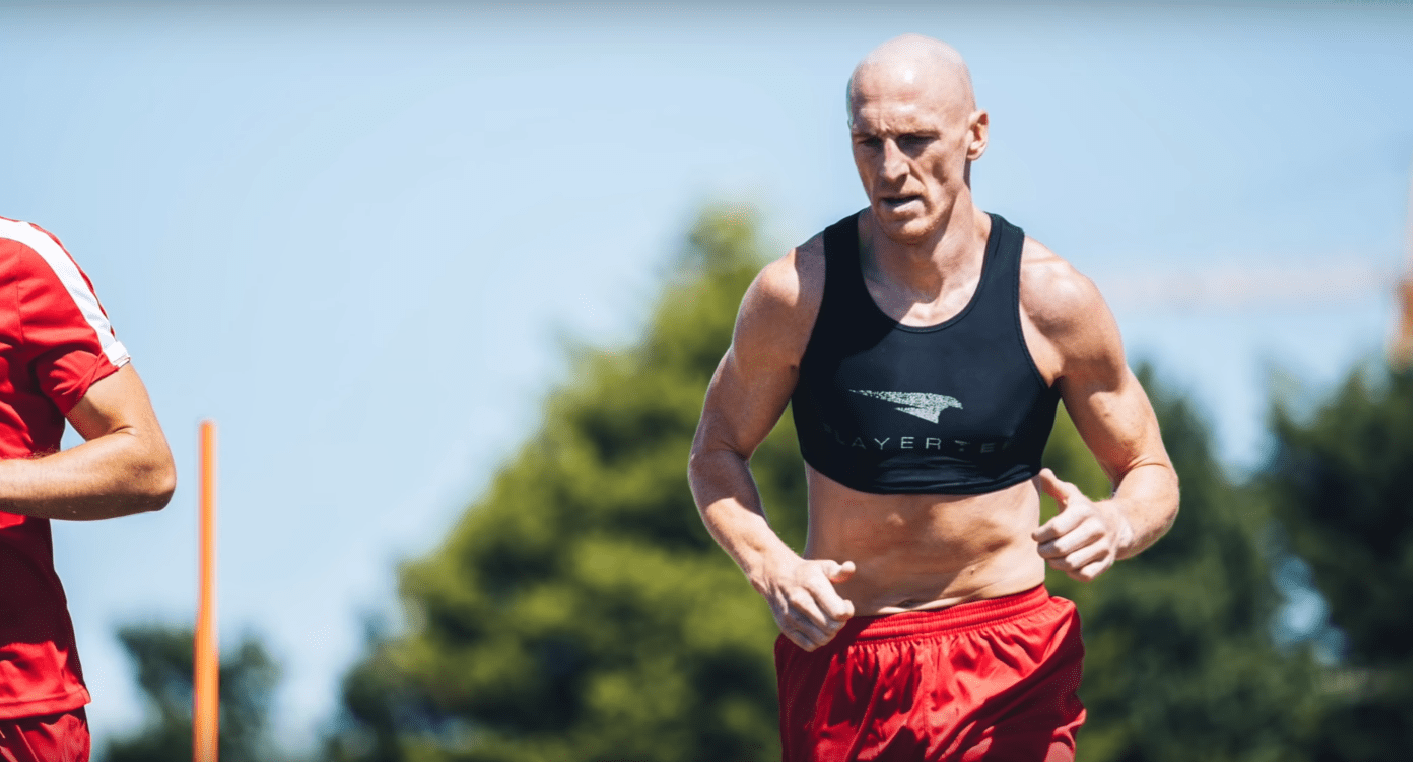 FIFA 19
The first thing you need to know about Kevin's son is that he — like millions of others around the world — is obsessed with the soccer video game FIFA.
"He doesn't want to go out the house," Kevin says. "Everything's FIFA, FIFA, FIFA. 'Do you want to come for tea?' 'No, can I play FIFA?' 'You going to bed?' 'No, I'm playing FIFA. One last game.' "
For the misfortunate few who have never experienced FIFA, a quick primer: in the game, you play as real professional teams and players — controlling their dribbling, passing and shooting on the screen. Most people choose to play with the top clubs in the world — like Barcelona and Real Madrid. But the game also includes lower-tier teams like Kevin Ellison's Morecambe FC.
In September, on the day the latest edition of the game, FIFA 19, came out, Kevin's son got a copy.
"Went on it straight away," Kevin says. "And instead of going to the Messis, the Ronaldos, of the world, he's gone to Kevin Ellison, who's his dad, and checks my gamer card."
The gamer card lists a player's stats in the game. It shows how highly the game designers rate them in things like shooting, defending, passing and, most significantly for this story, pace.
"Burst out laughing and said, 'Dad, at least your pace is good,' " Kevin says. "And I was like, 'Why — what's that, mate?' "
Kevin had been given a pace rating of 35.
"They call me a dinosaur. And I'm an old man, and I should be finished. I should be in a nursing home, resting up."

Kevin Ellison
"I think it's 1 to 99," Kevin says. "Ninety-nine being the quickest and 1 being the slowest. But, yeah, there's me, and they're giving me 35."
Kevin isn't the very lowest-rated player in the game — that honor goes to Aaron Hughes from Heart of Midlothian in the Scottish Premiership. He's got a 24. But a 35 rating is definitely horrible.
Kevin's son puts it this way:
"He says I'm rubbish because me pace isn't up to scratch," Kevin says.
Morecambe's next slowest midfielder was rated 26 points higher.
"I think that's a bit unfair," Kevin says. "I think there's a bit of ageism there, where they've gone against me 'cause I'm nearly 40."
Now, there is a history of professional athletes grumbling about their video game ratings. Some fire off disappointed tweets or, like, Liverpool's Daniel Sturridge, jokingly complain, saying things like,"It's a disrespect to my integrity, to my name."
The Data
But Kevin Ellison and Morecambe FC's social media guy, Matt Rushton, decided to take it a step further.
"We wear GPS monitors every day in training to tell us how fast we're running — the coverage, the kilometers we run," Kevin says. "We get the scores put up daily. So we thought it would be interesting to get the data and show a few people on social media that that 35 pace isn't for real."
Kevin wanted to show how he really stacked up against his younger teammates, who have never exactly been supportive.
"They call me a dinosaur," Kevin says. "And I'm an old man, and I should be finished. I should be in a nursing home, resting up and that."
But the GPS monitors showed that Kevin's top speed — at least on one particular day — was higher than most of his teammates'.
"The data doesn't lie," Kevin says. "I'm quicker than them and, obviously, me legs haven't gone yet."
Kevin Ellison went public. He and Matt made a video.
For some reason, it opens with Kevin in a bubble bath.
"I don't know — he just thought it would be funny," Kevin says. "Like, an older man, in a bath, just chilling."
But then, it shows Kevin pointing out the results from the GPS monitors to his allegedly faster teammates. In the month and a half the video has been online, it's been viewed nearly 1.5 million times.
Life After '35'
Kevin says people have even sent him videos of themselves using his character in the game.
"Videos with me still scoring against the likes of the Real Madrids, the Man. Uniteds of the world and the Barcelonas," Kevin says. "And there's me, with 35 pace, running past Messi and putting it in the top corner. Which I quite find amusing, obviously."
I asked him if he had heard anything from EA Sports in response.
"No," Kevin says. "It's funny you say that — 'cause me little boy come home from school yesterday, and he's gave me a number. He's asking me to ring EA Sports and FIFA now to try to up my pace because he's not happy, and he's been getting a bit of stick — which is a bit of banter and a bit of name calling — in school because his dad's only 35 pace. But, no, as I say, I've not heard of them. I don't expect to."
"It only seems right, though, that you've gone through all this trouble and you've proved with the data that you deserve a higher speed," I tell him. "I feel like FIFA should, EA Sports should — "
"Is there any chance you can help me in that then, Martin?" Kevin says.
"I'll see what I can do, I'll see what I can do," I respond.
Alas, I haven't yet been able to speak with the good people at EA Sports about whether there's any hope for Kevin's pace rating. (Needless to say, we'll keep you updated in the coming weeks.)
But at the very least, Kevin Ellison — who turns 40 in February — wants to be back on the pitch next season. So when it comes time for Kevin's son to pick up a copy of FIFA 20, maybe EA Sports can do right by the Shrimps midfielder from Morecambe FC.
This segment aired on January 5, 2019.