After Hurricane Florence, A High School Football Team Rebuilds
06:28
Play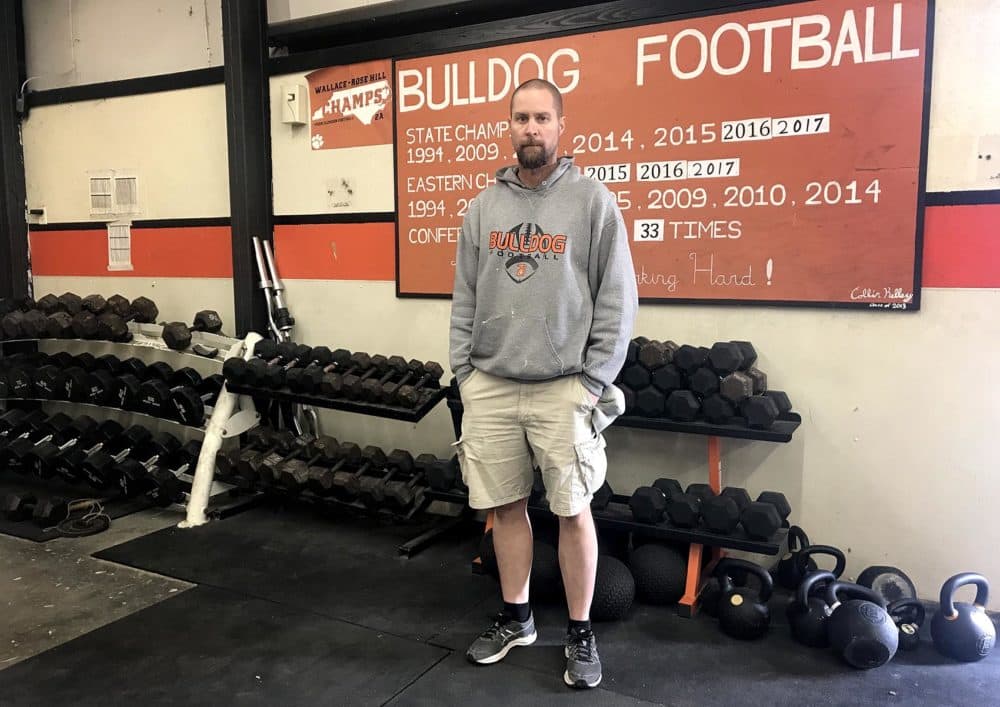 This article is more than 2 years old.
This past football season, the Wallace-Rose Hill High School Bulldogs were competing for their fifth straight state championship title.
The bulldogs play in Teachey, North Carolina. It's not one of those affluent communities where parents can afford to hire private coaches and send their kids to expensive sports camps.
"Our school is just hardworking, poor country folks," says Kevin Motsinger, the head football coach and weightlifting instructor at Wallace-Rose Hill.
The Storm Approaches
In early September, Kevin Motsinger led his students in prayer.
"I broke down and cried in all four classes," he says. "And I ain't never been much of a crier. But I really felt like there were kids in that class that I'd never see again."
Hurricane Florence was on the horizon.
The 45-year-old football coach had stayed home through several hurricanes. But when the news arrived that Florence was upgraded to a Category 5 ...
"We locked everything up — and we hopped in the truck, and we took off," he says.
"I'm not one to sit there and mope and pout. You roll your sleeves up, and you go to work."

Kevin Motsinger, Wallace-Rose Hill High School football coach
The coach, his wife and their two sons evacuated nearly 400 miles inland, close to Tennessee.
Meanwhile, 18-year-old Kameron Donaldson and his family were preparing for an upcoming move.
They loaded almost all of their belongings into a storage facility before evacuating.
"We was packing things for like a week," says Kameron, who goes by KD. "We didn't think the storm was going to be as big."
Kameron, his mother and his six brothers and sisters crammed into close quarters at a relative's house about half an hour from Teachey.
"I was scared," he says. "The storm was scary. I used to play outside in hurricanes. Not this one."
Before making landfall, the storm was downgraded to a Category 1. Still, the region faced catastrophic damage due to rain and storm surge.
Florence dumped nearly three feet of rain throughout the state. But parts of Duplin County, home to Wallace-Rose Hill High School, were left under more than 25 feet of water.
"I always joke and say, you know, 'Son always wants to run to Mama,' " Motsinger says. "Well, all the water's got to go to the ocean, and ours has to head east. We got all that was coming from everybody else."
Eight people in Duplin County died in the aftermath of the storm.
'It Looked Like A War Had Taken Place'
Motsinger and his family, like many in North Carolina, were displaced. They finally settled into a rental property in Wilmington, two hours away from the high school.
Three weeks after evacuating, Motsinger returned to his home.
"When I pulled on our dirt road … all the dead fish, dead deer and just all the stuff that's floated from everywhere," he remembers. "And it looked like a war had taken place in our neighborhood — and we lost."
Motsinger's home had extensive water damage. For KD and his family, the situation was even worse.
The storage unit holding the family's belongings was under five feet of water. Everything was ruined.
"When my mom saw it, she immediately broke down and started crying," KD says. "And I said, 'It's OK. We're still here. We've got each other. We're still alive. That's a blessing.' "
Wallace-Rose Hill High School was closed for seven weeks. But three weeks after the storm, when the grass had begun to dry, the team started playing again.
"We started football practice back, trying to get some kind of normalcy," Motsinger says. "We practiced in the morning, and then we'd go work on our houses or, you know, go help others."
Motsinger knew that many of his neighbors were struggling. And so was he.
"I've gotta take care of my two sons ... My wife needs me to call these people today ... I've gotta fight this insurance adjuster ... I've gotta get a quote to get this fixed — well, they're so busy, they can't give me the quote ... Um, these kids need this ... Oh, yeah, we got a football game Friday ... We got practice today ... I've got, you know, 13 hours of film I've got to break down," he remembers. "They say God doesn't give you more than you can handle. You know, God is never wrong. But he thinks I'm a lot tougher than I really am. Because I don't know how much I can take."
Motsinger turned the high school's athletic buildings into a distribution center for donated goods to help the entire community.
"I'm a fighter," he says. "I'm not a whiner. I'm not one to sit there and mope and pout. You roll your sleeves up, and you go to work."
But for some of his players, he went even further. Motsinger knew KD and his two middle brothers, who are also on the team, were driving almost an hour round-trip every day to get to practice.
"And I asked him, 'How much it cost to fill up your gas tank?' " Motsinger remembers. "I think he said $10. Ten dollars is the most he's ever put in his gas tank."
So Motsinger reached into his pocket and pulled out some cash.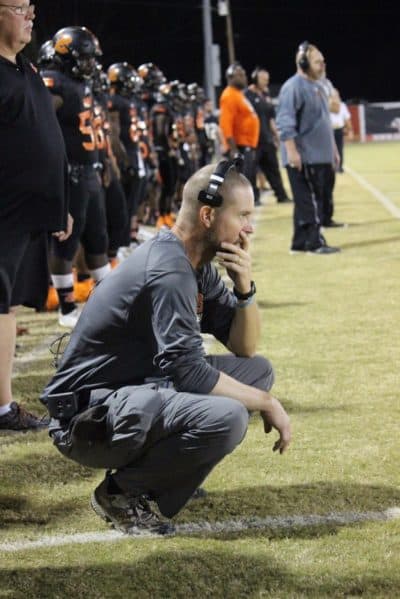 "And he just hugged me, and he told me he loved me," Motsinger says. "And I told him I loved him."
"When we get on the field, it's straight coach mode. But in school, it's like dad coach," KD says.
On The Field
Despite missing significant practice time, the Bulldogs made it to the playoffs. The team was under a lot of pressure.
"Football means so much to our community," Motsinger says. "And it was the saving grace, you know. I think they felt like, 'We have to win. Our community needs something positive.' And I think it just got too much."
The team lost in the third round.
The high school locker rooms are back to normal now — except for one corner, where giant cans of spaghetti sauce, black beans and apricot halves are still stacked high.
The coach and his family are back in their home. There's still rebuilding to be done throughout the community. And Kevin Motsinger will continue to roll his sleeves up and go to work.
This story first aired on Kind World. Find Kind World on Facebook or Twitter, or email kindworld@wbur.org to share your story. You can also subscribe to the podcast.
This segment aired on January 19, 2019.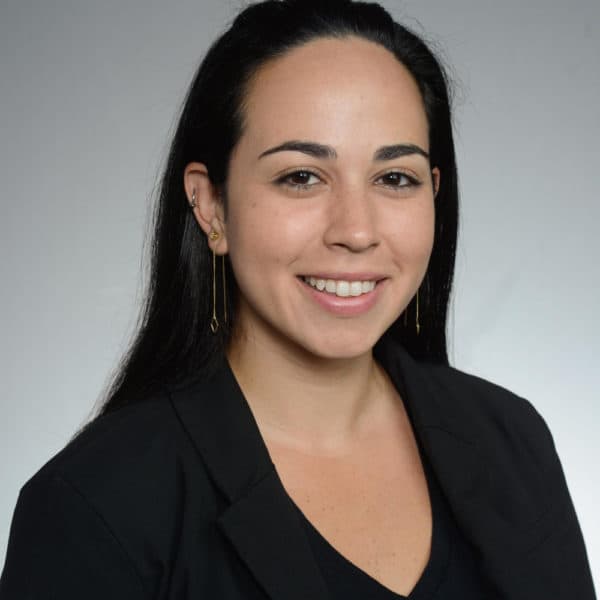 Andrea Asuaje Reporter/Producer, Kind World
Andrea Asuaje was a reporter and producer in WBUR's iLab, where she made Kind World. She's honored to share these emotional and impactful stories of hope, love and compassion with the WBUR audience.