Nicki Collen Was Her Husband's Assistant Coach. Now, She's WNBA Coach Of The Year.
Resume
In July of 2018, Nicki Collen was in the seventh week of her first season as a head basketball coach — at any level. And her team, the WNBA's Atlanta Dream, was not off to a good start.
"I think we knew that there was going to be a learning curve," Nicki says. "I just don't think that you show up and have three weeks of training camp, or two and a half weeks of training camp, and figure it all out."
The WNBA regular season is short — just 34 games. And through the first half of 2018, the Dream's record was hovering around .500.
Then came Atlanta's home game against the Seattle Storm on July 6. 
"We just weren't in tune to the game plan," Nicki says. "And for the first time all season, I just really felt like we were bad."
During that game, the Dream were down by as many as 21 points. They tried to battle back, but lost 95–86.
All this might have been enough to derail another rookie head coach. But Nicki Collen knows how to be patient. She's had a lot of practice at it.
"We turned around and beat Phoenix in the next game — and it was a big win against a Griner and a Taurasi and some of these giants of our league," she says. "And that began an eight-game winning streak, which is the longest in franchise history. And they just got more and more confident."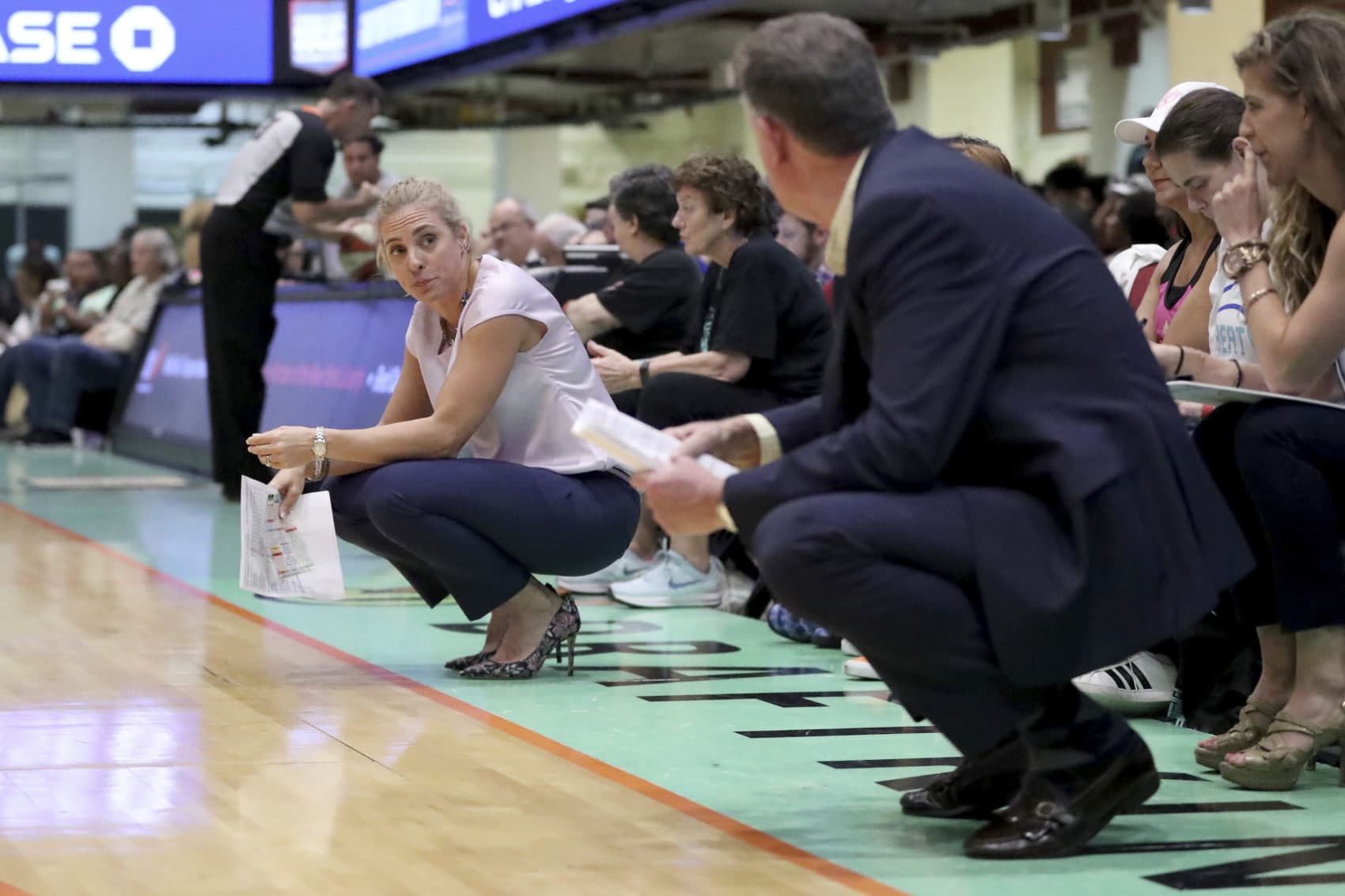 How exactly did a rookie head coach have the confidence to help her team find their confidence?
For that story, we have to go back to the early '80s.
Nicki's Athletic Dreams
Nicki Collen was in the third grade. And even though she lived in Indiana, her game was tennis. When she wasn't dreaming about becoming an astronaut, she thought she was going to be the next Chris Evert.
"I can remember Sunday mornings, like, climbing into my parents' bed and watching the French Open," Nicki says. "I think that's where I thought my life was headed until we made an abrupt move from Indiana to Wisconsin in the fourth grade."
Nicki's family moved a lot — from Michigan, where she was born, to Ohio, Indiana and then Wisconsin. Every time the family moved, it was because Nicki's father, who started as an accountant, had moved a little higher up the corporate ladder.
The family home in Wisconsin wasn't near any tennis courts. But it did have a concrete driveway with a steel-pole hoop.
Nicki took to dribbling around just for fun.
"I have one of those fathers that, you know, you don't do anything without a plan," Nicki says. "And so very quickly, it became dribbling around cones so we could develop the right form and do things the right way. And I kind of learned the game very fundamentally."
Nicki got good. Really good. When she was in high school, she was recruited to play college ball by a coach named Tom Collen.
"I'm assuming we're here to talk about her more than talk about me?" Tom jokes when our conversation begins.
Tom says Nicki was a perfect fit for Purdue University.
"You could just see a lot of heart, a refuse-to-lose kind of attitude all the way back then," Tom says. "So that's what I fell in love with. And I had no idea that I'd fall in love in a different way somewhere down the road."
But we're getting ahead of ourselves.
One Favor
Tom never got the chance to coach Nicki at Purdue. By the time she arrived, he had moved on to another school. Nicki stayed at Purdue for two years before she transferred to Marquette. She says her goal was always to lead the nation in assists. Her junior year, she came in second.
"My coach at Marquette used to tell me, she said, 'I've never understood how someone who spends so much time shooting passes up so many shots,' " Nicki remembers. "But it was just how I worked, how I played and kind of my personality as a basketball player."
After college, Nicki played one year in Greece. But she knew she'd never make it to the WNBA as a player. So she moved back in with her parents and started interviewing with companies where she could use her degree in mechanical engineering.
"At one place, it was like, 'Hey, you are going to be helping with this pizza-making machine when it breaks down and potentially redesigning the parking lot,' " Nicki remembers.
Nicki accepted a job with Motorola. She put a hold on an apartment in a high rise, with views of downtown Chicago. She was 23 years old, and she thought she had it all figured out.
"And I had a call on my answering machine when I got home," Nicki says. " 'This is Tom Collen, you know, I'm trying to track Nicki down. I heard she might be interested in coaching jobs.' You know, I called him back and said, 'Geez, I just took this job in engineering.' "
"I met the team. It was like I was right back in the middle of something that I loved."

Nicki Collen
"Initially it was like, 'I'm not really sure I'm interested. I'm ready to move on,' " Tom remembers Nicki saying. "I said, 'But Nicki, I know you love basketball. Just do me this one favor. Just jump on the plane and come out here and visit this place. And I know you'll fall in love with it.' "
"I met the team," Nicki says. "It was like I was right back in the middle of something that I loved."
Tom was the head women's basketball coach at Colorado State University. Nicki signed on as his assistant.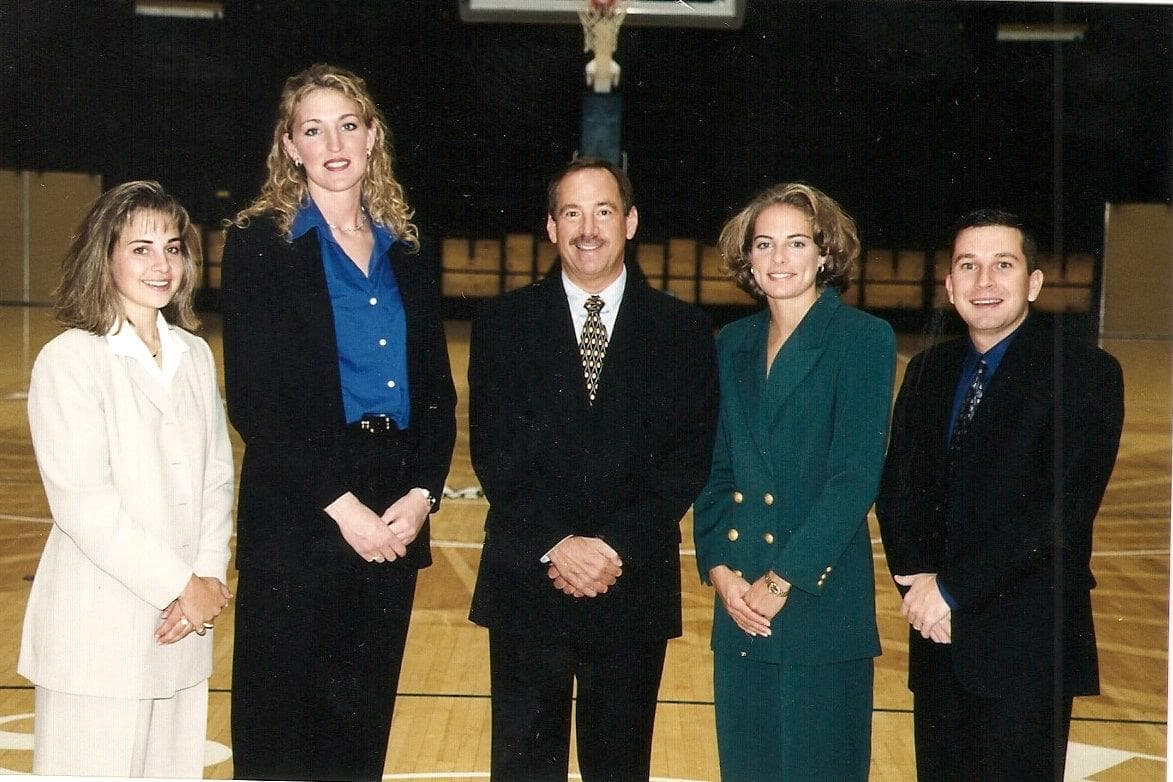 "She was terrific," Tom says. "She doesn't brag about herself a lot, but she graduated cum laude engineering. So she was very smart, she was very dedicated, she wanted to learn, wanted to grow, wanted the opportunities. And so we were a good match that way, because I was a coach that really wanted to empower my assistant coaches. And she did a lot of scouting — was almost a really a defensive coordinator right out of the box."
But after just a year, Tom fired Nicki.
"It was the most difficult thing in my life," he says. "I mean, I hired this young lady. I brought her out here. She's excited about being a coach, and now I have to fire her."
'Those Darn Nepotism Laws'
During her first year at Colorado State, Nicki and Tom had started dating. They'd fallen in love. Tom had asked Nicki to marry him. She'd said yes. But when Tom told the university athletic director, he said no.
"Well, you know, those darn nepotism laws," Nicki says.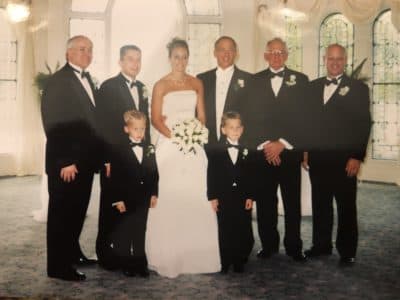 "My hands were tied," Tom says. "I just put faith in the fact that somehow this windy road was going to lead us back to where we wanted to be — and that's working together."
And it did. A year later, after Tom and Nicki were married, the university allowed Tom to hire her back.
When Tom left Colorado State, so did Nicki.
"That just kind of was the story," Nicki says. "My husband's 21 years older than me. At that point in his career, he was just — he was further along."
For much of the next 13 years, Nicki was Tom's assistant.
As Nicki followed her husband from job to job, doubts would sometimes creep in.
"Do people think I'm good at my job, or do they think I got this job because I'm married to the head coach?" Nicki wondered. "And that really kind of was always with me, because I was never able to kind of go out on my own and just have my own voice."
In 2005, while Tom and Nicki were coaching at Louisville, they decided to start a family. Nicki stepped away from the game. She had twins: a boy and a girl. Two years later, she was pregnant again. And Tom was offered the head coaching job at Arkansas.
"You know, gosh, she — I moved her when she was eight months pregnant, and so the timing really wasn't best for her to come back on the floor," Tom says. "But I knew in the back of my mind that for me, this was my last hurrah. I knew Arkansas was my last job. So when I spoke to the AD, I made it clear that I wasn't going to make this transition — I wasn't going to take this job — if, at some point in time, that I couldn't move her back onto my staff."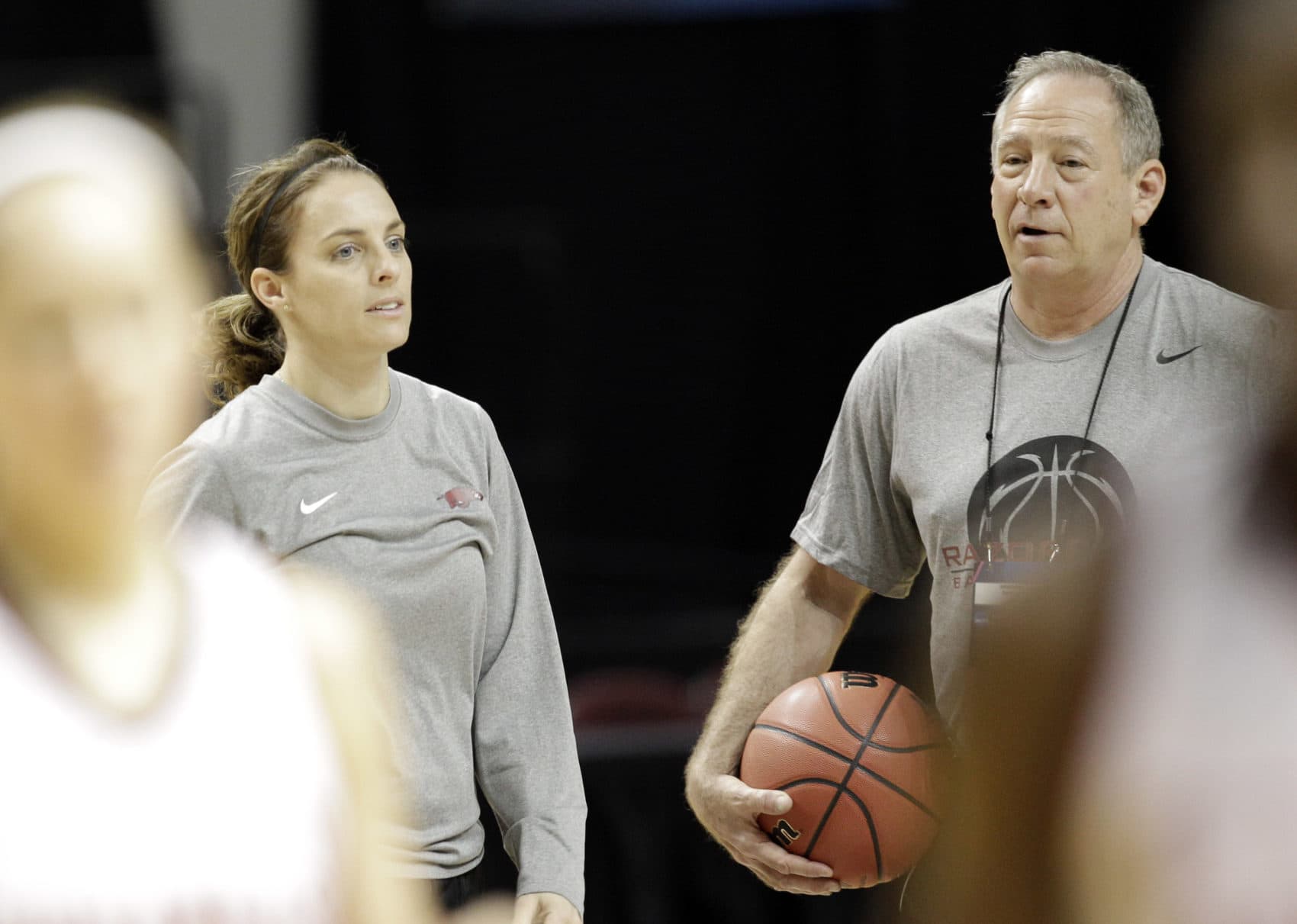 The university agreed. But when Nicki was ready to get back into coaching, Tom didn't have a job opening. Nicki says she enjoyed her time with her kids. But whenever Arkansas played at home, she couldn't stop herself from shouting instructions at the players from the stands.
"Bud Walton arena seats 20,000, and even when you only put 2,000 in there, you certainly can hear a loud voice, so the players all knew that I had opinions," " Nicki laughs.
Improvement At Arkansas
Tom's teams had reached the NCAA tournament seven out of the nine seasons he coached at Colorado State and Louisville. But in Arkansas, he went four years without a tournament appearance. Finally, in the summer of 2011, six years after Nicki had stepped away from coaching, a job opened up. Tom hired Nicki and put her in charge of the team's defense.
The team improved from 86th in the country in scoring defense to 10th. They made the 2012 NCAA tournament and won their first-round game. In the second round, Tom and Nicki found themselves falling behind.
"Texas A&M, quite frankly, was kicking our butt at the time," Nicki remembers. "And I remember at a timeout, I would always go directly into the huddle and make defensive adjustments. And for the first time, I looked at him and said, 'What do you think we should do? Do you think we should switch to a zone?' And he said, 'That's what I hired you to do. Go figure it out.'
"And I remember just kind of going, 'OK, thanks for the help.' And turned around and made an adjustment, switched to zone — we had a game-winning shot. It came down to the last play."
Arkansas lost. But as Tom and Nicki went through the handshake line after the game, Gary Blair, the head coach at Texas A&M, congratulated Nicki. He said her switch to zone had befuddled his team.
"It's those moments, I don't care what career you have or the work that you do," Nicki says. "When you have those defining moments where you make a decision and it works, you know, that just continues to build your confidence — that you're thinking right, you're processing right. I'm not always going to get it right, but I'm going to keep working at it."
Nicki knew she had the respect of the players at Arkansas, and the fans and administration, too. She even had the respect of opposing coaches.
"I still didn't know what the perception was, though, nationally," she says. "You know, people that didn't know me — people that didn't see how hard I worked — what were they thinking from the outside?"
"I'm not always going to get it right, but I'm going to keep working at it."

Nicki Collen
Despite the success he and Nicki were having at Arkansas, Tom was asked to resign.
"I just looked at it as a sign: 'OK, this is the moment in time where something good is going to happen for Nicki,' " Tom remembers thinking. "I always felt like God was kind of in control of that."
Nicki wasn't so sure. Her sister had just died after a short, three-month battle with cancer. Tom had been diagnosed with prostate cancer. She thought, maybe she should take a year off — spend time with her family. So she sat down with the athletic director at Arkansas to try to figure out her next move.
"He said, 'You just got back in, and if you can keep pushing forward in this profession, people are going to know how good you are,' " Nicki remembers. "You know, and he even told me at the time, 'It's not as if I'm going to ask your husband to resign and then hire you to be my next head coach. Well, that's pretty awkward.' But he said 'I know that ultimately you're going to be capable of being at this level.' "
Coach Nicki And 'Mr. Mom'
So Nicki and Tom moved again. But this time, it wasn't to the place that was best for Tom's career. It was to the place that was best for Nicki's career. She didn't choose the most prominent team, or even the team with the best record. Instead, she decided to go to Fort Myers, Florida to work under the well-respected head coach at Florida Gulf Coast.
"It was a unique opportunity to build a relationship with my own two feet and to bring ideas to the table that were very much my own," Nicki says. "I think my husband is a very, very good coach, but I had different ideas about how I would do things."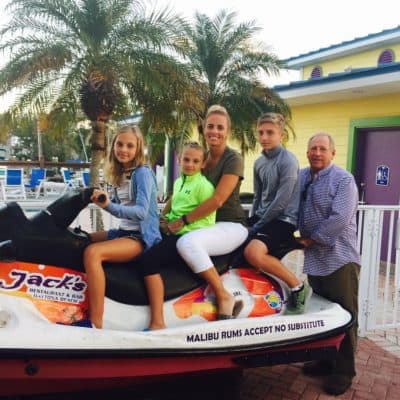 Meanwhile, Tom settled into his new role at home with the couple's three kids.
"He's definitely turned into 'Mr. Mom' and knows the schedule and runs the calendar," Nicki says. "He's kind of learned to manage a totally different world."
After a year at Florida Gulf Coast, Nicki left to become an assistant for the WNBA's Connecticut Sun. Tom stayed in Florida with the kids.
"I think at first, when she was an assistant at Florida Gulf Coast, it was a great sense of relief for me that I didn't have those responsibilities as a head coach anymore," Tom says. "I knew she was working for a great person, successful program. They won a lot of games. But it was a part-time job for me, because she was there.
"Now, when she jumped to WNBA and was gone for six months at a time, my attitude probably changed a little bit. It was a little more difficult for me to be able to manage that, but I did a lot of praying about it, and I realized this is where I'm supposed to be. This is what I need to embrace."
After just two years in Connecticut, Nicki found herself talking to a friend about making the move from assistant to head coach.
"He called me, and he said, 'Are you interested in the Atlanta job?' " Nicki remembers. "And I said, 'Well, you know, I'm really interested in the Seattle job. Because who doesn't want to coach Breanna Stewart? But, yeah, I'm kind of intrigued by that.' "
Nicki flew to Atlanta for an interview, and the Dream offered her the job that same day. After all those years as an assistant, Nicki finally had the opportunity to make the jump to head coach — at the sport's highest level.
"It took me a few days, and I remember being asked why I hadn't said yes," Nicki says. "And I said, 'Well, I'm sitting here, and my toes are in the water. But we all know, when the water is cold, it's hard to jump in — and you just have to make that plunge.' And I think the moment I made that plunge, I knew I was ready, because you just wake up the next day and you start planning."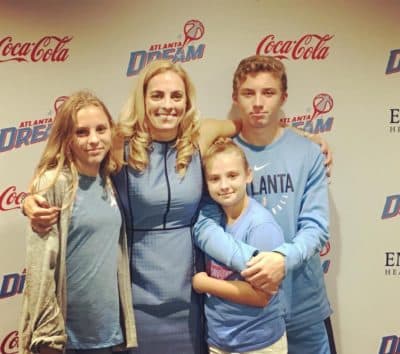 A Dream Deferred, Realized
Nicki says most WNBA coaches don't live "in market." They stay in temporary housing, provided by the team, for six months out of the year.
But Nicki and Tom decided to move the whole family to a suburb of Atlanta so everyone could be there to support Nicki in her new role.
But then came that first half of the season. The 8–8 record. That game against Seattle when Nicki felt her team was just "bad." (Seattle, by the way, would go on to win the 2018 championship.)
But after that game, the Dream went on their franchise-record eight-game winning streak. They won 15 of their final 17 games. Nicki was named WNBA Coach of the Month in July — and then again in August.
Nicki says the WNBA season is intense. She barely sees her family for six months out of the year. But at almost every home game, Tom and their kids were in the stands, cheering.
"They saw me all those years — they saw me as the breadwinner and the 'Dad,' which is the typical description of a lot of families," Tom says. "So I think it gives our children a chance to see her through a completely different lens. They always knew that they loved her and that she was a good mother. But now they're seeing her as this successful coach, as this businesswoman, as this leader and mentor."
"I loved that I was able to be at home for them and have that nurturing relationship and be close to them," Nicki says. and I love that they can see that I can be good at something."
In late August 2018, as her team was preparing for a playoff game against the Washington Mystics, Nicki Collen was named WNBA Coach of the Year. Her reaction was … muted.
"While I'm proud of the accomplishment, I also [was] like, 'OK, can we move on? We've got a game,' " Nicki remembers.
Tom was a bit more emotional.
"I cried," he remembers. "I've always known how good she was going to be once she [got] the opportunity, but I always felt like she was kind of stuck in my shadow. And so for her, in her first head coaching experience, to be named the Coach of the Year in the greatest women's basketball league in the world, is just an amazing accomplishment. So I was just happy and excited for her."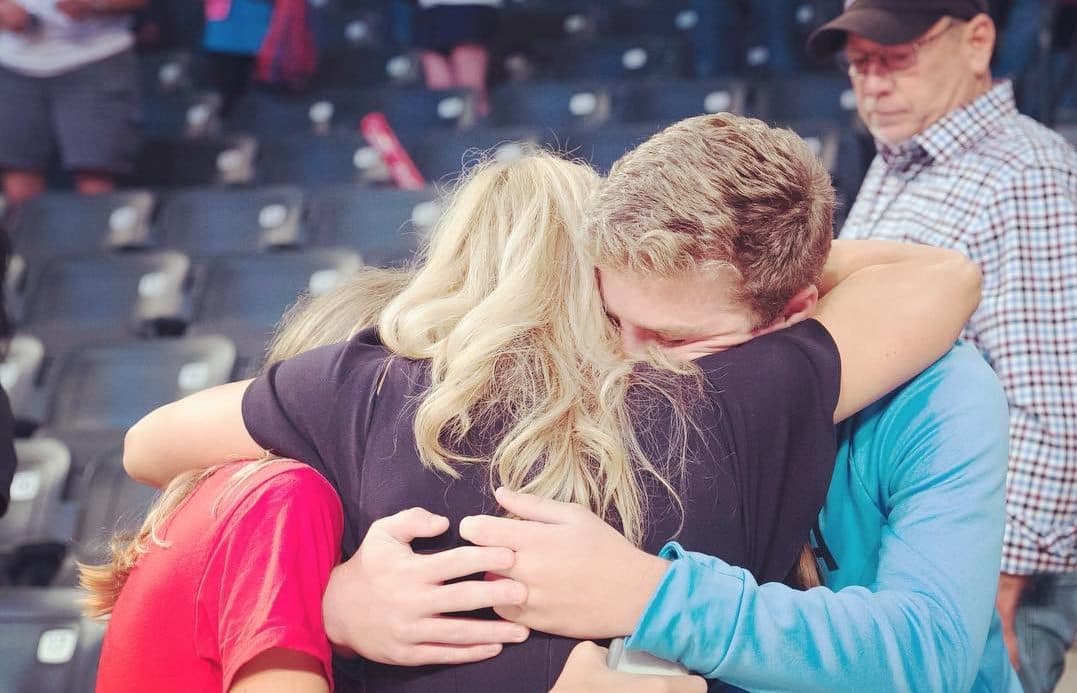 The Dream lost that playoff series to the Mystics. And Nicki Collen went back to chaperoning her kids field trips and planning for next year.
Nicki says the WNBA offseason is slow, at least compared to the college game. She enjoys having this time to spend with her family. And it's given her time to reflect on her journey.
"You see, probably, more men than women who have that direct stair-step path in their career — not unlike my dad," Nicki says. "So maybe it makes me appreciate it more. I'd like to think it does, because it wasn't just this easy, simple, straight line to get to where we wanted to go."
The Atlanta Dream begin their 2019 season on May 24. Vegas oddsmakers have given the team the fifth-best odds to win it all.
This segment aired on March 9, 2019.