Meet Lloyd Canamore, A Golden State Warriors Superfan
05:27
Play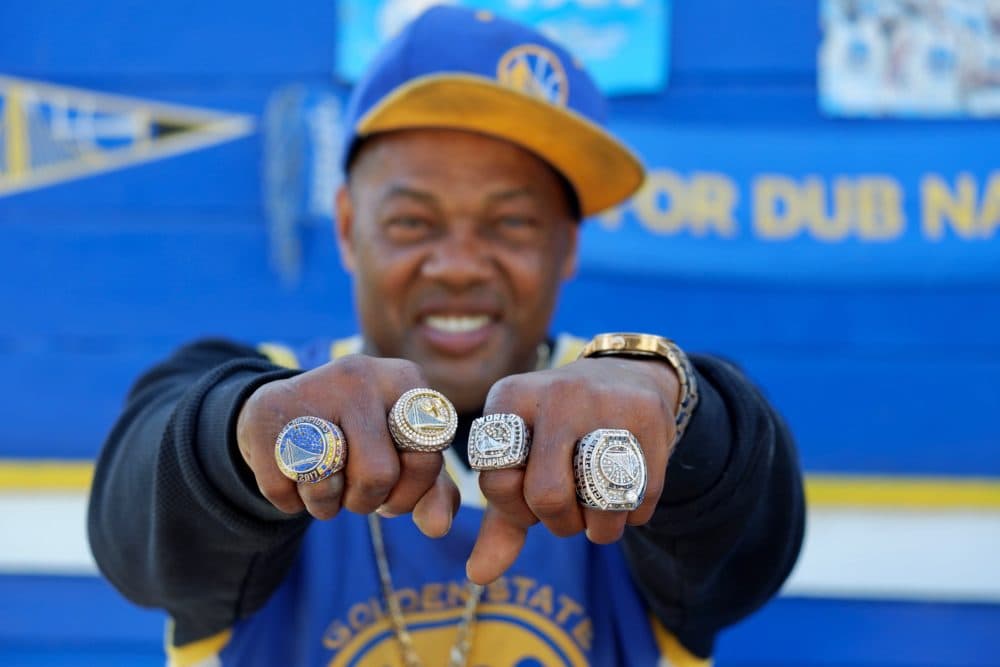 This article is more than 1 year old.
Many folks in the Bay Area consider themselves Warriors fans, especially when the team is going for its third straight championship. But I'm gonna tell you about someone who may be the Warriors' biggest fan.
Lloyd Canamore is dressed head to toe in Warriors gear, and it's not just because I'm here to interview him. That's just what he wears. Plus, he's got two humongous championship rings on each hand.
"At least two at all times — but sometimes I get fly, and I put two more on, though," Canamore says.
The rings are replicas, by the way. Promotional giveaways handed out by the Warriors.
If the world is the arena, Canamore says his house is the locker room.
"So, look — I come outside, 'Here come the Warrior man,' " Canamore says. "Warriors are in my heart. I bleed blue and gold. It's in me."
Canamore's connection to the team and the stadium goes deeper than most.
Blue And Gold
When he was in high school in the late '70s, Canamore took work as a snack vendor at The Oakland-Alameda County Coliseum Arena for Warriors home games.
"I used to be loud — 'Get your hot dogs here!' " he yells.
Canamore often has a stutter, but it wasn't a problem when he was on the job.
" 'Get your peanuts here! Everybody get your peanuts!' " he yells. "I made money fast, then. I was strong and healthy."
He says the arena was another home. He practically felt like part of the team. Canamore happily shows me an old photo of himself with Sonny Parker, a guard who was the Warriors' first-round pick in 1976.
"I was just starting — I was 17 years old," Canamore says.
The years passed. Players came and went, but Canamore stayed loyal. His friends even gave him a nickname.
"The guys call me 'Hardaway,' " he says. " 'What's up, Hardaway?' "
Tim Hardaway was a point guard for the Warriors from the late '80s through the mid-'90s.
As Canamore's connection with the team grew deeper, his family life got more complicated.
In 1997, his 14-year-old son, Lloyd Jr., died of cancer. A few months later, one of Canamore's brothers died from AIDS. Just a few years ago, two of his remaining brothers died — one right after the other. A friend saw he was hurting and wanted to help. So he offered to paint Canamore's house for free.
"Said, 'Man, how can you take two deaths back to back?' He said, 'I'm gonna do you a favor. I'ma paint your house. How you want it?' " Canamore says. "I said, 'I want the Warriors colors.' "
Of course Canamore wanted his house painted blue and gold. Those colors are his emotional anchor in the wake of tragedy. And the bold paint job even turned out to reward him in a way he wouldn't have guessed.
'Winning, Winning, Winning'
When rapper Bizzle wrote an unofficial team anthem called "Warriors," he needed a location to shoot the video. And someone had the idea to make it outside the home of the No. 1 Warriors fan: Lloyd Canamore.
And guess who came by for the shoot? Superstar Stephen Curry. You can see him in the video, jumping alongside Canamore.
"We did 10 takes of that song — 10 takes of it," Canamore says. "At the end of the night, I couldn't raise my arm up."
Now that Canamore is in his mid-50s, he doesn't go to games nearly as much as he used to. It's a full-time job taking care of his mother and five dogs, who all live in the Warriors house. Plus, Canamore is still dealing with personal hardship: his daughter, Tamara, is at Highland Hospital in Oakland with a severe bacterial infection.
Canamore tells me that watching Warriors games calms his nerves — helps him through tough times. Helps him survive his grief. His unrelenting fandom may appear to be a love for basketball, but it's also mechanism to deal with a lifetime of trauma.
The Warriors are playing their last few games in Oakland. Next season, the team will move into its new, $1.4 billion arena across the Bay. And to be honest, Canamore hates San Francisco. Hates the Giants. Not a fan of the 49ers. He says he'll just watch the Warriors games on TV.
"I hate they're going to San Francisco," Canamore says. "It hurts me so bad. 'Cause I'm not gonna go to not one time to go watch a game in Frisco."
Will it be the same, watching the Warriors from home? Maybe not. But that doesn't mean Lloyd Canamore has any intention of painting his house any other colors than blue and gold.
This story was originally produced for "Bounce," a podcast from KALW chronicling the Warriors' last season in Oakland.
This segment aired on June 1, 2019.