'Why Didn't You Tell Me About Your Autism?': Anthony Ianni's Friendship With Draymond Green
Play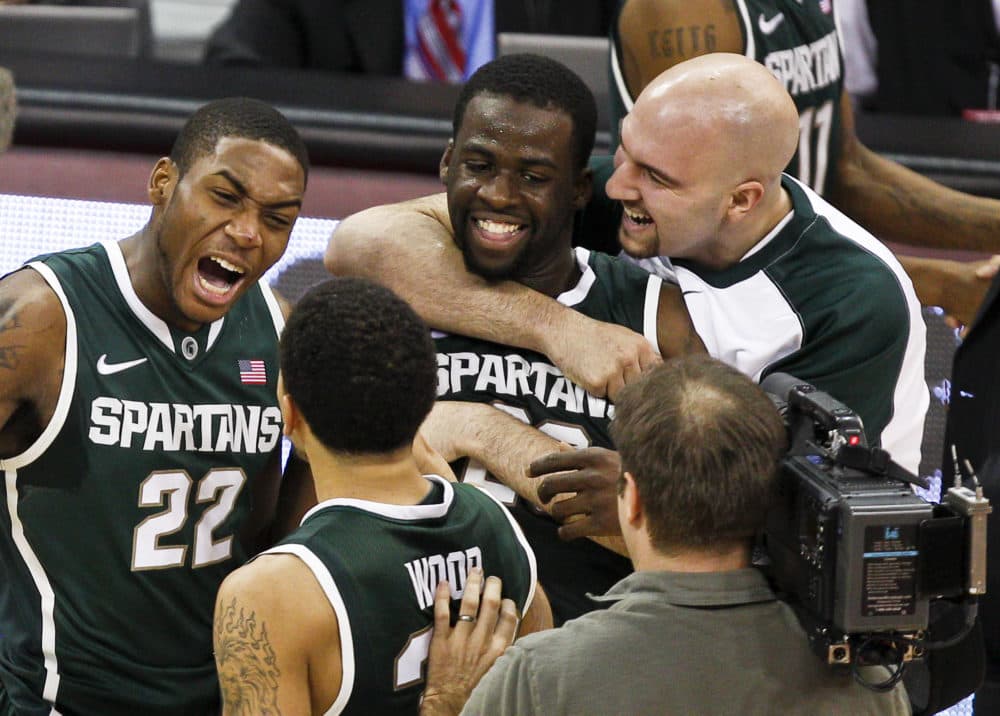 This article is more than 2 years old.
Growing up near East Lansing, Michigan, Anthony Ianni knew he was different from other kids. Through fifth grade, he had an aide with him in class. In middle school, he'd go to a resource classroom.
"So I was like, 'OK, you know, I have a learning disability — I'm just going to put it that way. And I don't know what it is, but I have a type of learning disability, just plain and simple,' " Anthony says.
Anthony's differences affected him beyond the classroom.
Anthony loved the Michigan State sports teams — his dad worked in the athletic department — but attending games was rough.
"Just, like, the crowd noises and the horns from the scoreboard — you know, it was really too much for me early on," Anthony says.
"Looking back on it, I wasn't the guy who was making people laugh. I was the guy that people were laughing at."

Anthony Ianni
Anthony also had a hard time understanding jokes and sarcasm. He took everything literally.
"So, for example, if somebody had told the 5-year-old me that 'It's raining cats and dogs outside,' well, a majority of the population knows that it's pouring down rain. Where the 5-year-old me would have ran out the door, you know, going outside and hoping that a cat or a dog will literally fall into my arms."
Anthony wanted to fit in at school.
"I wanted to be the cool guy," he says. "I wanted to be the guy that made people laugh."
And Anthony thought the best way to do that was to re-create what he saw on TV.
"Curly was my favorite of The Three Stooges," Anthony says, "and so, for example, Curly did a sound effect where he goes 'nyuk, nyuk, nyuk,' and I did that all the time in the hallways. I mean, I did the hand gestures that The Three Stooges did all the time.
"And people who weren't my friends, who got a glimpse of it in the hallways, encouraged me to go on and on and on. And, you know, looking back on it, I wasn't the guy who was making people laugh. I was the guy that people were laughing at."
Bullies targeted Anthony. He says it didn't help that he was bigger and taller than pretty much everyone at school.
"When I started off in sixth grade I was 6-feet tall with a size 13 shoe," he says. "And, you know, people called me so many names, like the 'Jolly Green Giant' or, you know, the Giant Peach from 'James and the Giant Peach.' I had people call me that one time, and it's, like, you know, people kept egging on and on and on and on about it. And it drove me crazy to the point where I was on the floor crying and just telling people to stop."
'Son, We Have To Tell You A Little Story'
After Anthony finished middle school, he learned something that helped this all make a bit more sense.
"Going into my freshman year of high school, my parents sat me down in the living room and said — my dad looked at me and said, 'Son, we have to tell you a little story,' " Anthony recalls. "So they told me the story about my diagnosis."
At 4 years old, Anthony had been diagnosed with Pervasive Development Disorder, which Anthony describes as "a higher-functioning form of autism."
"Along the same lines as Asperger's syndrome," he says.
Anthony also learned that doctors and experts had told his parents not to expect much from him.
"They told my parents that I was barely going to graduate from high school, never go to college, never be an athlete — and, eventually, one day I was going to end up in a group institution with other individuals like myself," Anthony says.
Anthony says his first reaction was, "Who would say that about a little kid?"
But soon he started thinking something else:
"Let's go shut people up," he remembers thinking. "Let's go prove these doctors and experts wrong. Let's show them why you are not going to be in a group institution. And so I kind of had this checklist in my head, you know, after my parents sat me down. And the checklist was: graduate from high school, get a full-ride scholarship somewhere and then graduate from college.
"And so, like, nothing else mattered to me in high school but those things. That's why, like, I didn't worry about, you know, having a girlfriend in high school. Granted, did I have crushes in high school? Absolutely. But I was so focused on just proving the world wrong."
As a freshman at Okemos High School near East Lansing, Anthony was 6-foot-6. And he loved basketball. Anthony's parents had both worked for the Ohio University athletic department, so when Anthony was a toddler he'd go to practices and shoot on a lowered hoop.

And, at games, he learned to watch the clock count down toward zero.
"As it got to three seconds left on the clock, I would put my hands over my ears to block out any noise," he says. "And then when the horn went off, I would kind of slowly just take my hands off my ears. And, if it was too much for me, I put my hands back on my ears. And so every game I went to, I kept doing that, and eventually got to the point where my hands were just so far away from my ears. I was just like, 'All right. Whatever. I'm used to this now.' "
Anthony says he went to every Michigan State home game.
Ticking Off The Checklist
By the end of his senior year of high school, Anthony had earned a scholarship to play at Div. II Grand Valley State University. Anthony was ticking off that checklist he'd made for himself.
After two seasons at Grand Valley State, in 2009, Anthony decided to transfer to his hometown school and the team he'd grown up rooting for: Michigan State.
Anthony didn't know of any one else with autism who had played Division I basketball.
And this wasn't just any Division I team. Michigan State was expected to be one of the best in the country.
Anthony kept his autism diagnosis mostly a secret. The Michigan State coaches and a teammate knew, but he didn't tell the rest of the players.
"I didn't know how they were going treat me," he says. "Because, in the past, I told people about my diagnosis and what it was. And, you know, a lot of those people who I thought were my friends at the time, they started treating me differently. They started treating me differently, like I wasn't a normal person. Or I didn't know how to act. They treated me like a little kid after that. And so that's why I didn't tell anybody."
But keeping his autism diagnosis a secret in the Michigan State locker room was going to be difficult, especially considering the personality of the man who was quickly becoming the centerpiece of the Spartans team.
Meeting the 'King of Trash Talk'

Draymond Green has never been afraid to speak up.
"He was the locker room leader, right from his freshman year," says Michigan State Associate Head Strength and Conditioning Coach and Director of Sports Science Mike Vorkapich — or, more simply, "Coach Vork."
"I don't even know if people know my first name on this campus," Coach Vork says.
Anyways, back to Draymond Green.
"When I say 'right from his freshman year,' not right when he got to campus, but as the season progressed," Coach Vork explains. "You know, we lost, and he kind of piped off in the locker room in a good, positive way — just saying, 'Hey, we're right there. We're going to get back to this point. ... We're going to get back to the Final Four next year.'
"And you don't hear freshman say that. It was like he took the reins. And that became his team then."
"You've got to have thick skin when you're Draymond's teammate."

Mike Vorkapich
Anthony Ianni arrived at Michigan State that next season. In some ways, he and Draymond Green were quite similar. They were both from Michigan. They both grew up Michigan State fans. For a couple months they even played on the same AAU team.
"He kind of had that same mentality as I did, that chip-on-the-shoulder mentality of, 'Oh, you told me this. OK. I'm going to go prove you wrong,' " Anthony says.
But, in other ways, Anthony and Draymond couldn't be more different.
Anthony was walking on to the Michigan State team. Draymond had committed to Kentucky before picking the Spartans.
And, while Anthony struggled to understand sarcasm and jokes, Draymond was the opposite.
"Draymond is the king of trash talk," says Austin Thornton, who was on those Michigan State teams with Anthony and Draymond.
Austin and his teammates weren't safe from Draymond's trash talk.
"When he goes into these trash-talking moments, he just goes from zero to not even 100, but zero to, like, 10,000," Austin says.
"He was a jokester," Coach Vork says. "You've got to have thick skin when you're Draymond's teammate."
Because Anthony's dad worked in the Michigan State athletic department, Coach Vork had known Anthony — and about Anthony's diagnosis — since he was a kid.
So Coach Vork asked Anthony to stay after his first workout with the team.
"I said, 'Any time you're not certain of something,' I go, 'just look at me, say something to me. I'll explain it to you. I got no problem with that,' " Coach Vork says.
Anthony took advantage of the offer.
"Oh, yeah," Coach Vork says. "He would come up to me and just ask questions, 'Hey, I think guys are saying this.' And then I'm like, 'Oh, they're just joking.' 'They're just messing with you.' He's like, 'OK.' He'd just sort of brush it off, like, 'No big deal,' you know?

Austin Thornton also knew about Anthony's diagnosis, so Austin would try to help out when teammates started teasing Anthony.
"And I can't tell you how many times he'd be, like, hitting me under the table, like, 'Hey, they're just joking, right?' " Austin recalls. "I'd be like, 'Yeah, yeah. it's a joke. You can laugh. Don't get too upset."
And Austin would try to help Anthony jab back.
" 'If they're going to poke fun at you for this, like, hey, maybe make fun of this guy for that, or maybe make fun of that guy for this,' " Austin remembers telling Anthony. "Like, it's OK to do that."
But this sometimes went badly.
If, for example, a teammate joked that Anthony's high school basketball program was "horrible," Anthony says his response might not make sense.
"Like, I would say, 'Oh, well you guys are just — you're average,' " Anthony says. "And so they would just give me that weird look like, 'You do know that average is, you know, better than worse, right?' "
Because of all this, Anthony says it could be hard for him during his first two years at Michigan State.
But there were no major incidents. And Anthony was still able to keep his diagnosis a secret.
'Why Didn't You Tell Me About Your Autism?'
Then came a summer workout before the 2011-12 season.
As Anthony remembers it, Draymond Green joked that the team had to do an extra set of leg presses. Coach Vork remembers it as Draymond and the rest of the team telling Anthony he had to re-do the VO2 max, a brutal aerobic test.
Whatever it was, Anthony couldn't tell it was a joke. He thought he had to keep going.
"And so the joke was going on and on and on," Anthony remembers. "People kept piling on about it or saying this, saying that. It drove me nuts. And it almost was like when I was bullied and teased in sixth grade.
"And so it got to the point where I just basically threw a fit at him. And I almost wanted to knock his teeth out, because I was so upset. And so I walked up to him. I started arguing with him, telling him to quit it, you know, stop. And then he just flat flat out said out loud to everybody, 'Well, if you can't take a joke, then you shouldn't be on this team. You should just go home.' "
Coach Vork didn't witness this exchange, but he saw afterward that Anthony was upset. Coach Vork pulled Draymond aside.
"I said, 'Hey, man. You gotta understand one thing: you guys are messing with Anthony. ... [Anthony] doesn't get it a lot of times,' " Coach Vork says. "And [Draymond] looks at me, you know, kind of confused. I go, 'He's autistic.' "
Draymond Green declined our interview request, but he talked about this moment for an NBA TV show.
"And that was the day Vork told me about Anthony's autism," Draymond told "Beyond The Paint." "He said, 'He doesn't understand that joke. It's like you're picking on him, 'cause he doesn't see the gray area. It's black and white for him.' "
The next day Anthony was still upset.
Draymond approached him.
"When he walked up to me, I said, 'Oh, God, what's this conversation gon be about?' " Anthony recalls. "Like, you know, 'Do I really want to talk to him?'
"And he was just like, you know, 'Why didn't you — you know, Vork told me all this.  Why didn't you tell me about your autism? Why didn't you tell me about all this?' I said, 'Well, like with everybody else in my life, Draymond, I didn't know how you were going to react, you know? I thought you were going to treat me differently, like everybody else that I knew in my life.'
"And he looked at me just for, like, a good 10 seconds, not saying anything. And he said to me, 'Well, first of all, kudos to you. Because look what you've overcome in your life and look where you're at now.' He said, 'Second of all, if you would have told me this from day one, none of this would've happened.'
"And so, you know, he's told people, and I've told people, that that day, that incident, it changed our relationship forever. We became not only better teammates after that, but we became better friends after that."
A Blessing In Disguise
Anthony says that, after that incident, Draymond would check in about whether or not he understood something. And Draymond also wanted to learn more about autism.
"He was always asking me different questions about, 'Hey, how did you learn this, despite having autism?' Or 'What did you do in these times?' " Anthony says. "And then, once he started asking questions, a lot of my other teammates started asking questions. And so they were starting to learn more and more about me."
After that, Anthony didn't have to look to Coach Vork or Austin to figure out if something was a joke. He could ask the rest of his team.
Now Anthony calls that incident with Draymond "a blessing in disguise."

"Having somebody with that type of stardom, if you will, to understand what one of their teammates is going through and how they can adapt to that person — that really showed me not only what kind of a leader that Draymond was and still is, but what kind of a person he is as well," Anthony says.
In their final season at Michigan State, Anthony Ianni scored a total of three points and collected seven rebounds. Draymond Green was the Big Ten player of the year.
After the Big Ten tournament, Draymond had this to say about Anthony when he spoke to Hondo Carpenter from Spartan Nation:
"Anthony Ianni is the most underrated person on our team. When I am down, when I am not playing well, he always comes up and tells me how proud he is of me, how much he believes in me. He will always have a special place in my heart."
Draymond Green is now a three-time NBA All-Star with the Golden State Warriors.
Anthony Iannni completed that checklist: he graduated high school, he got a scholarship, he graduated from college. Now he's married with two kids.
And a few years ago he found a new goal: become a role model for kids with autism — and become a great leader, just like his former teammate Draymond Green.
Anthony has already been accomplishing that goal, too: he now travels the country sharing his story of living with autism, and he has his own anti-bullying initiative called "The Relentless Tour."

This segment aired on February 22, 2020.