For Walker Aurand, Hockey Was The Right Therapy For Autism
Play
This article is more than 3 years old.
This story was re-broadcast during our 5/9/20 episode. It originally aired in November 2016. It has been updated.
When Walker Aurand's parents first realized there was something different about their son, he was just three months old, and they didn't think there was any reason to worry.
"He was on the living room floor, and Dad was over him, and I could hear Steve going, 'Hiii, buddy, hiii, hiii, buddy,' " Anne Aurand recalls. "And all of a sudden I heard this little three-month-old baby, clear as a bell, echo his dad, looking straight at him, and this little baby went, 'Hiiii.'
"And I poked my head out of the room that I was in, and I said to Steve, 'I did not just hear that.' And Steve said, 'You did.' I said, 'I don't know whether to be happy or go, "Oh, my gosh, who does that?" ' "
"I was glad she was there to hear it, so I had someone to back me up on it," Steve says.
Clarity On The Ice
But soon Anne and Steve Aurand noticed other unusual things about Walker. Everyday noises set him off. The sound of the microwave door opening or Velcro ripping caused him to throw a fit. Sometimes he wouldn't go to sleep or eat. Anne got a psychologist to check on Walker. Then came a diagnosis: Pervasive Development Disorder, a form of autism.
"The person that primarily told us was very matter of fact about it, and left us with, 'You know, there's probably not much you can do about this. And so you're just gonna kinda have to live with this,' " Anne recalls. "And Steve and I aren't really 'well-you're-just-going-to-have-to-live-with-this' kind of people."
They responded by setting Walker up with speech, vision and occupational therapists. And then they stumbled on something that would be become another kind of therapy: they took 2-year-old Walker to the nearby ice hockey rink at Davenport University in Grand Rapids, Michigan.
About two decades later, Walker Aurand remembers that moment.
"When I first got on the ice, it started off with my dad and my mom trying to hold my hand," he recalls. "After about five minutes, I turned around and I looked at them and I said, 'I'm OK,' essentially. 'I got this from here.' So it just took off from there."
It didn't take long for Walker to pick up a hockey stick. He found that when he stepped on the ice, his worries disappeared.
"It feels freeing, really," he says. "I think hockey's a very freeing game. Both freeing of your body and your mind. When you're on the ice, you almost feel like you can fly."
When he wasn't on the ice, Walker watched videos of NHL players and mimicked their moves in his living room.
Steve coached all of his son's hockey teams until Walker reached high school. And as Steve recalls, at first Walker might've loved hockey a little too much.
"He's a very competitive guy, a very competitive kid," Steve says. "And we had some issues early on with that. Whenever his team lost, his first year, he would just have a meltdown. And he would yell at me and blame it on me, and he would get so worked up he couldn't go on the ice to finish a game."
"There were a couple of games," Anne recalls, "when you carried him off by his jersey, kicking and screaming, arms flailing through the air, 'Nooo, I wanted to win! Noo, you can't take me off the ice!' 'OK, yes we can, son. Here we go.' "
Hockey Becomes Therapy
But the sport's positives quickly outweighed the negatives — because after Steve and Anne were told that their son wouldn't get past a fourth grade level in math or reading, hockey became therapy. In fact, it replaced more traditional therapies.
"We would tie words with plates onto the net, and he would shoot at the letters," Anne says. "And that's how he learned how to spell words. You might not be able to do that with every child. But for him it worked and he was motivated to do it. So there he'd be, shootin' pucks: 'C-A-T,' cat. 'P-A-N,' pan. And he eventually learned to read through some of that and sound things out, and it became his sensory therapy with the crashing and burning on the ice. It was kind of a multipurpose thing, and, you know, the bottom line is he really, really loved it, loved it, loved it."
It must have helped because Walker kept advancing through school. He was never held back a grade.
Managing The Locker Room
Walker didn't tell any other kids — not at school or on the ice — about his diagnosis. But sometimes he had to leave the regular classroom to meet with specialists. And sometimes other students in school noticed.
"When someone would ask me, when I was in middle school or in elementary school, why it was I took a test or went to a different room for a class, I was kinda too embarrassed to really say why it was I left,  because I was afraid that I would get made fun of or be judged," Walker says. "So I would just kinda sheepishly look away and not really say anything."
And when Walker moved on to high school, he continued to keep his disorder a secret from other students — and his new hockey teammates.
Walker's parents worried about how their son would manage in a high school locker room.
"He's coming in as a 14, 15 year old, and there are some of these guys that are 18 years old," Steve says. "They're young men and they're talking about a whole different set of things."
"I was petrified," Anne says.
They were worried because Walker had trouble registering sarcasm and understanding jokes. But Walker soon had an ally in the locker room — and a plan.
"Fortunately he had his younger brother. His younger brother, Brendan, is kind of a social ace, so they had this little signal worked out in the locker room," Anne says. "You know, Walker would look at Brendan — and Brendan would send Walker the message: 'Dude, that was humor. Right now, on cue, "ha ha." Laugh. That was humor.' "
'I Have Autism, But Autism Doesn't Have Me'
Walker did well enough in the classroom to earn honors. And he was good enough at hockey to extend his playing career beyond high school. But before he graduated, there was an important school project.
"His English teacher at East Kentwood High School asked them to write a paper in which they had to think about one thing they could offer to the universe to change the universe," Anne recalls. "And he said, 'I think I'm ready. I think I'm ready to let kids my age know that I have autism, but autism doesn't have me.' And I was just stupefied. I mean, that was a really profound thought."
Walker wrote the paper on living with autism — and soon he had an opportunity to share his story with an even larger audience. A family friend and local artist was preparing for an upcoming competition in Grand Rapids called ArtPrize. She wanted to paint Walker, and next to the painting she wanted to include an excerpt from his essay.
And this wasn't just any art event. Held in downtown Grand Rapids every year, ArtPrize attracts hundreds of thousands of attendees. Walker considered the offer for about a week, and then he agreed to have his story included. And then on the day it opened...
"He came home from school," Anne recalls, "and he said, 'Mom, this freakish thing happened today.' He said, 'I'm sorta freaked out about it.' He said, 'All these kids saw my painting,' and he said, 'My phone is blowing up.' He said, 'I bet I have 150 texts: "Is that you, Walker?" "Is that you, Walker?" ' He said, 'Mom, I didn't know I had friends.' I said, 'Right.' I said, 'How do you feel about all this?' He said, 'I've decided it's OK.' "
After a year playing junior hockey in Wisconsin, Walker enrolled at Davenport University — the same nearby school where he first learned to skate. Once again, he was meeting a new set of teammates who didn't know about his diagnosis. And now the age gap between Walker and the oldest players was even larger than it had been when he entered high school.
"I was 19," Walker recalls. "And I was on a team with guys who were 23 and 24 years old. It was intimidating. And I was definitely kind of nervous about maybe how that dynamic would work."
You probably won't be surprised to learn that his parents were nervous, too. But before Walker's first season began, Anne's fears were eased.
"I know this is going to sound silly, but it was when he got his first text from Alyx Fonseca, an older guy. And Fonzie — they call him, lovingly, 'Fonzie' — and Fonzie texted him," Anne recalls. "And I said, 'Who was that?' And he said, 'Fonzie.' And I said, 'Guy on the team?' 'Yeah!' And I thought, 'Oh, this is cool.' He's made a connection. He gets it. He said, 'Fonzie wants me to come over.' And I just went, 'Yes, yes he does! Yes, you're going. Yes, go. Go. You're going to Fonzie's house. Yes, you are!' And I didn't even know who Fonzie was."
More Than Just Hockey Goals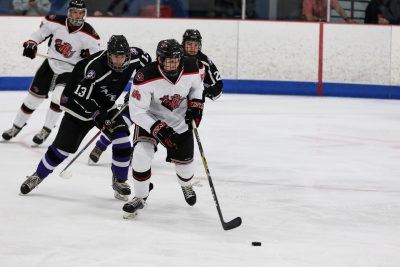 Fonzie became one of Walker's closest friends. And in his first season on the ice for Davenport, Walker, a defenseman, played in 34 games and scored three goals.
Thanks to the benefits of all the childhood therapies — on and off the ice — Walker's college teammates might not have known Walker had autism if he hadn't told them.
I asked Steve and Anne Aurand where they think their son would be without hockey.
"I can't imagine," Anne says. "We'd probably have to have found something else. What would it have been? He played baseball, he was a catcher in baseball."
"Yeah, I don't know," Steve says. "There's a lot of parallels I like to look at between athletic teams and the world, and the business world, which I operate in. And whenever I can see an example of — I'll tell him, 'What you do here in the locker room like this, the business world is just like that.' "
And as he settled in at Davenport, Walker also wanted to share his story. The same guy who used to hide his diagnosis from other students and teammates published an essay about his experience on a Michigan hockey website.
Walker Aurand has nothing to hide — and he wants to make a difference.
"I hope that if there's someone else out there like me, that that shows that there's hope for everybody," Walker says. "If your gut's telling you to go and achieve something, then go do it. And don't worry about what other people tell you that you can and can't do."
5/9/2020 Editor's Note: In the spring of 2019 Walker Aurand graduated from Davenport University with his bachelor's degree in marketing. He's now studying for a masters in strategic management.
This article was originally published on November 04, 2016.
This segment aired on November 5, 2016.