A Heroin Scourge In Idyllic Vermont
Play
This article is more than 9 years old.
Vermont Governor Peter Shumlin just devoted his entire State of the State speech to the scourge of heroin. We'll look at the heroin tide in pastoral Vermont and across the nation.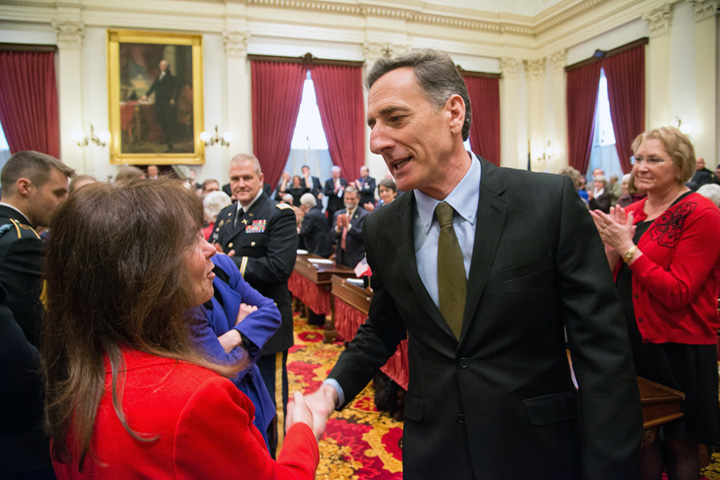 In the national imagination, Vermont stands for beautiful countryside, Green Mountains, maple syrup, good cheese, maybe Ben & Jerry's ice cream.  Last week, the governor of Vermont got up for his annual state of the state speech and put another face on Vermont – the face of heroin and opiate addiction.  It was his whole focus.  A full-blown heroin crisis, he said, hitting every corner of the state.  And it's not only Vermont.  A flood of opiate pain killer use and abuse has brought heroin right behind. This hour On Point:  the governor of Vermont, Peter Shumlin, and more, on the scourge of heroin now.
-- Tom Ashbrook
Guests
Gov. Peter Shumlin (D-VT), governor of the state of Vermont. (@GovPeterShumlin)
Tristram Coffin, U.S. District Attorney for the District of Vermont.
Caleb Banta-Green, research scientist and epidemiologist at the Alcohol & Drug Abuse Institute at the University of Washington. Representative to the National Institute on Drug Abuse's 'Drug Trends Work Group.'
From Tom's Reading List
State of Vermont: Gov. Shumlin's 2014 State of the State Address — "In every corner of our state, heroin and opiate drug addiction threatens us. It threatens the safety that has always blessed our state. It is a crisis bubbling just beneath the surface that may be invisible to many, but is already highly visible to law enforcement, medical personnel, social service and addiction treatment providers, and too many Vermont families. It requires all of us to take action before the quality of life that we cherish so much is compromised."
ABC News: Scourge of Heroin Abuse in Vermont Mirrors National Epidemic --"The governor of Vermont devoted his entire State of the State speech on Wednesday to address the scourge of heroin abuse, a problem he described as a 'full blown… crisis' in his state, but which is also spreading across the country. Gov. Peter Shumlin, a Democrat, described an epidemic that 'may be invisible to many,' but which has increased in his state by 770 percent since 2000."
Here & Now: Vt. Governor Confronts State's Opiate Addiction Crisis — "Vermont, like most of New England, has become an epicenter for heroin and prescription opiate trafficking. Since last year, deaths from opiate overdoses have doubled in Vermont, and the number of Vermonters seeking treatment has increased 771 percent since 2000. Crimes related to opiates has also increased. Now, 80 percent of Vermont's inmates are locked up for drug-related crimes."
Watch A Trailer For "The Hungry Heart"
This program aired on January 13, 2014.