The Big Business of Bodice Rippers
Play
This article is more than 8 years old.
The best-selling literary genre in the world: romance novels. We'll look at the red-hot literature of love.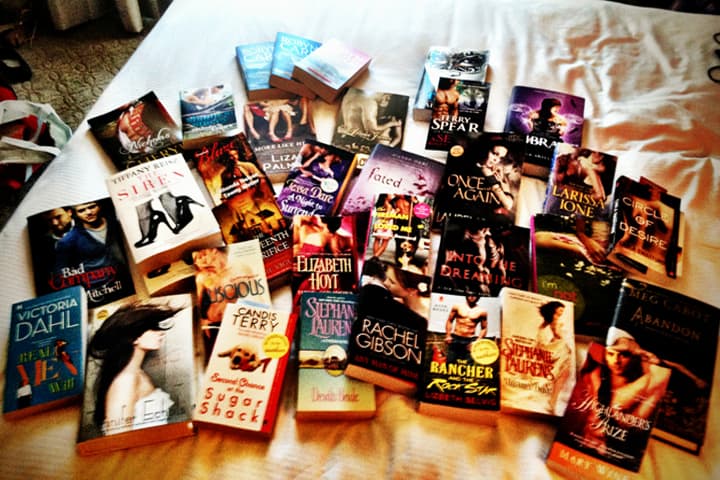 Once you could tell what people were reading by the cover of their book.  Now, so much is on Kindle and its cousins that you don't know.  But we'll tell you.  By raw numbers, the odds are they're reading romance novels.  "Scoundrel's Captive."  "Temptation Ridge."  "My Fair Viking."  "Montana Bride."  Romance novels – what we once called "bodice rippers" – are a $1.4 billion market.  That's twice the size of "inspirational".  A billion more than "literary" fiction.  What's in it?  Well, a lot of sex.  And emotion.  And figuring out gender roles.  This hour On Point:  reading romance, and where the steam is now.
-- Tom Ashbrook
Guests
Wendy Crutcher, librarian at the Orange Country Public Library (CA). Romance Writers of America "Librarian of the Year" in 2011. Blogger at "The Misadventures of Super Librarian." (@superwendy)
Angela Knight, New York Times-bestselling romance and erotic author. (@AngelaKnight)
Jesse Barron, editor at Harper's Magazine. His piece in the latest issue, "Bad Romance," [Paywall] details his trip to the first annual Romance Novel Convention in Las Vegas, Nevada.
From Tom's Reading List
NPR: Romance Novels Sweep Readers Off Their Feet With Predictability — "One thing that you have understand if you're gonna get into writing romance is that the things that are valued in that genre are not the same things that are valued when we read something like literary fiction. So you're gonna want to hone your prose until its extremely clear, it's very, very fast, the dialogue is funny and the plots are really engaging."
Huffington Post: The Real Men Who Read Romance Novels — "Romance novels are often dismissed as guilty pleasures and something to be ashamed of by both men and women. In fact, as a woman, I often notice people are surprised to learn that I, with my two English literature degrees, write romance novels. While guys reading 'girls books' confounds our gender expectations and may lead to an extra element of surprise and snark, it seems that attitude often just comes with the genre — no matter who is reading it."
Bangor Daily News: Romance Writers name Old Town woman Librarian of the Year — "When Romance Writers of America announced that Whitten had received the award, she received congratulations from members via email from all over the United States. She will be the guest of honor at the organization's conference in July in Atlanta, where she will address several thousand people. 'I'm passionate about the romance genre, a strong proponent of it,' Whitten said."
This program aired on February 12, 2014.