Digital Princess St. Vincent On Her Self-Titled Fourth Album
Resume
Alt-rock goddess Annie Clark --  aka St. Vincent – is with us with her latest album, "St. Vincent."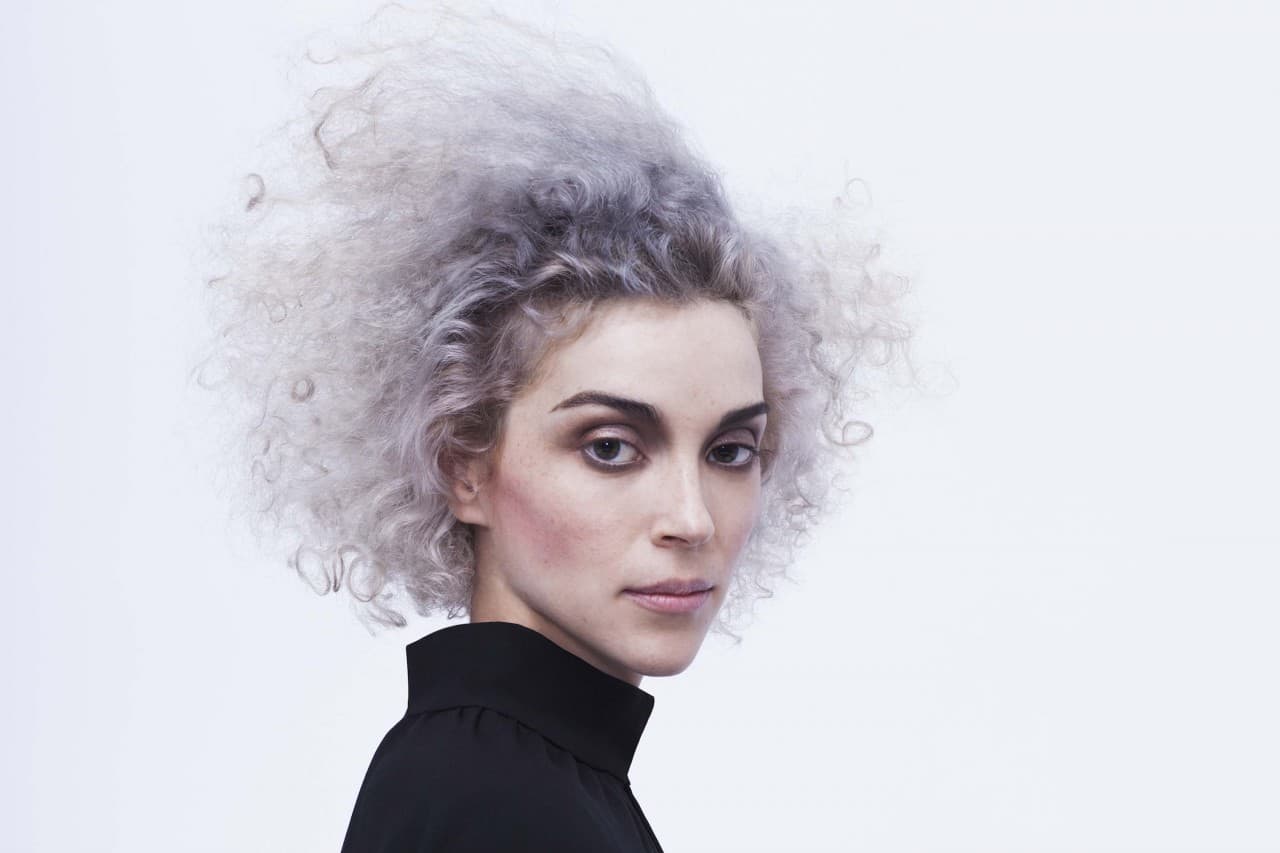 In the opening track of alt rock star St. Vincent's new album, this Oklahoma-Texas girl now global alt powerhouse is walking naked in the desert - daydreaming, free – and then stunned by a rattlesnake and running scared for her life.  She's the whip-smart artist who loves Stravinsky and Dr. Dre.  Whose guitar turns heads in Austin and all over.  Whose songs are beautiful and surreal and very right now.  This hour On Point:  we're in the studio with alt rock sensation St. Vincent.
-- Tom Ashbrook
Guest
Annie Clark, singer, guitarist and songwriter better known by her stage name, St. Vincent. Her newest solo album is "St. Vincent." (@st_vincent)
From Tom's Reading List
StereoGum: The Prophetess of Zeroes And Ones: St. Vincent Goes Digital Mystic On St. Vincent — "It might seem weird to be using the term 'origin story' four albums deep into St. Vincent's solo career (or five, if you count her 2012 collaboration with David Byrne, 'Love This Giant'). So, maybe consider it an apotheosis, instead. Over the course of her last three albums, there have been two parallel paths for Annie Clark and her St. Vincent project. Throughout her career, Clark has continuously teased out a conflict between humanity and artificiality. The emotions in her songs and the demure affability she displayed in interviews were confined within strictures of tightly controlled, zig-zaggy arrangements on her earlier efforts."
Pitchfork: "St.Vincent" by St. Vincent Review — "St. Vincent continues Clark's run as one of the past decade's most distinct and innovative guitarists, though she's never one to showboat. Her harmonic-filled style bears the influence of jazz (she picked up a lot of her signature tricks from her uncle, the jazz guitarist Tuck Andress) and prog rock, two genres known to embrace sprawl. But Clark's freak-outs are tidy, modular and architecturally compact—like King Crimson rewritten by Le Corbusier. Even at its most spazzy, there's always something efficient about St. Vincent."
Salon: St. Vincent: "I have this sound in my head. How do I get it here in my fingers?" -- "Annie Clark is delightful, easy to talk to, unpretentious, doesn't stand on ceremony. I think it was something about the great variety of her output, the odyssey of her journey, the poise, the artistic confidence, the apparently unconflicted purity of her intent. I often feel these days like a mid-career artist and critic, with all that that implies — a sweaty sheen of desperation adheres to my practice, and all that I was certain about in my 30s now seems easily reconsidered in the most unsettling ways. I know more about the past than I know about the present. Faced with an artist so startlingly of the moment, so at ease in the present, with conviction about where we are now, it is hard not to feel fossilized."
Playlist
This program aired on February 27, 2014.