A GOP Plan For Tax Reform
Resume
A GOP tax plan would lower rates, repeal big breaks. We'll look at Republican Dave Camp's plan for tax reform.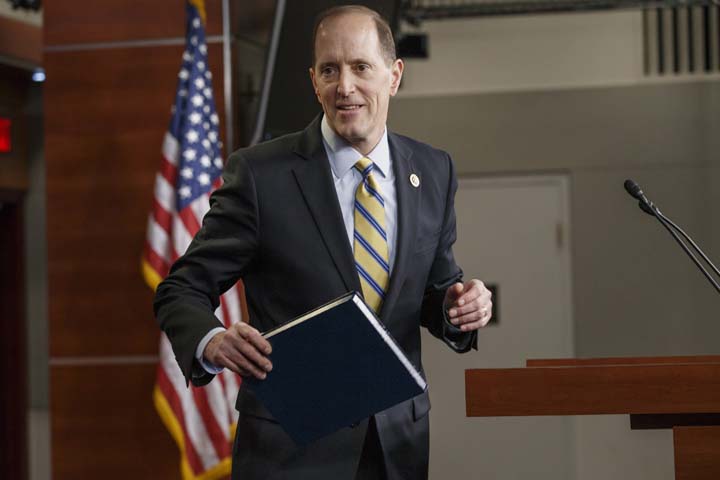 Six weeks to April 15 and tax payment deadline now.  Many people up to their elbows in preparing tax returns, or having them prepared.  It's the time of year when we experience firsthand that our tax system is unwieldy and complicated and needs reform.  Last week, Republican David Camp, chairman of the House Ways and Means Committee, proposed a big overhaul.  It would knock down a lot of tax rates.  Radically simplify.  And blow a lot of tax deductions out of the water.  Everyone says it will never pass.  But let's think about it.  This hour On Point:  a Republican stab at tax reform.
-- Tom Ashbrook
Guests
David Cay Johnston, investigative journalist and author. Columnist for Tax Analysts and Al Jazeera America. Professor in the law and graduate business schools at Syracuse University.  Editor, "Divided: The Perils of Our Growing Inequality." Winner of the 2001 Pulitzer Prize. (@DavidCayJ)
Jason Fichtner, senior research fellow at the Mercatus Center at George Mason University. (@JJFichtner)
From Tom's Reading List
Washington Post: Republicans joining populists in ending corporate welfare for banks — "No one likes the idea of filthy rich banks getting a leg up from the government, not even Republicans. And a small but growing contingent within the party is aligning with populists to strip big banks of the benefits they receive from the implicit guarantee that the government will always come to their rescue."
Politico: Why Republicans abandoned tax revamp pledge --  "Camp also made a less-noticed pledge: that any overhaul would parcel out the fruit of reform roughly equally among those at different income levels — the poor, the rich, the in-between would all benefit about the same. One promise had to give, and last week Camp abandoned plans for a deep cut in the top marginal tax rate. He settled for 35 percent, which is just 4 percentage points lower than the current one."
Forbes: Dave Camp's Tax Plan: A Brave Start But Lots of Gimmicks — "In all, Camp deserves a ton of credit. He's spent years working on a reform plan. He toured the country promoting the idea and spent countless hours teaching fellow House Republicans what rewriting the code really means. Camp soldiered on despite a serious illness and severe constraints imposed by his own party leadership. In the end, House GOP bosses won't even try to pass his bill. "
This program aired on March 4, 2014.