The MERS virus has made the hop from the Middle East to the US. MERS kills one in three. We'll look at how the American medical community is arming up.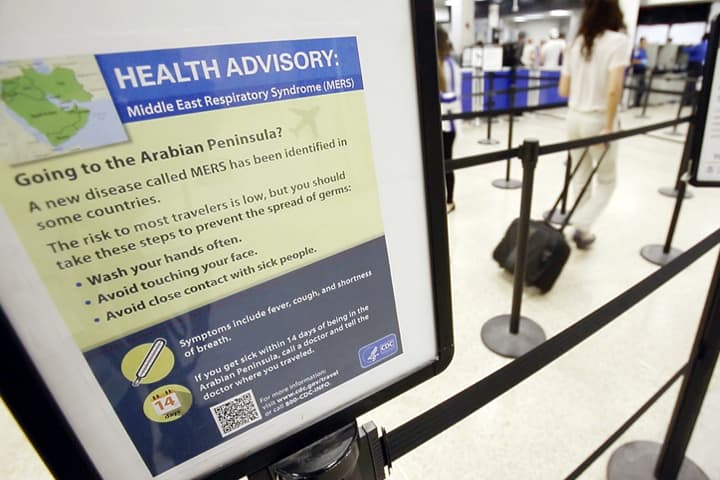 MERS is not a global pandemic.  But it could become one.  We learn that an American flew out of Saudi Arabia with it, and suddenly it's catching in Indiana.  It hasn't spread like SARS did, but its death rate is much higher.  1 in 3 so far.  Probably came from camels.  Maybe Egyptian tomb bats.  But global travel can and will take it everywhere.  Especially from a country that draws millions to Mecca and then back home.  Fundamentalist Saudi Arabia is taking heat for not being helpful enough, transparent enough.  How does the world armor up against a new mobile threat?  This hour On Point:  the challenge of tackling MERS.
-- Tom Ashbrook
Guests
Amena Bakr, Qatar correspondent for Reuters. (@Amena_Bakr)
Dr. Tom Frieden, director of the Centers for Disease Control. (@DrFriedenCDC)
Dr. Ian Lipkin, professor of epidemiology and director of the Center for Infection and Immunity at Columbia University's Mailman School of Public Health.
From Tom's Reading List
Reuters: Silently among us: Scientists worry about milder cases of MERS — "Scientists leading the fight against Middle East Respiratory Syndrome say the next critical front will be understanding how the virus behaves in people with milder infections, who may be spreading the illness without being aware they have it."
The Wall Street Journal: WHO Calls for Urgent Measures to Control MERS Virus -- "The World Health Organization on Wednesday called for urgent measures to control the deadly MERS virus, but stopped short of declaring its recent spread to be an international public-health emergency, a step that would have put pressure on governments to act. Despite a surge in new cases of Middle East Respiratory Syndrome since March and illnesses now reported from the U.S. to Malaysia, there is no evidence that the virus is widely spreading, an emergency panel for the United Nations public-health agency found."
CNN: Will MERS become a global threat? — "The rise in the reported number of MERS cases in the United States, Asia and Europe has fueled concern that this may be the big one: the 21st century equivalent of the 1918 influenza pandemic that killed 3% to 5% of the world population. Concern is appropriate, because the coronavirus responsible for MERS can evolve to become more potent public health threats. However, I don't yet see evidence that will happen."
This program aired on May 22, 2014.