Teachers Tell Us Why They've Left The Classroom
Resume
With guest host John Donvan. 
Three dedicated teachers walked away from jobs they loved.  We'll ask them why.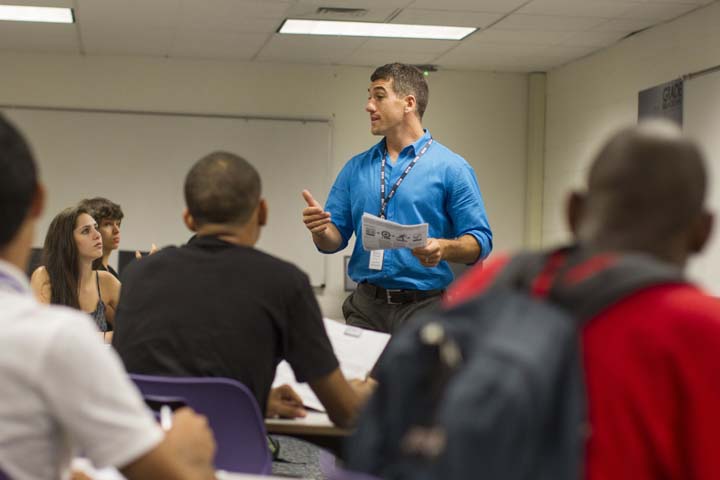 We put our children in their hands. That's how much we trust school teachers.  But do we respect them? Do we give them the support they need, and the leeway to be the best teachers they can be? A surprisingly large numbers of teachers ultimately decide the answer is no, and they quit. Up to half give up within five years. The question is, why: how is it going so wrong for a profession that rests on at least a little idealism and a lot of passion. Because we do need them.  This hour On Point:  Three teachers, and why they walked away.
-- John Donvan
Guests
Suzi Sluyter, kindergarten teacher in a Medford, MA private school. Former public school teacher.
Andrea Thibodeaux, former Louisiana Public School teacher.
Amanda Machado, former Teach for America teacher in California. Contributing writer at the Atlantic magazine. (@amandaemachado0)
Madeline Isaacson, incoming first-year first grade teacher at a public school in Washington state.
From The Reading List
The Atlantic: Why Teachers of Color Quit — "I joined the Bay Area corps after graduating Brown in 2010 and taught ninth-grade English at a charter school outside Oakland. Yet after finishing my two-year commitment, I realized that though my background may have brought me to teaching in the first place, it now had become one of the factors that drove me to quit the profession."
National Education Association: Why They Leave — "Nationally, the average turnover for all teachers is 17 percent, and in urban school districts specifically, the number jumps to 20 percent, according to the National Center for Education Statistics. The National Commission on Teaching and America's Future proffers starker numbers, estimating that one-third of all new teachers leave after three years, and 46 percent are gone within five years."
Washington Post: 'I have had enough' – veteran teacher tells school board — "Teachers are not the bad guys here. You tell society that we have three months off in the summer and get off at 3:30 in the afternoon. Well, I can tell you for a fact that we work at least 10 months a year. What about all the teachers that either get to school early or stay late? We give up a lot of time for our school children- sometimes our students are getting more time than our families. What about all of us who still after 25 or more years, are working all day and then are working more hours at night?"
This program aired on May 29, 2014.