West Africa's Ebola Epidemic Spreads
Resume
With guest host Jane Clayson.
Ebola: more than a thousand dead now. An unprecedented spread. We'll look at what it will take to stop it.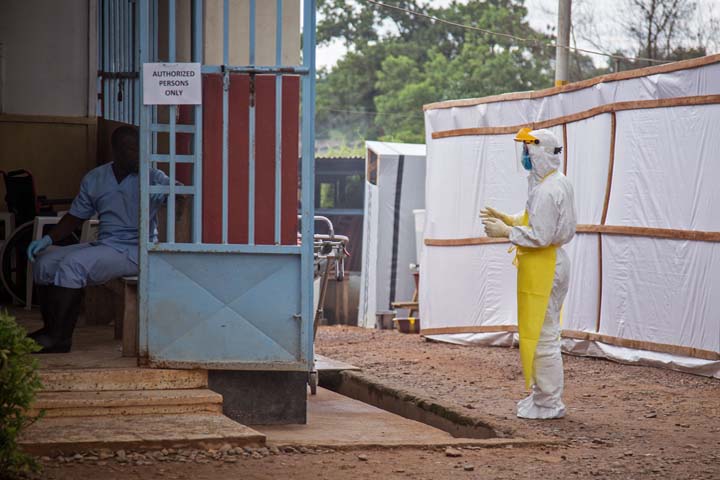 More than one thousand people dead, more than two thousand infected. Ebola continues to spread across West Africa: Liberia, Sierra Leone, Guinea and Nigeria. The worst outbreak in history.  And still not contained. Neighboring countries are closing their borders.  Airlines canceling their flights.  Can these countries contain the spread?  Do they have the infrastructure, the resources to stop Ebola? And--without a cure--untested experimental drugs are raising ethical and health concerns. This hour, On Point: The Ebola epidemic and how to stop it.
-- Jane Clayson
Guests
Drew Hinshaw, contributing reporter for The Wall Street Journal in West Africa. (@drewfhinshaw)
Dr. Ian Lipkin, director of the center for infection and immunity at Columbia University.
Dr. Anne Atai-Omoruto, doctor treating Ebola in Liberia with the World Health Organization. (@ataiomo)
Dr. Jesse Goodman, director of the center for medical product access, safety and stewardship at the Georgetown University School of Medicine. (@JesseGoodmanMD)
From The Reading List
The Wall Street Journal: WHO Declares Ebola Virus Outbreak Public Health Emergency — "The World Health Organization declared the West African Ebola epidemic that has killed nearly 1,000 people an international public-health emergency. Friday's WHO declaration represents a call to member states and private donors to boost funding and efforts to battle the worst Ebola outbreak in history, as a surge in cases over the past two days has overwhelmed major aid organizations."
Bloomberg: First Tests of Ebola Vaccine Appear at Least a Month Away — "The sudden donation of as many as 1,000 doses of a vaccine that hasn't been tested in humans is creating a conundrum because they could go to healthy people, rather than those already infected. Earlier, the World Health Organization decided that people in West Africa should be allowed access to promising experimental treatments or vaccines."
Washington Post: Ebola might change the way we think about pharmaceutical innovation — "We don't have six years to test an Ebola cure. We may only have six months, if we don't want to risk Ebola transforming from a regional health crisis in Africa into a global health crisis. That's causing people to rethink what's causing the long, costly and unwieldy process for bringing new drugs to market. If you think of the drug development pipeline as a huge funnel, then we need more ways to either widen or shorten this funnel."
This program aired on August 18, 2014.