The Five Midterm 2014 Races To Watch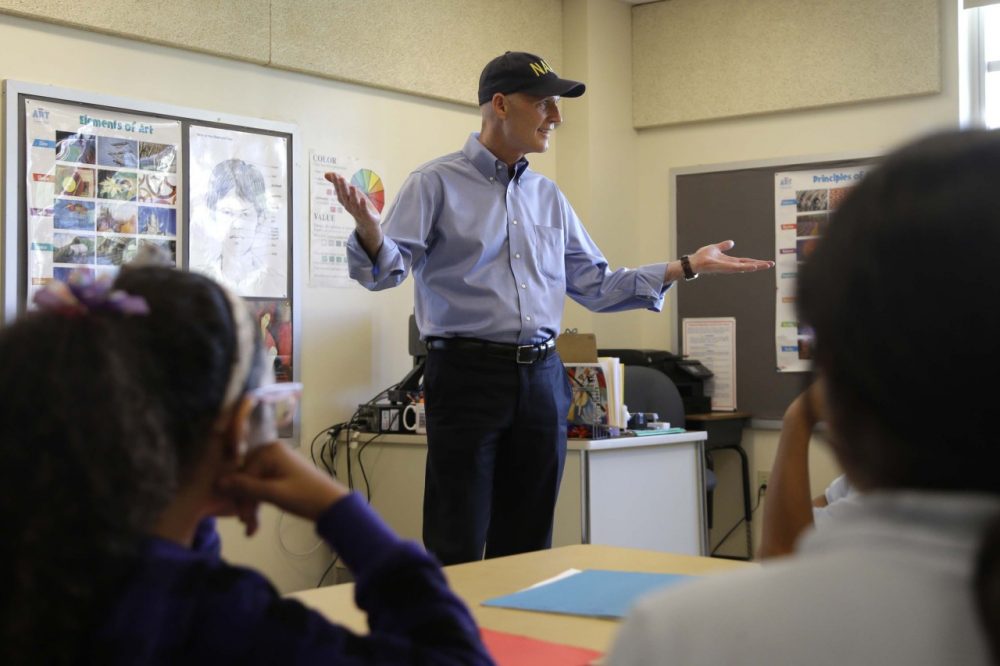 This article is more than 8 years old.
When it comes to November's midterm elections, it can be hard enough to tackle lengthy lists of local elections in your own community before turning a larger eye to races of bigger and more exotic import. But our all-star panel of national political reporters from a September 2 hour on the races to watch are here to help.
Which races really matter? Which local political suggest larger national trends worth a gander? We've isolated the five most interesting election match ups of the 2014 cycle — per the New York Times' Jonathan Martin, the Washington Post's Karen Tumulty and the Cook Political Report's Amy Walter —  and seek to explain just why they might matter to you wherever you call home.
1. KY Senate Race: US Sen. Mitch McConnell vs. KY AG Alison Lundergan Grimes
The rumble in the Bluegrass State is nothing new, as regular political junkies might note. Senate Minority Leader Mitch McConnell is famously unpopular in his home state, but he's always pushed through to a final victory in his more than five terms in the Senate. Now, as his Republican Party looks set to gain control of the Senate after eight years in the minority, he's in what Martin calls the most difficult race of his career against Kentucky political royalty, State Attorney General Alison Ludergan Grimes. Polls seem headed in McConnell's direction as of late; will they stay that way through November? Could Republican control of the Senate really exclude their longtime leader?
2. FL Gubernatorial Race: Gov. Rick Scott vs. former Gov. Charlie Crist
It's a confusing race to some outsiders, to be sure. Current unpopular Republican Florida Gov. Rick Scott is running neck and neck against former unpopular Republican Florida Gov. Charlie Crist, now a Democrat. Not only is the race expected to be the most expensive challenge of the 2014 cycle, according to Tumulty, it also features two deeply unpopular and well-known candidates. Can either candidate take the high road and avoid the mudslinging? Can a former Republican and failed GOP Senate nominee convince his state to elect him again for an office he previously held? Are apathetic voters likely to be turned off by the ad onslaught?
3. CO Senate Race: Sen. Mark Udall vs. U.S. Rep. Cory Gardner
Colorado is a big swing state, with political preferences that run the full spectrum of modern issues. Gun rights? Definitely. Legal marijuana? Why not? Same-sex marriage? Almost, but not everywhere, so wait a minute. The state went for President Barack Obama in both 2008 and 2012, which makes Senator Udall's shaky standing at this point in the cycle unexpected, Walter told us. Plus, the way the race shakes out could have major implications for the way each party positions itself in other battleground swing states during the coming 2016 presidential election. Is this a testing ground for 2016? Or just another local race with uniquely local implications?
4. WI Gubernatorial Race: Gov. Scott Walker vs. Mary Burke
If Gov. Scott Walker, a Republican, hadn't faced a voter-initiated recall election in 2012, there's a real chance this Midwestern race wouldn't receive as much attention as it has today. (See the as-of-yet unheated race for governor in nearby Michigan.) But Walker is said to have Presidential ambitions in 2016, and his losing this race would hurt those ambitions, Walter noted. Recent polls show Walker's challenger slightly ahead, but the state is so divided after the bitter recall battle around public sector worker unions that it could still go either way. A big Walker win could easily pave the way to a bigger national profile ahead of the wide-open GOP Presidential primary in 2016.
5. LA Senate: Sen. Mary Landrieu vs. U.S. Rep Bill Cassidy (and Others)
We must point out that Louisiana, unlike most other states, runs all candidates, perennial primary-goers and all, at the same time in the November ballot. That means that three-term Sen. Mary Landrieu faces more than just her nominal Republican front-runner in the first round of voting, and could well seal her re-election deal by pulling in more than 50% of the vote on November 4. However, recent polls suggest Landrieu and Cassidy will be pushed into a December 6 runoff by the large squadron of other candidates, meaning that control of the U.S. Senate could hinge on a peculiar regional election law technicality in Louisiana. Landrieu is one of the most conservative Senate Democrats, and she's run of many incumbent Senators pushing hard against President Barack's Obama's environmental regulations and governing style, among other criticisms. Can the intra-party anger draw enough independent voters to prevent a runoff? Will Landrieu's recently-unearthed state residency controversy swing the polls in the other direction? And will decisive control of the Senate have to wait all the way until December 6?
---
What races are you watching? What questions do you have about the midterm election in your neck of the woods?
Let us know in the comments below, or on Facebook, Tumblr and @OnPointRadio.