Two Hundred Years Of African American Prayer
Resume
With guest host Michel Martin.
"Conversations with God," – the story told by two centuries of African American prayer.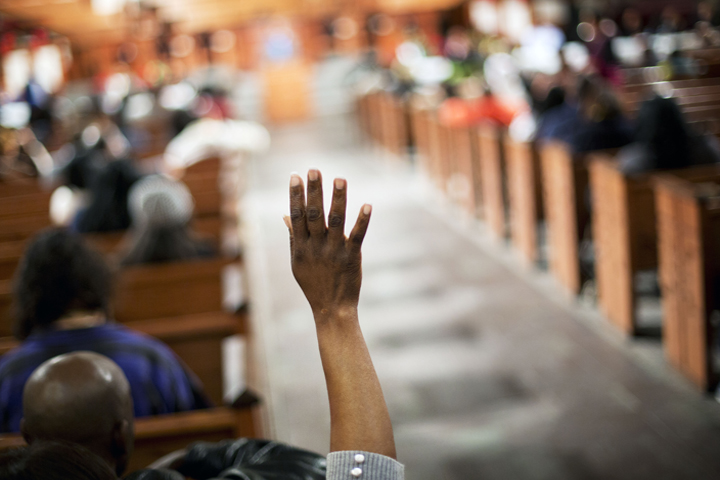 This weekend, protests and vigils around the country. The nation continues to grapple with the deaths of black men in police encounters. Soul searching and sermons… part of the long history of how African Americans have wrestled with suffering and spoken to God. Two decades ago, historian and Minister James Melvin Washington put together a collection of prayers spanning more than 200 years – penned by authors from Phyllis Wheatley to Frederick Douglass to Martin Luther King. This hour, On Point: "Conversations with God," then and now.
-- Michel Martin
Guests
Quinton Dixie, associate professor of religious studies and director of the Ethnic and Cultural Studies program at Indiana University - Purdue University at Fort Wayne. Colleague of the late James Melvin Washington, editor of "Conversations With God: Two Centures of Prayers by African Americans."
Rev. Willis Johnson, pastor at Wellspring Church in Ferguson, MO. (@fwillisjohnson)
From The Reading List
Washington Post: Churches ask congregants to wear black on #blacklivesmatter Sunday --"The Reverend Dr. Grainger Browning, pastor of the 8,000-member Ebenezer AME in Fort Washington, Md., said Monday that he plans to turn over the pulpit for both services to youth ministers 'so the younger voice can be heard.' Last Sunday, Browning said, he asked his largely African-American congregation during services how many people have had some negative interaction with police 'and 99 percent of the hands rose.'"
Huffington Post:Black Lives Matter — Go to an African American Church in Solidarity This Sunday Morning — "This is a discussion which can't stay at the level of pointing out how spineless and hence disappointing President Obama has been, how absent of a positive message the Democratic Party has been, how splintered and unable to cooperate have been the various organizations and movements of the liberal and progressive Left. We need to look deeper. The issue of racism, after all, is really the issue of 'othering' — taking some group and making them the demeaned other. What pain in people's lives makes this othering so attractive?"
Grist: Black church leaders rev up for climate justice -- "It's a common misconception that churches haven't been doing their part in the green fight — and black churches in particular. Your John Birch and Alan Keyes Christians notwithstanding, that's not entirely true."
Read An Excerpt Of "Conversations With God," Edited by James Melvin Washington
https://www.scribd.com/doc/249982334/Excerpt-From-Conversations-With-God-edited-by-James-Melvin-Washington
This program aired on December 15, 2014.