Police Assassinations And A Public Outcry In New York City
Resume
With guest host Jacki Lyden.
Calls for police reforms after officers' shootings. How the conversation is and isn't changing from Ferguson to New York.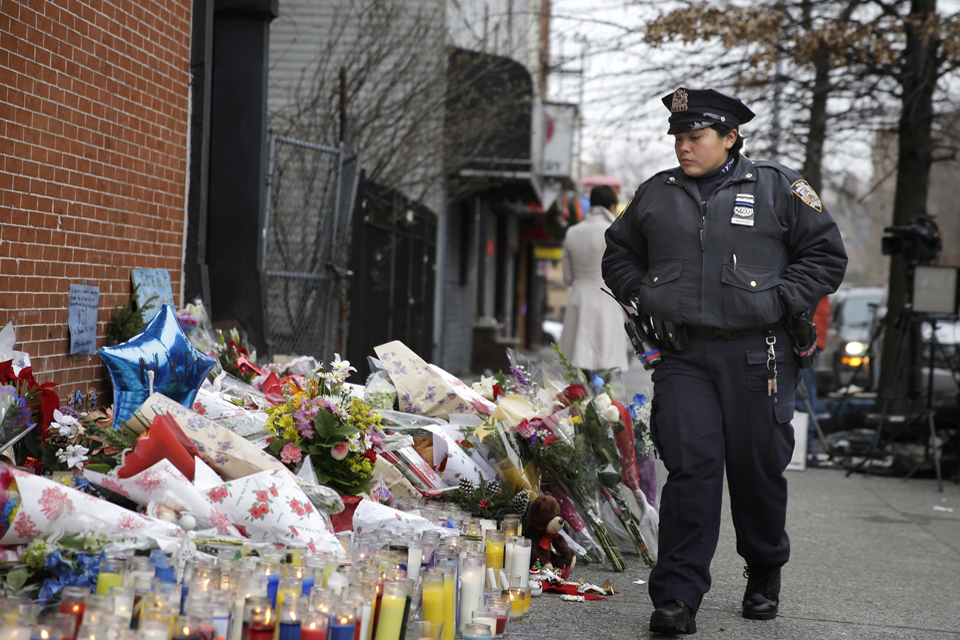 A shocking ccene in New York – two police officers,  shot to death at point blank range as they sat in their squad car in Brooklyn.   The shooter then fled into the subway and killed himself.  On social media,  he ranted about his hatred for the police and said it was payback for the deaths of Eric Garner and Michael Brown.  The shootings deepened the strain between New York's Mayor  and the police.  Around the country,  big questions — about  community policing-  civil disobedience, and justice.  This hour, On Point:  Race, Cops, and trust on America's streets.
-- Jacki Lyden
Guests
Robert Lewis, reporter for WNYC.  (@robertianlewis)
Eugene O'Donnell, lecturer at the John Jay College of Criminal Justice. Former police officer in the New York City Police Department.
Carmen Perez, executive director at the Gathering For Justice.
Dante Barry, director of the Million Hoodies Movement for Justice. (@DanteBarry)
From The Reading List
WNYC: After Deadly Shooting, Wedge Grows Between de Blasio and Police — "It's a solemn time for New York City police after a man assassinated two officers who were sitting in their marked vehicle in the Bedford-Stuyvesant section of Brooklyn on Saturday afternoon. Officers Wenjian Liu and Rafael Ramos were pronounced dead at Woodhull Hospital, where scores of police lined up to pay their respects. At the same time, video captured those mourning officers turning their backs to Mayor Bill de Blasio as he arrived at the hospital with Police Commissioner Bill Bratton to meet with the grieving families of the officers and deliver remarks to reporters."
Newsday: Mayor Bill de Blasio: 'Put aside political debates, put aside protests' until after NYPD funerals -- "In his first public remarks since announcing the deaths of two officers late Saturday, Mayor Bill de Blasio Monday afternoon called for a moratorium on protests until after slain Officers Rafael Ramos and Wen Jian Liu are laid to rest."
New York Times: Targeted Attack on New York Police Reopens Old Wounds From '70s -- "Forty-six police officers were killed in the line of duty in the 1970s, and 41 more in the 1980s. Before Saturday, the last time an officer was killed in the line of duty was in 2011. Some of the assassinations of police officers in the early 1970s were stoked by a militant strain of the black liberation movement, including the explosive killing of Officers Rocco Laurie and Gregory Foster in 1972."
This program aired on December 23, 2014.