Corruption And Xi Jinping's China
Resume
China's sweeping anti-corruption campaign expands. We'll look at who it's hitting, and why.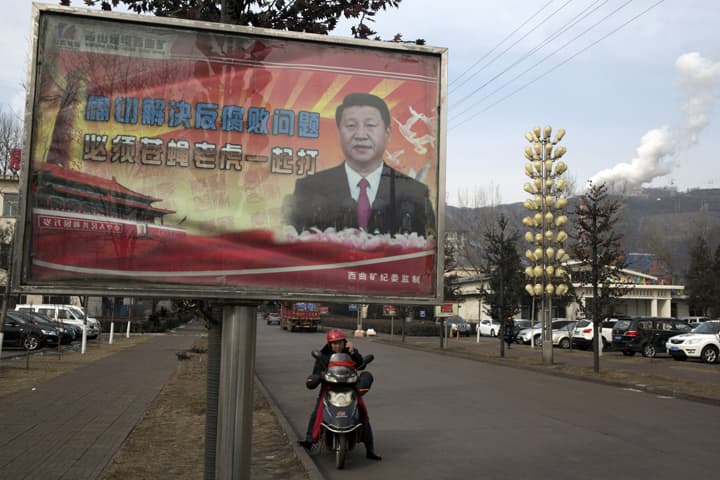 China's annual National People's Congress, meeting in Beijing this week.  A lot of very rich people – far richer than members, say, of the US Congress.  But almost no one has lately appeared beyond the reach of a big, ongoing anti-corruption campaign in China.  China's leader, populist strongman Xi Jinping, has disciplined more than 100,000 officials, including top generals and more.  It's part of a sweeping move to clean up Communist Party rule and rein in dissent at the same time.  China is facing slower growth and big new tensions.  This hour On Point:  China's corruption crackdown, and big questions on the way ahead.
-- Tom Ashbrook
Guests
Damien Ma, fellow at the Paulson Institute. Contributor at the Atlantic. Author of "In Line Behind a Billion People." (@damienics)
David Lampton, professor and director of China studies at the Johns Hopkins School of Advanced International Studies. Chairman of the Asia Foundation. Author of "Following the Leader: Ruling China, From Deng Xiaoping to Xi Jinping."
Susan Shirk, chair of the 21st Century China Program and Ho Miu Lam Professor of China and Pacific Relations at the School of International Relations and Pacific Studies (IR/PS) at the University of California, San Diego. (@IRPS)
From Tom's Reading List
New York Times: Move Over Mao: Beloved 'Papa Xi' Awes China — "Not since Mao dominated the nation with his masterly blend of populism, fervor and fear has a Chinese leader commanded so much public awe. Deng Xiaoping was a formidable power, but he disavowed the mania of the Mao era. Since then, fawning public displays over political leaders have been taboo. Mr. Xi's immediate predecessor, Hu Jintao, made a virtue of dull self-effacement."
Reuters: 'Harsher punishment' is coming for China's corrupt -- "China plans to enact specific legislation to fight corruption, the head of the country's parliament said on Sunday, as the government continues its campaign against graft. Zhang Dejiang, who is also the ruling Communist Party's third ranked leader, made the announcement at a full meeting of the National People's Congress' roughly 3,000 delegates."
The Wall Street Journal: China's Island Construction in South China Sea No Threat, Says Foreign Minister — "China's claims cover almost all of the South China Sea, and overlap with those of Malaysia, Vietnam, Brunei, Taiwan and the Philippines—a U.S. treaty ally. Many of those countries have bolstered defense ties with the U.S. in recent years in response to what they see as Beijing's enhanced efforts to enforce its claims."
This program aired on March 10, 2015.