Bird Flu Flare-Up On Midwest Farms; Big Blue Bell Recall
Resume
A major American outbreak of bird flu.  Millions of hens and turkeys are being destroyed in the Midwest to stop the spread.  We'll look at what's at stake. Plus: the latest in a big recall for Blue Bell Creamery.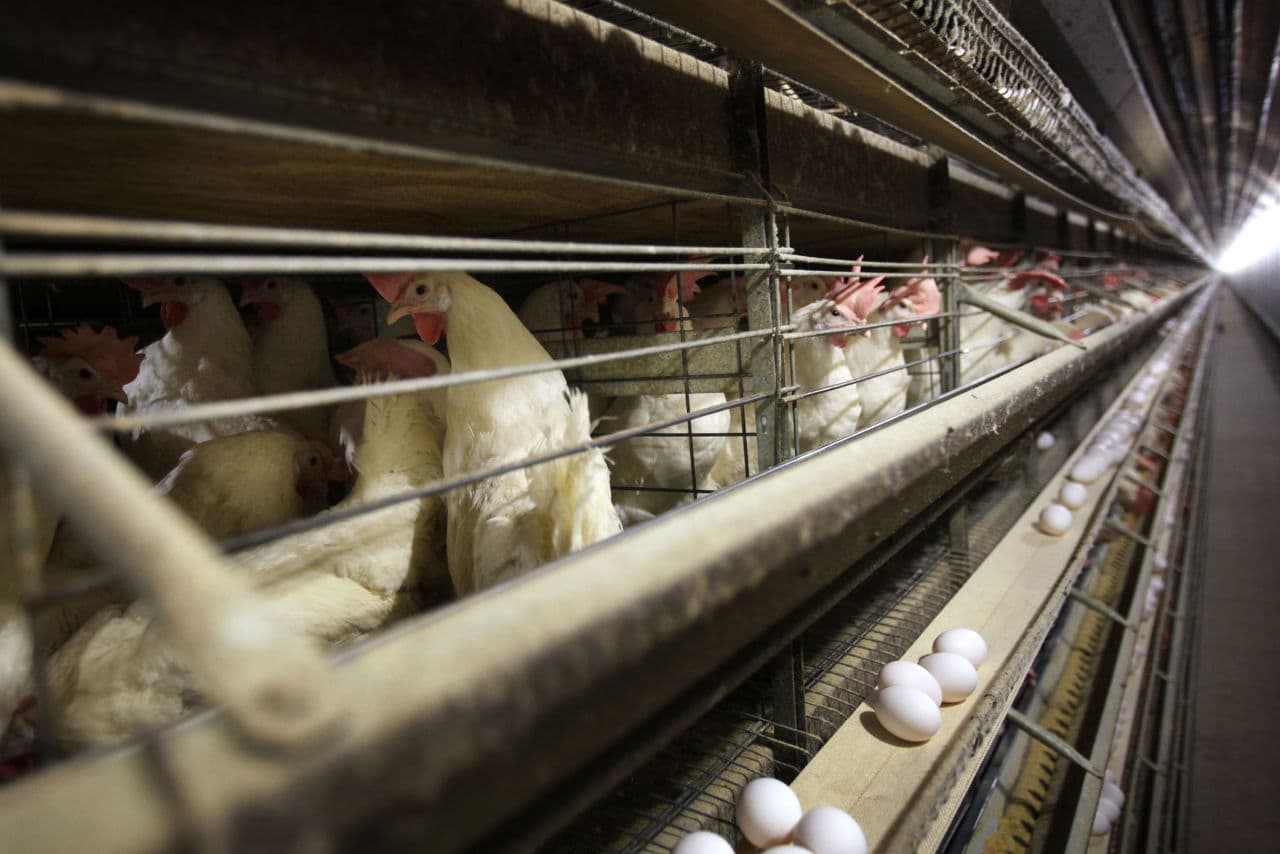 They're killing chickens by the millions in the Midwest lately. Turkeys, too. And not for your table. Avian flu – bird flu – has infected American flocks. Brought in, it's thought, by wild birds flying down over the Missouri River, the Mississippi. Down from Canada. With a virus that's come across from China. When it gets into huge industrial US poultry operations, those birds have to be destroyed. Right now in Iowa and Minnesota, but well beyond too. It's a quiet crisis that scientists pray doesn't mutate and cross to humans. This hour On Point: inside America's outbreak of bird flu.
-- Tom Ashbrook
Guests
Amy Mayer, agricultural reporter for Iowa Public Radio. (@agamyinames)
Joseph Giambrone, professor of poultry science at Auburn University.
Sherrill Davison, professor avian medicine and pathology at the University of Pennsylvania's School of Veterinary Medicine.
Kim Halvorson, farmer on a small-scale poultry operation in Morristown, MN.
From Tom's Reading List
Des Moines Register: 5.3 million Iowa laying hens to be destroyed in bird flu outbreak — "About 5.3 million laying hens in northwest Iowa will be destroyed after tests confirmed a second outbreak of avian influenza in the state, the U.S. Department of Agriculture said Monday. It's the largest operation in the nation to be hit with the virus since December, federal documents show. The commercial egg-laying facility, located in Osceola County, more than doubles the number of birds destroyed so far in the country because of the disease."
The Wall Street Journal: Bird Flu Hits Iowa Chickens in Escalation of Virus Outbreak — "An Iowa farm's flock of about 5.3 million chickens has been hit with avian influenza, the U.S. Department of Agriculture said Monday, marking a sharp escalation of the virus outbreak that has rattled the poultry industry since it began late last year."
Minnesota Public Radio: Scientists still at a loss to explain spread of avian flu — "After emerging in Asia, the avian flu spread to poultry farms in the Netherlands, Great Britain, and Germany. Its quick arrival in North America has alarmed scientists who are trying to unravel the mystery of how these deadly bugs have infected so many turkey farms in such a short period of time."
Massive Recall For Blue Bell Creamery
Karen Robinson-Jacobs, business reporter at the Dallas Morning News. (@krobijake)
Dallas Morning News: CDC expands Blue Bell-related illnesses to 10 people in four states — "Blue Bell Creameries, which has been beset by concerns about Listeria contamination in its ice cream, recalled all its products Monday. The potentially financially devastating decision came after the iconic Texas brand found the deadly bacteria in yet another product. Since issuing the first recall in its 108-year history in early March, the Brenham-based company has twice expanded the recall as more items — found on more production lines — tested positive for Listeria.
This program aired on April 22, 2015.