The Biker Gangs Of Texas
Resume
A look at the bloody shoot-out in Waco. We'll look at what blew up at the Twin Peaks Sports Bar. Plus, the latest on Jade Helm.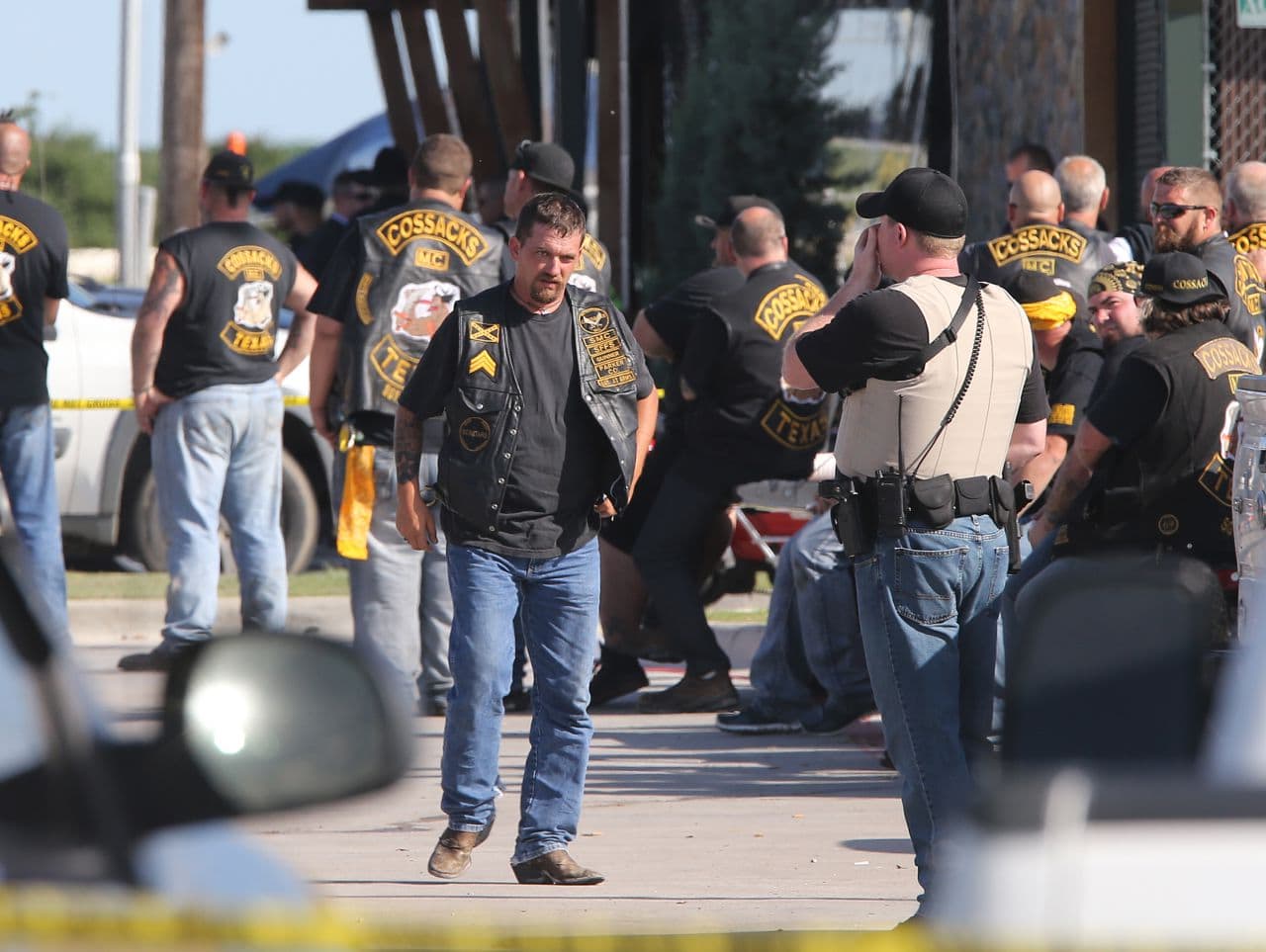 The shoot-out at the Twin Peaks sports bar and restaurant in Waco, Texas is still turning heads for its numbers. Nine dead. 18 wounded. 170 arrested. And then the weaponry: knives, chains, clubs, brass knuckles and more than a hundred guns. And of course, the biker gangs. Motorcycle "clubs" that are probably not your uncle Johnny out for his weekend roar. Bandidos, Cossacks, Scimitars. It all sounds antique, like an old Marlon Brando film. But it's now. This hour on On Point: the biker gangs of Texas and the bloody shoot-out in Waco. Plus, we'll look at the Texas fever over US military exercises, Jade Helm 15.
-- Tom Ashbrook
Guests
Dane Schiller, Reporter for the Houston Chronicle (@Daneschiller)
Steve Cook, Executive Director of the Mid-West Outlaw Motorcycle Gangs Investigator Association.
James Quinn, Professor of Sociology at the University of North Texas.
From Tom's Reading List
USA Today: FBI: Biker gangs are serious 'criminal enterprises' - "The FBI says the Bandidos "are involved in transporting and distributing cocaine and marijuana and are involved in the production, transportation and distribution of methamphetamine." The group is most active in the Pacific, Southeastern, Southwestern and the West Central regions of the USA. The FBI's National Gang Intelligence Center in 2013 found that just 2.5% of U.S. gang members belonged to an OMG — by contrast, 88% were street gang members and 9.5% were prison gang members. OMGs were considered the greatest threat in only about 11% of jurisdictions."
Dallas Morning News: Police say 18 SWAT officers were stationed outside restaurant before gang shooting - "Waco police said Monday that they had 18 uniformed SWAT officers and four state agents with marked cars stationed outside the Twin Peaks restaurant before the shooting erupted. That's higher than the original count of 10 officers that police had provided after the shooting. All those officers — which included a Waco rookie and an assistant chief — were involved in the gunfight as dozens of armed biker gang members streamed out of the Twin Peaks restaurant shortly after noon Sunday, shooting, stabbing and assaulting each other, police said."
Washington Post: How the Bandidos became one of the world's most feared biker gangs - "The Bandidos' story charts the rise of biker gangs from counterculture clubs to fearsome organized crime organizations and helps to explain why tragedy struck on Sunday in a city already associated with spectacular violence. Nowadays, if Americans know anything about motorcycle gangs, it's probably thanks to Hunter S. Thompson or the hit television show "Sons of Anarchy." But long before Thompson's 1966 book "Hell's Angels," bike gangs were on the rise in the United States."
The Latest on Jade Helm
Christy Hoppe, Austin Bureau Chief for the Dallas Morning News (@ChristyHoppe)
This program aired on May 19, 2015.