Uber, But For Everything
Resume
We look at the "Uber-fication" of the marketplace.  On-demand services for almost anything, everything, are catching on. Changing our economy and our lives.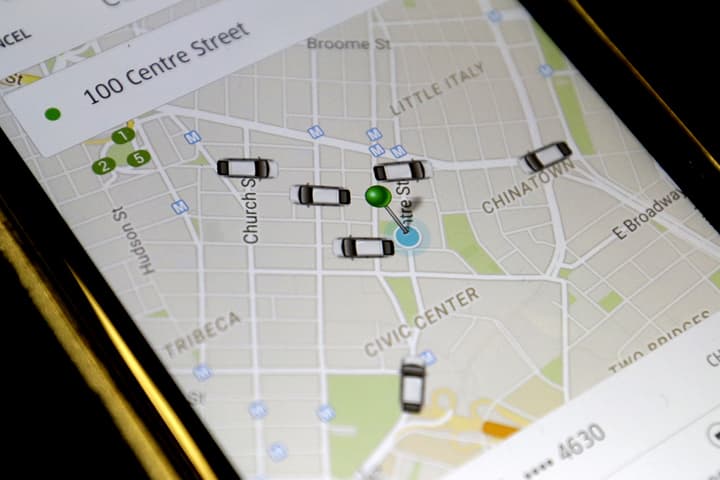 Once upon a time there were businesses that did things. You went to them, or they sent their employees to you. Then came Uber. The transportation company with no cars and no employees out on the road. Hit the app on your smartphone and the service shows up, freelanced and on-demand. Now everybody wants to launch an Uber for everything. To wash your clothes, park your car, take your temperature, rub your shoulders, make you a drink. And they're launching. Delivering.  Disrupting. This hour On Point: the "on-demand" economy, and the Uber-fication of everything.
-- Tom Ashbrook
Guests
Johana Bhuiyan, ride-hail and transportation reporter for BuzzFeed News. (@jmbooyah)
Arun Sundararajan, professor of information, operations and management sciences at New York University's Stern School of Business. (@digitalarun)
Adrian Wooldridge, management editor and columnist for The Economist. Author of the new book, "The Great Disruption: How Business is Coping With Turbulent Times." (@adwooldridge)
Chris Vaughn, CEO and founder of Saucey, an on-demand delivery service for alcohol and cocktail products. (@sauceyapp)
From Tom's Reading List
BuzzFeed News: It's Already Over And Uber Has Won — "Money isn't everything, but it's certainly a useful metric for keeping score, especially when you're measuring it in the billions. Which is why it's big news that Uber just closed another funding round — this time it scored another $1 billion, bringing its total raise to $4 billion and its overall valuation to $40 billion. That is more than double where it was just six months ago, making it worth a little bit more than Fiat Chrysler and The Gap combined."
The Wall Street Journal: There's an Uber for Everything Now — "The fabulously wealthy may call their servants by ringing a little bell. In the lifestyles of the geeky and lazy, one can now summon a household staff just by tapping on a smartphone. I've got a maid, masseuse, doctor, chef, valet, personal shopper, florist and bartender. Each has his own app and can arrive at my door in as little as 10 minutes."
The Economist: There's an app for that -- "Using the now ubiquitous platform of the smartphone to deliver labour and services in a variety of new ways will challenge many of the fundamental assumptions of 20th-century capitalism, from the nature of the firm to the structure of careers."
This program aired on June 1, 2015.