Inside America's Prison System
Play
This article is more than 7 years old.
America's prisons in the spotlight –from a big escape to the mounting calls for prison and sentencing reform.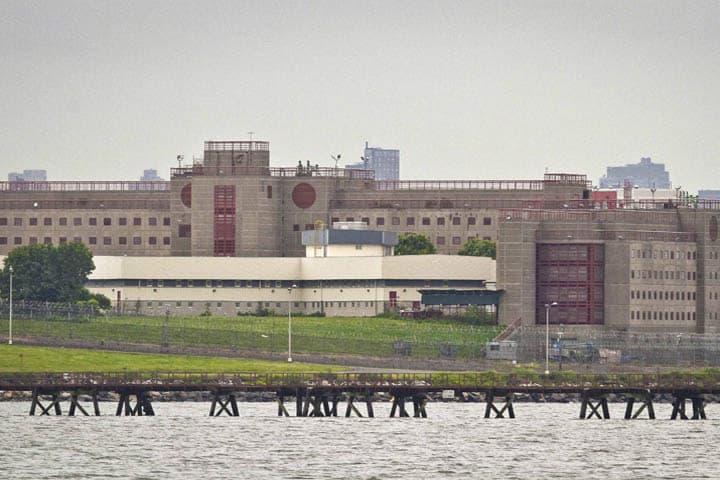 Prison headlines all over now. The murderers who broke out of prison with power tools and maybe some help. The 68-year-old in Louisiana ordered out but still in after nearly 43 years in isolation. Kalief Browder, thrown into New York's Rikers Island prison when he was 16 for three years with no trial. Beaten. Abused. Now dead by suicide. The United States has four percent of the world's population, and 22 percent of its prisoners. Now many Americans – left, right and center - are saying enough. Saying it's too much. This hour On Point: America's prison addiction.
-- Tom Ashbrook
Guests
Marie Gottschalk, professor of political scientist at the University of Pennsylvania. Author of "Caught: The Prison State and the Lockdown of American Politics" and "The Prison and the Gallows."
Edward Latessa, director of the school of criminal justice at the University of Cincinnati. Co-author of several books, including "Corrections in the Community" and "Corrections in America."
Kemba Smith, criminal justice reform advocate and former convicted felon, who served six out of a 24 1/2 year prison sentence. Author of "Poster Child." (@kembasmith)
From Tom's Reading List
North Country Public Radio: How did two deadly felons escape Clinton Dannemora Prison? Let us show you. -- "Saturday morning, Corrections officers in Clinton-Dannemora Prison in the northern Adirondacks found that two high-risk inmates had vanished from their cells in the maximum security portion of the facility.  In more than a century, no prisoner had ever managed to flee that section of the lock-up, which stands behind a massive white wall in a remote corner of New York state just south of the US-Canada border.  So how did they do it? "
National Journal: As 2016 Candidates Talk about Justice Reform, Congress Appears Increasingly Likely to Act -- "Police brutality has emerged in America as a signature of a broader public-policy disaster, an epidemic with roots deeper than a few derelict cops. It is a crisis that has grown to the point where few politicians believe the solution can be a Justice Department game of whack-a-mole to overhaul broken police departments. For 2016 candidates, criminal justice is a campaign slogan, a promise that connects politicians from both parties to poor and minority communities who are disproportionately affected by soaring incarceration rates in their own neighborhoods."
New Yorker: Kalief Browder, 1993–2015 — "Last fall, I wrote about a young man named Kalief Browder, who spent three years on Rikers Island without being convicted of a crime. He had been arrested in the spring of 2010, at age sixteen, for a robbery he insisted he had not committed. Then he spent more than one thousand days on Rikers waiting for a trial that never happened. During that time, he endured about two years in solitary confinement, where he attempted to end his life several times."
This program aired on June 11, 2015.