Howard Levy, Harmonica's Main Man
Play
This article is more than 7 years old.
With guest host Jane Clayson.
Harmonica virtuoso Howard Levy tears it up with us. From Bach to the blues.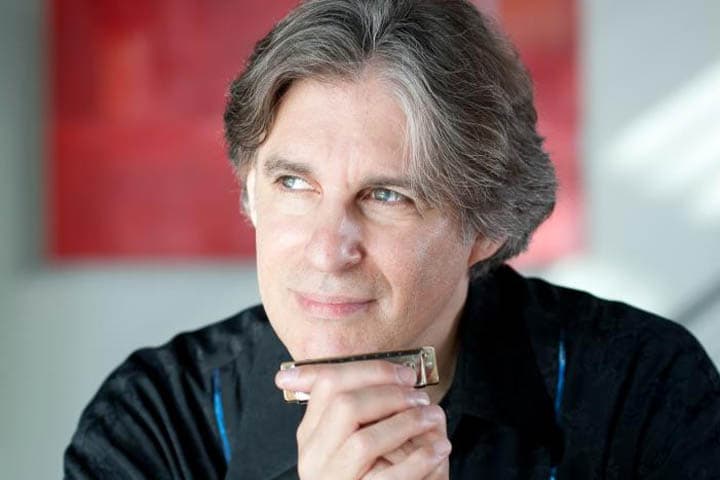 Oh, you have no idea what one little mouth harp can do in the right hands. You know that beat-up harmonica you once had?  Missing a bunch of notes the day you took it out of the box, missing a few more notes after the lint from your jeans pocket got in the blowholes?  Harmonica maestro Howard Levy can pack all the world's music into that little harmonica. This hour, On Point: we wow your ears with the beautiful, wondrous music of Howard Levy.
-- Jane Clayson
Guest
Howard Levy, diatonic harmonica master and longtime musician and music educator. His most album recent album is "First Takes." (@howardlevy)
From The Reading List
Lexington Herald-Leader: Howard Levy Blows Away The Stigma Of The Harmonica -- Howard Levy has heard it all before. He has heard the jokes, sifted through the stereotypes and dealt with the stigma: The harmonica as an unscholarly instrument, a lowbrow artistic device that is great to pal around with but is unworthy of placement in even the remotest regions of musical sophistication. Of course, if you have ever heard the reach and expression that Levy creates from the harmonica, you will realize how decisively the last laugh falls on him. Yes, Levy has heard it all. But people who haven't heard Levy really haven't heard anything.
Chicago Tribune: Howard Levy re-imagines what a harmonica can achieve — "The introduction said it all. 'We have the greatest harmonica player in the world,' Green Mill Jazz Club owner Dave Jemilo told a packed house on Friday night. He was not exaggerating. Certainly no one playing jazz harmonica these days approaches the technical wizardry, stylistic breadth or improvisational creativity of Chicagoan Howard Levy. For this reason, Levy finds himself constantly in demand around the globe, appearing with Bela Fleck and the Flecktones, among other ensembles."
NPR Music: Howard Levy: Reinventing The Harmonica — "In the 1970s, Levy revolutionized harmonica playing by inventing a breathing method known as over-bending, allowing players to reach a wider range of notes. Levy continues to utilize non-traditional methods, even unique composing and practicing environments. Because the harmonica can be played with one hand, Levy, behind the wheel of his car, sometimes lets the freeway become his rehearsal space."
Playlist
https://open.spotify.com/user/onpointradio/playlist/3MDl7fLDxfvNf2omKhETIS
*Producer's Note: Not all of Howard Levy's music is available on Spotify, meaning that much of the playlist for this hour is unavailable. The above list is abbreviated and improvised, including some tracks not played during the broadcast.
Watch Howard Levy Perform In The WBUR Studios
This program aired on July 3, 2015.