One Suprisingly Modern Arranged Marriage
Resume
With guest host Jane Clayson.
We'll meet the makers of "Meet the Patels," a documentary about an Indian-American who finally lets his parents find him a wife.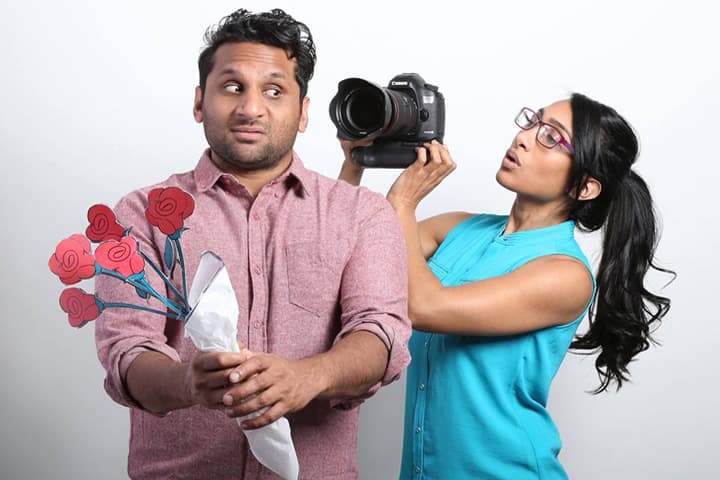 So here's the plot-line: there's this young Indian-American actor out in LA. He's on TV, he's funny, successful. But he can't figure out what exactly love is and how to find the right person to spend the rest of his life with. So his parents finally convince him to try it the old-fashioned way –an arranged marriage. Hilarity and touching moments ensue. It's no sit-com. It's the true story of actor and funny-man Ravi Patel.  And today, he tells us about it. This hour On Point, arranged marriages in America today, and trying to find modern love — the old-school way.
-- Jane Clayson
Guests
Ravi Patel, actor and director. Co-director and subject of the new documentary film, "Meet the Patels." (@showmetheravi)
Geeta Patel, writer, producer and director. Co-director of the new documentary film, "Meet the Patels." (@geetavpatel)
Shaifali Sandhya, clinical psychologist and researcher with a focus on cross-cultural relationships. Author of "Love Will Follow: Why The Indian Marriage is Burning." (@ShaifaliSandhya)
From The Reading List
NPR News: 'Meet The Patels': One Man's Quest To Find Love, The Old-School Indian Way — "The movie opens as the Patel family is en route to its annual monthlong vacation in India. The trip comes just after Ravi, a Los Angeles-based actor, has broken up with his girlfriend, Audrey. They'd been dating for two years, but he never told his parents about her. Audrey is white, and Ravi's parents — Vasant and Champa Patel — expect their only son will marry a nice Indian girl, preferably from their hometown province of Gujarat."
Los Angeles Times: 'Meet the Patels' is a winning family affair — "'Meet The Patels' is the unlikeliest of success stories. It's a documentary that began as a home movie and ended up a warm and funny feature. It turned one man's culturally specific journey into a lively and engaging universal story made with an unmistakable sense of fun."
The Aerogram: A Quick Q&A With Meet The Patels' Ravi Patel — "For us, we tried really hard to tell the story from our most authentic, truthful perspective, so it wasn't really about achieving anything different or same as the other films about Indians or marriage. This is a romantic comedy about family that just happens to have some Indian elements, and we just tried our best to show them based on what we experienced first hand — that was our approach.
Watch A Trailer For "Meet The Patels"
Music Used In This Episode
"Shelia Ki Jawani" by Sunidhi Cuauhan
"Love is Love" by Mazzi and S.O.U.L. Purpose, feat. Maya Azucena
This program aired on September 15, 2015.