A Dangerous World Takes Center Stage In Second Democratic Debate
Resume
Democrats in debate. Clinton, O'Malley, Sanders take the stage in Iowa. We'll hear the key points of contention.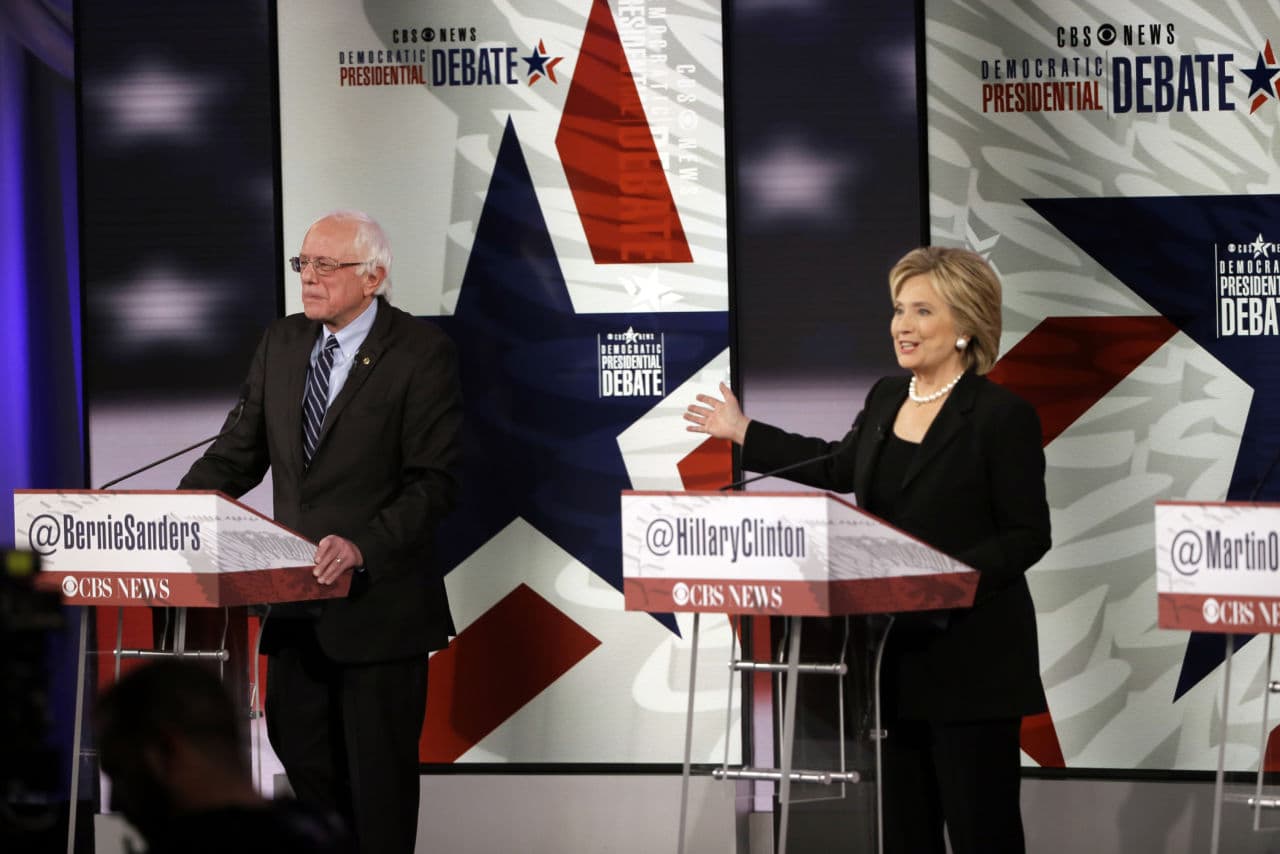 For all the uproar and occasional zaniness, Republicans have turned their season of presidential contender debates into a riveting national reality show and more. Democrats mounted only their second debate over the weekend. On a Saturday night and, it turned out, in the shadow of the shocking Paris terror attacks. But there was still plenty to learn and hear and see. On how Hillary Clinton, Bernie Sanders and Martin O'Malley responded to Paris. How they tangled on Wall Street. How they wrangled on the US economy and college costs and taxes. This hour On Point, out of Iowa, the Democrats in debate.
-- Tom Ashbrook
Guests
Molly Ball, national political correspondent for the Atlantic. (@mollyesque)
Sam Frizell, political and breaking news reporter for TIME. (@Sam_Frizell)
Rachel Caufield, professor of political science and associate director of the Harkin Institute for Public Policy and Citizen Engagement at Drake University.
From Tom's Reading List
The Atlantic: Did Anyone Really Win the Democratic Presidential Debate in Des Moines? — "Against the somber backdrop of Friday's terror attacks in Paris, the three contenders for the Democratic nomination gathered in Iowa on Saturday night. The first 30 minutes of the debate were devoted to foreign-policy issues, but not until the focus shifted to domestic questions did the candidates really come alive. And that may be a problem for whichever of these candidates becomes the Democratic nominee."
TIME: How the Democratic Primary Got Real -- "It was only a matter of time before Hillary Clinton began taking fire. On Saturday night, it happened—with a force that suggested Clinton rivals Bernie Sanders and Martin O'Malley have been lusting for the fight. Clinton's competitors came ready for a slugfest, slamming Clinton on Wall Street regulation, her record in the Middle East and gun control. It was the roughest treatment Clinton has faced from her own side."
The New Republic: Is Bernie Sanders Really in It to Win It? — "Eight years ago, another Democratic candidate for the presidential nomination faced the same dilemma that Sanders does today. Barack Obama enjoyed roughly the same level of popularity that Sanders does now, a passionate third of voters. Like Sanders today, Obama was loath to run a negative campaign and wanted to offer a more optimistic, constructive politics. But Obama and his staff realized that going after Hillary Clinton was the only road they had to the White House."
This program aired on November 16, 2015.