Miami's Boom (And Climate Doom?)
Play
This article is more than 7 years old.
Climate change and Miami. We'll look at the city's booming real estate market and its future in a time of rising seas.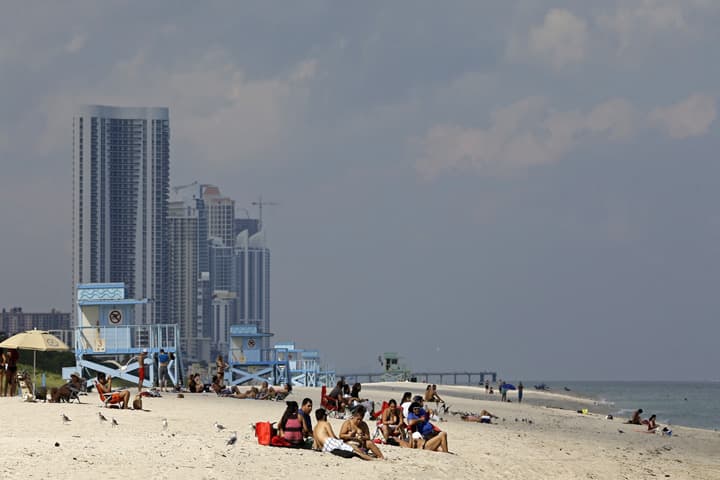 Miami Beach is gorgeous and it's booming. And it's on the front line of climate change and sea level rise. How does all that go together? Maybe it does. Maybe it doesn't. Boosters and optimists say Miami Beach and Miami will adapt. Pump out more of the water already flooding streets on sunny days. Raise roads. Raise walls. Welcome the water  Be like Venice. Survive. Others say that is a pipe dream.  hat gorgeous Miami, Miami Beach, is headed for a washout. An unsustainable future as oceans rise. It is not a distant issue. This hour On Point, the climate change view from Miami Beach.
-- Tom Ashbrook
Guests
Jenny Staletovich, environmental reporter for the Miami Herald. (@jenstaletovich)
Allan Shulman, principal and founder at Shulman + Associates. Associate professor at the University of Miami School of Architecture.
Henry Briceño, geologist and affiliate research scholar at the Florida International University.
Ben Kirtman, professor in the University of Miami's Department of Atmospheric Sciences.
Mayor Phillip Levine, Mayor of Miami Beach, Florida. (@MayorLevine)
From Tom's Reading List
Miami Herald: Beyond the high tides, South Florida water is changing — "Every fall when the king tides roll in, the most obvious sign of climate change asserts itself in South Florida: flooding everywhere, from submerged roads in Miami to waves washing across neighborhoods in the Keys to swamped docks and yards in Fort Lauderdale's canal-side homes. But beyond the flooding, a more insidious problem is at work. South Florida's water is changing."
Vanity Fair: Can Miami Beach Survive Global Warming? — "For all the sober talk about grave and ongoing environmental challenges, it is apt that Miami Beach has a self-styled Bloombergian mayor. For, curiously, at the very same time that some climate scientists are questioning whether the city will even survive into the next century, Miami Beach is going through an economic and building boom that evokes nothing so much as Bloomberg-era New York at its most sparkly and flash."
Rolling Stone: Goodbye, Miami -- "Sea-level rise is not a hypothetical disaster. It is a physical fact of life on a warming planet, the basic dynamics of which even a child can understand: Heat melts ice. Since the 1920s, the global average sea level has risen about nine inches, mostly from the thermal expansion of the ocean water. But thanks to our 200-year-long fossil-fuel binge, the great ice sheets in Greenland and Antarctica are starting to melt rapidly now, causing the rate of sea-level rise to grow exponentially."
This program aired on November 19, 2015.