A Post-Scalia Court On Abortion
Play
This article is more than 6 years old.
The Supreme Court takes up the restrictive Texas abortion law.  We'll look at the case, the real world stakes, and the High Court without Scalia.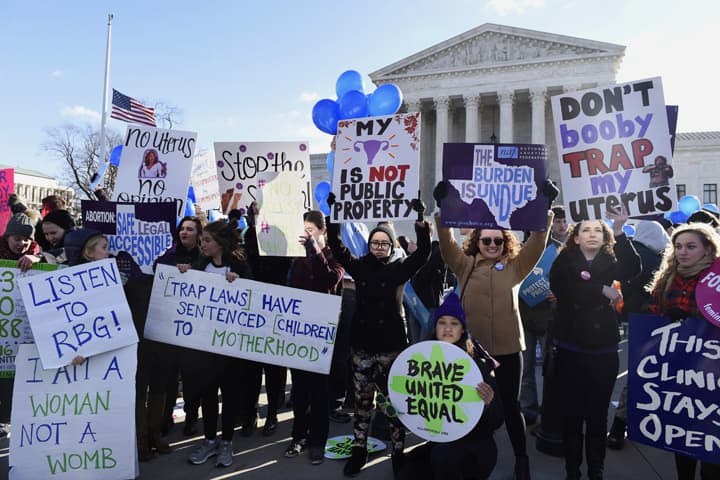 Texas passed a law it says was for women's health and half the state's abortion clinics closed. Abortions rights supporters say that was the whole point – laws so burdensome that a lot of abortion and clinics would go away. Now, it's before the Supreme Court. The biggest abortion decision in decades. And the court is down a judge. Yesterday it heard the arguments. This hour On Point, high stakes as the court, without Justice Antonin Scalia, takes on abortion – and a lot more.
-- Tom Ashbrook
Guests
Emily Bazelon, staff writer for the New York Times Magazine. Co-host of the Slate Political Gabfest. Fellow at the Yale Law School. (@emilybazelon)
Jonathan Mitchell, visiting fellow at Stanford University's Hoover Institution and a visiting professor of law at the Stanford Law School. Former clerk for former Supreme Court Justice Antonin Scalia. Former Texas Solicitor General.
From Tom's Reading List
Washington Post: Supreme Court hears arguments on Texas abortion-clinics case — "The Supreme Court's liberal justices seemed united in Wednesday's arguments that Texas' abortion regulations are an unconstitutional burden on a woman's right to an abortion, but the justice who holds the key vote questioned whether there was enough evidence to make such a finding."
New York Times: Senate Republicans and the Supreme Court: Where Is This Headed Exactly? — "The distinctive structure of the Republican Party almost seems to require it to take this historic gamble nonetheless. Why? Because the Republican Party coalition has organized itself around the Supreme Court – around what I'd call a jurisprudential project — to a greater degree than virtually any other party movement in American history."
NPR News: Supreme Court Tests Texas' New Restrictions On Abortion — "Even with the death of Justice Antonin Scalia, Wednesday could mark a potential turning point for the Supreme Court on the subject of abortion. At issue is whether a new Texas law imposes restrictions that unconstitutionally limit a woman's right to terminate a pregnancy."
This program aired on March 3, 2016.