Considering Supreme Court Nominee Merrick Garland
Play
This article is more than 6 years old.
The battle now over President Obama's brand new Supreme Court nominee.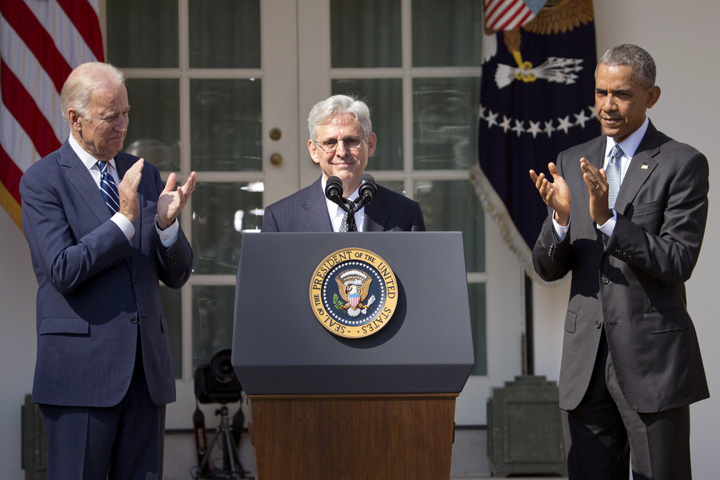 It was a picture perfect Supreme Court nomination day in the White House Rose Garden. The president with his widely-respected nominee, Merrick Garland. The nominee, choking up at the grandeur and profundity of the task potentially laid before him. But pull back from the garden and it's a storm in Washington. The Republican Senate that promised to whack any nominee "like a piñata" saying no way it will even say hi. This hour On Point,  the Supreme Court, Merrick Garland, and what now.
-- Tom Ashbrook
Guests
Joan Biskupic, legal affairs editor for Retuers. Author of "Breaking In," "American Original" and "Sandra Day O'Connor."   (@joanbiskupic)
Kelsey Snell, Congressional reporter for the Washington Post. (@kelsey_snell)
Ed Whelan, president of the Ethics and Public Policy Center. Former law clerk to former U.S. Supreme Court Justice Antonin Scalia. (@EdWhelanEPPC)
Jonathan Turley, professor at the George Washington University Law School. Constitutional law expert. (@JonathanTurley)
From Tom's Reading List
Reuters: Considered twice before, Garland gets call to top court — "Merrick Garland, the federal appeals court judge picked by President Barack Obama for the Supreme Court, was twice before considered as a nominee for the lifetime job as a justice but passed over when Obama chose Sonia Sotomayor and Elena Kagan. Garland, 63, has been a judge on the U.S. Court of Appeals for the District of Columbia Circuit since 1997 and previously served in the Justice Department under Democratic President Bill Clinton."
Washington Post: President Obama nominates Merrick Garland to the Supreme Court -- "President Obama on Wednesday nominated Merrick Garland to serve on the Supreme Court, setting up a protracted political fight with Republicans who have vowed to block any candidate picked by Obama in his final year in office. Garland, 63, is a longtime Washington lawyer and jurist who is chief judge of the U.S. Court of Appeals for the District of Columbia Circuit. Considered a moderate, Garland is widely respected in the D.C. legal community and was also a finalist for the first two Supreme Court vacancies Obama filled."
The Atlantic: The Supreme Court Confirmation Battle Begins — "Garland's nomination bucks some recent trends for presidential nominations to the Court. Both Obama and his predecessor, George W. Bush, opted for younger picks who became reliable liberal or conservative voices on the Court. Garland, by contrast, is older than most of the recent Supreme Court justices at the time of their nomination. Many observers also saw him as a relatively moderate option compared to others on Obama's reported shortlist."
This program aired on March 17, 2016.