Recipes To Get You In The Kitchen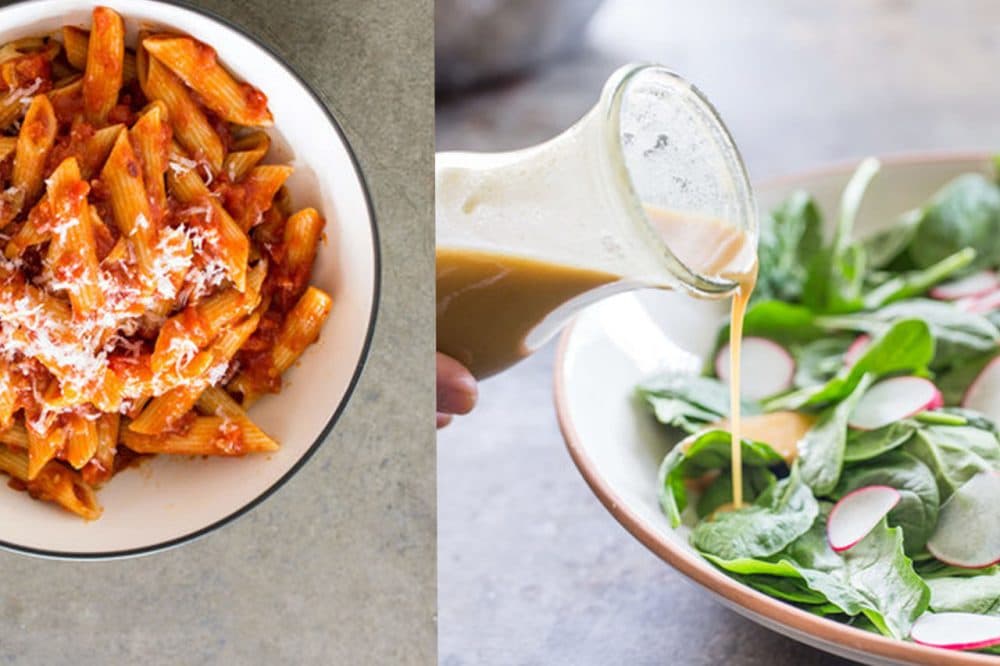 This article is more than 5 years old.
Our April 8 show on tips and tricks for getting even the most reluctant cook in the kitchen included some great recipes from our guests — and those recipes are here!
---
Make-Ahead Vinaigrette (from America's Test Kitchen)
In addition to oil and vinegar (or lemon juice), we make our vinaigrette with a combination of emulsifiers (mustard and mayonnaise) and a stabilizer (molasses), which help the emulsion form and hold for several days. We also use a 2:1 ratio of extra-virgin olive oil to vegetable oil, which prevents the oil molecules from bonding together and solidifying in the refrigerator while still allowing the distinct flavor of the olive oil to come through. The dressing template is adaptable to a variety of oils and acids, as well as aromatics and fresh herbs.
Makes about 1 cup
1 tablespoon mayonnaise
1 tablespoon molasses
1 tablespoon Dijon mustard
1/2 teaspoon Salt
1/4 cup wine vinegar
1/2 cup extra-virgin olive oil
1/4 cup vegetable oil
Regular or light mayonnaise can be used in this recipe. Do not use blackstrap molasses. You can substitute toasted hazelnut or walnut oil for the extra-virgin olive oil.
Combine mayonnaise, molasses, mustard, and salt in 2-cup jar with tight-fitting lid. Stir with fork until mixture is milky in appearance and no lumps of mayonnaise or molasses remain. Add vinegar, seal jar, and shake until smooth, about 10 seconds.
Add ¼ cup olive oil, seal jar, and shake vigorously until thoroughly combined, about 10 seconds. Repeat, adding remaining ¼ cup olive oil and vegetable oil in 2 additions, shaking vigorously until thoroughly combined after each addition. (After third addition, vinaigrette should be glossy and lightly thickened, with no pools of oil on its surface.) Refrigerate for up to 1 week. Shake briefly before using.
---
Penne Arrabbiata from America's Test Kitchen
To deliver an arrabbiata with complex flavor and not just searing heat, we looked beyond the tradition of using only red pepper flakes and crafted a recipe that included three different types of pepper. By supplementing pepper flakes with paprika and pickled pepperoncini, we built deep flavor while keeping the spiciness in check. Pecorino Romano, tomato paste, and anchovies, while difficult to detect in the sauce, add umami notes and richness to this traditionally simple sauce. Finally, using processed canned tomatoes helps bring the sauce to the table quickly and allows you to enjoy it year-round.
Serves 6
1 (28-ounce) can whole peeled tomatoes
¼ cup extra-virgin olive oil
¼ cup stemmed, patted dry, and minced pepperoncini
2 tablespoons tomato paste
1 garlic clove, minced
1 teaspoon red pepper flakes
4 anchovy fillets, rinsed, patted dry, and minced to paste
½ teaspoon paprika
Salt and pepper
¼ cup grated Pecorino Romano, plus extra for serving
1 pound penne
This recipe will work with other short tublar pastas like ziti or rigatoni.
Pulse tomatoes and their juice in food processor until finely chopped, about 10 pulses.
Heat oil, pepperoncini, tomato paste, garlic, pepper flakes, anchovies, paprika, 1/2 teaspoon salt, and 1/2 teaspoon pepper in medium saucepan over medium-low heat, stirring occasionally, until deep red in color, 7 to 8 minutes.
Add tomatoes and Pecorino and bring to simmer. Cook, stirring occasionally, until thickened, about 20 minutes.
Bring 4 quarts water to boil in large pot. Add pasta and 1 tablespoon salt and cook, stirring often, until al dente. Reserve 1/2 cup cooking water, then drain pasta and return it to pot. Add sauce and toss to combine, adjusting consistency with reserved cooking water as needed. Season with salt and pepper to taste. Serve, passing extra Pecorino separately.
---
Mapo Eggplant, with Garlic Green Beans, from Pantry
¾ Cup White Shortgrain Rice
1 Leek MINCED
8 Ounces Tofu CUT INTO 1/2 INCH CUBES
1 Inch Ginger MINCED
1 Eggplant CUT INTO 1/2 INCH CUBES
3 Cloves Garlic MINCED AND DIVIDED 1 CLOVE AND 2 CLOVES
3 Tablespoons Soy Sauce
5 Teaspoons Mirin
4 Teaspoons Chinese Red Chili Paste
1½ Teaspoons Tomato Paste
3 Ounces Green Beans CUT INTO 1 INCH PIECES
1 Tablespoon Sesame Oil
1 Teaspoon Corn Starch
Recipe may require salt and pepper, olive oil, &
water. Have these on hand; we'll provide the rest.
Set oven to 375°F. Rinse rice and pour into 9x9 inch or similarly sized baking dish. Bring 11/4 cups water to a boil and pour over rice. Cover dish with aluminum foil and place in the middle of the oven. Bake rice, covered with foil, for 25 minutes or until rice is tender and sticks together.
Mix soy sauce, mirin, chinese red chili paste, and tomato paste in small bowl. Stir until thoroughly combined. Set aside.
Place 1 tbsp olive oil in medium skillet over medium-high heat. Add green beans and sautée 1 minute. Add 3 tbsp water and cover skillet with lid. Let steam about 2 minutes. Once green beans have softened, remove lid and add 2 of the cloves of minced garlic. Season with salt and pepper to taste (about 1/2 tsp each). Sautée until green beans are crisp and garlic is browned. Remove from skillet and set aside.
In the same skillet, heat sesame oil over medium heat and add ginger, leek and the remaining clove of minced garlic. Sautée until fragrant, about 1 minute. Add tofu and cook until lightly browned. Add eggplant and sautée until browned. Add 3 tbsp water to skillet and cover with lid to let steam for about 3 minutes.
Once vegetables have cooked through, add prepared mapo sauce from step 2 and stir to coat vegetables. Mix corn starch with 1/2 cup water in small bowl. Add mixture to skillet and stir to combine with mapo sauce. Turn heat back on to medium and stir mapo eggplant until sauce thickens.
Divide rice between two plates. Serve half the green beans and half the mapo eggplant beside the rice on each plate.