Flint And The Detroit Sick-Out: Is Michigan Botching Its Response?
Play
This article is more than 6 years old.
Fixing Michigan- from Flint's water crisis to failing schools in Detroit. Are state takeovers the answers or the problem?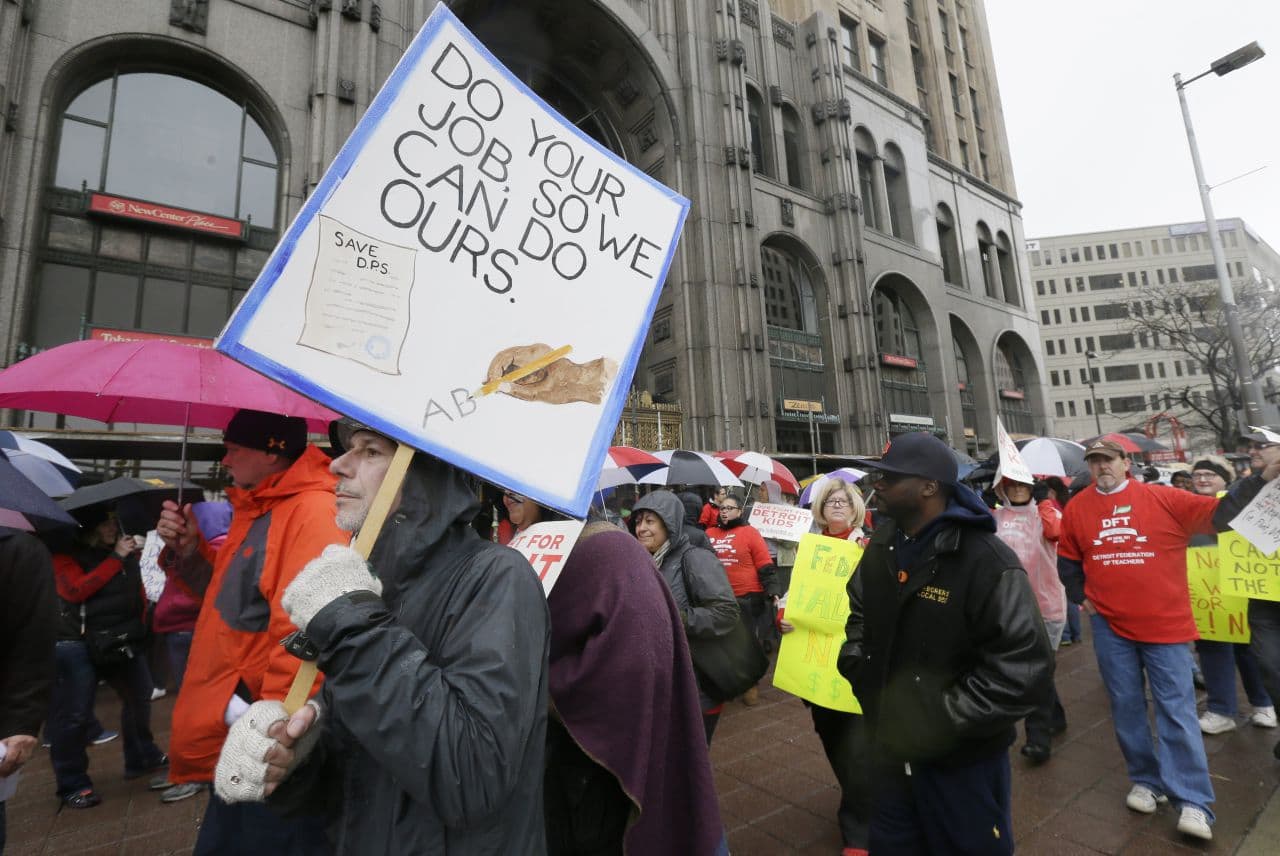 The president was in Michigan yesterday, in Flint, telling that beleaguered city "I've got your back," after all the water woes we've heard about there. Meanwhile in Detroit, teachers walking off the job this week in almost all the city's schools, complaining about mold and rats and afraid they won't be paid. When cities and school districts get in trouble, it's hard to get out. Michigan's cities tell that story. This hour On Point: Detroit, Flint, and lessons from the troubles in Michigan.
-Tom Ashbrook
Guests
Stephen Henderson, host of the WDET show Detroit Today, editor of the Detroit Free Press editorial page. (@SHendersonFreep)
Jim Ananich, State Senator representing the 27th Distric in Michigan, which includes Flint. (@jimananich)
Kil Huh, senior director of the American Cities Program at the Pew Charitable Trusts. (@KilHuh)
Kevyn Orr, former emergency manager of Detroit. Partner-in-charge at the Washington office of Jones Day.
From Tom's Reading List
Obama to Flint: 'Don't lose hope,' drinks the water — In a speech to a restless audience at a high school gymnasium, Obama also urged parents of those children to get them tested — but also to have faith in their resilience and not to use the poisoned water as an excuse not to expect great things from them."That attitude is just as corrosive to democracy as that stuff that put lead in your water," he said. "It's not enough to fix the water. We need to fix the culture of neglect." (USA Today)
Detroit Teachers Return to Classrooms After 2 Days Out — "Detroit school classes resumed Wednesday after teachers received assurances that they will be fully paid for the school year. Two consecutive days of mass teacher sick-outs closed the schools and gave nearly 45,000 schoolchildren unscheduled days off. Meanwhile, a Michigan panel has approved a $500 million plan that would bail out and overhaul Detroit's ailing school district, which will run out of money at the end of June." (Associated Press)
Want to fix Michigan cities? Here's how — "Flint's the worst iteration of Michigan's failure to care for its cities. City officials should never be looking over their books trying to find ways to save money on clean water. But those are the kinds of choices the state's strained relationship with its cities demands local governments make. The trouble in Michigan's cities has been a slow degradation of state support — which escalated during the gubernatorial terms of John Engler and Jennifer Granholm — combined with tight restrictions on the ways cities can find revenue for themselves." (Detroit Free Press)
This program aired on May 5, 2016.