David Frum And Roger Stone On Trump's 'Threat To Democracy'
Play
This article is more than 6 years old.
Conservative big thinker David Frum says Donald Trump is shattering the safeguards that protect democracy. We'll hear from Frum and Trump adviser Roger Stone.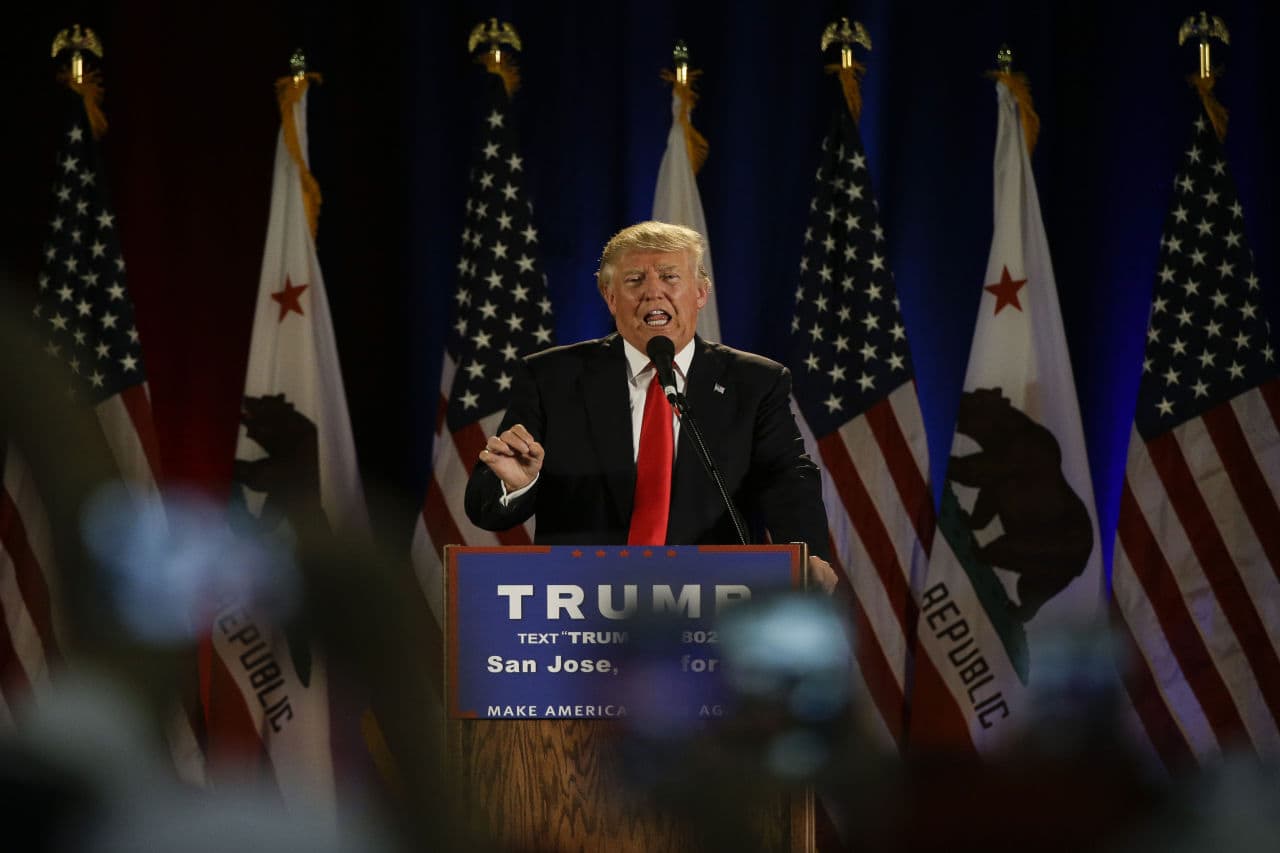 Donald Trump says he can't get a fair trial because the Indiana-born American citizen federal judge overseeing his Trump U fraud case is "Mexican." That he couldn't get a fair trial from a Muslim judge. Serious people are looking at those statements and America's deeply diverse population with dismay. Conservative George W. Bush speechwriter David Frum is right out front. Donald Trump, he says, is destroying the guardrails of American democracy. This hour On Point, David Frum on Donald Trump. — Tom Ashbrook
Guests
David Frum, senior editor at the Atlantic. Chairman of Policy Exchange. Former speechwriter for President George W. Bush. (@davidfrum)
Roger Stone, longtime supporter and advisor to Donald Trump. Political consultant, author and lobbyist. Co-author, with Robert Morrow, of "The Clinton's War on Women" and, with Saint John Hunt, of "Jeb!" (@RogerJStoneJr)
From Tom's Reading List
The Atlantic: The Seven Broken Guardrails of Democracy — "Here's the part of the 2016 story that will be hardest to explain after it's all over: Trump did not deceive anyone. Unlike, say, Sarah Palin in 2008, Trump appeared before the electorate in his own clothes, speaking his own words. When he issued a promise, he instantly contradicted it. If you chose to accept the promise anyway, you did so with abundant notice of its worthlessness."
POLITICO: Trump security removes POLITICO reporter from rally — "A Donald Trump campaign staffer and a private security guard removed a POLITICO reporter from a campaign rally here on Thursday evening for reporting at the event without the campaign's permission."
National Review: Donald Trump Represents Republicans' Baser Feelings -- "Even Donald Trump's defenders on the Right are hard-pressed to argue that he is conservative. He is, nonetheless, a kind of conservative dream candidate. Few politicians in memory have so powerfully tapped into and expressed the conservative id, which has long yearned for a Republican politician willing to heap the verbal abuse on the Clintons and, especially, on the media that they so manifestly deserve."
This program aired on June 6, 2016.