Election 2016: Moment Of Truth In California
Resume
California votes. We'll look at what's next for the Democrats, and the 2016 matchup.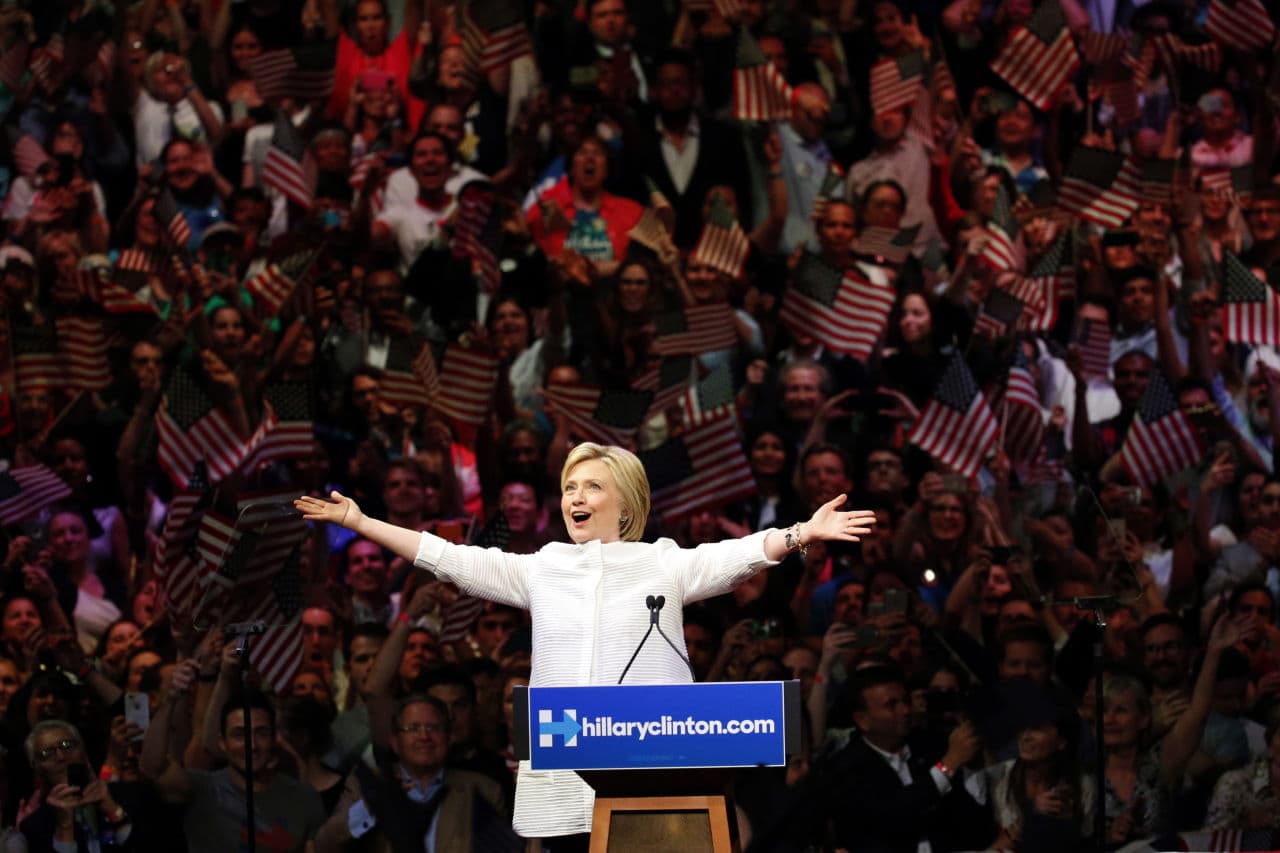 It was - after a long, long road – Hillary Clinton's big night. The night she stood and claimed the Democratic Party's nomination for the U.S. presidency. The first woman ever to do it. She spoke of history and unity, of women and her own mother, of Donald Trump's unsuited temperament and the road ahead. And what a road it will be. Bernie Sanders, still in there slugging. Donald Trump, attacking and promising more big attacks. This hour On Point, Hillary Clinton's moment, and the race for the White House now. — Tom Ashbrook
Guests
Keli Goff, columnist for the Daily Beast and host of Political Party With Keli Goff. (@keligoff)
Byron York, chief political correspondent for the Washington Examiner and Fox News contributor. (@ByronYork)
Karen Tumulty, national political reporter for the Washington Post. (@ktumulty)
From Tom's Reading List
Los Angeles Times: Clinton claims milestone as first female major-party nominee, wins California primary -- "Hillary Clinton carved her name in history Tuesday, becoming the first woman ever chosen to lead a major party into the fall presidential campaign. The former secretary of State, making her second try for the White House, laid claim to the nomination at an exuberant rally in Brooklyn, N.Y., the state she represented for two terms in the U.S. Senate. Her victory came eight years to the day after she ended her 2008 White House bid."
Washington Post: The meaning of Hillary, and the long, hard climb to the top of the ticket -- "Hillary Clinton has been part of our national consciousness for so long that it is easy to forget how far she has pushed the edges. It is not just that she has made history by becoming the first woman to claim the presidential nomination of a major party. Hillary — known on a first-name basis, both by her fervent supporters and by those who despise her — has been the avatar of a different way of thinking about women and what they can do."
Washington Examiner: Trump's self-destructive rambling baffles GOP strategists — "How did the controversy begin over Donald Trump's attacks on the judge in the Trump University lawsuit? It began when Donald Trump couldn't stop talking about the Trump University lawsuit."
This program aired on June 8, 2016.