Trump And Clinton Talk Childcare And Family Policy
Resume
Comparing the candidates' childcare plans. What would Clinton and Trump pursue for working families? And their kids?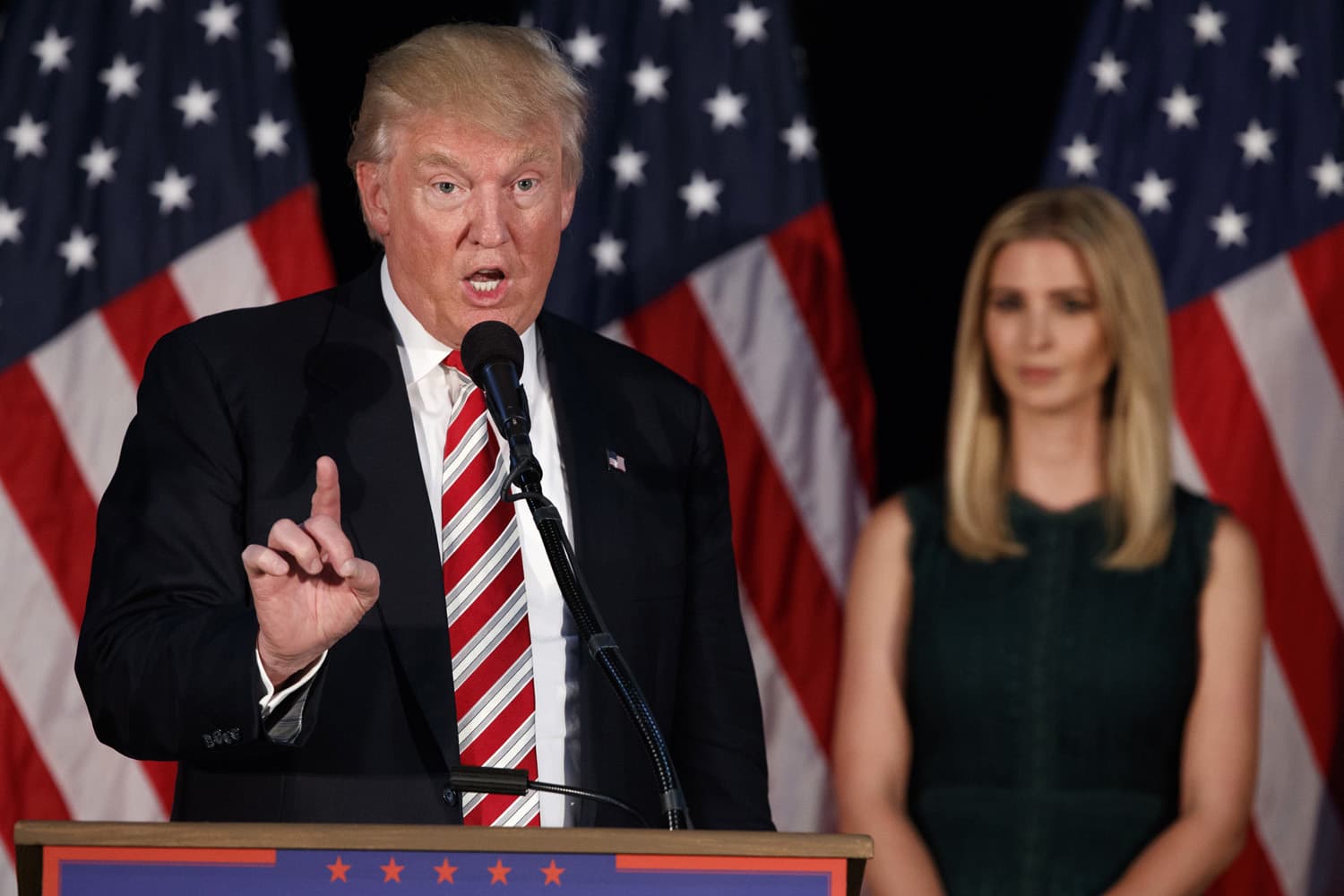 Families need childcare. Donald Trump needs votes. Yesterday those facts met outside Philadelphia, where Trump announced new maternity leave and childcare proposals with daughter and new mom Ivanka Trump at his side. Hillary Clinton's been on the childcare bandwagon for years, with more leave, for dads too, and a tax plan – on the wealthy – to pay for it. It's unprecedented for both major parties' candidates to be on this. This hour On Point, Clinton, Trump, and American childcare. --Tom Ashbrook
Guests
Danielle Paquette, gender and policy reporter for the Washington Post's Wonkblog. (@DPAQreport)
Carmel Martin, executive vice president of policy at the Center for American Progress. Former assistant secretary for planning, evaluation and policy development at the U.S. Department of Education. Has advised the Hillary Clinton presidential campaign. (@carmelatcap)
Stephen Moore, economist at the Heritage Foundation. Economic advisor to Republican presidential nominee Donald Trump. (@stephenmoore)
From Tom's Reading List
Washington Post: Trump's maternity leave plan looks a lot like Bill Clinton's from 1999 -- "Donald Trump released Tuesday a paid maternity leave plan — the first from a Republican presidential nominee. The measure, a pillar of the real estate mogul's child-care proposal, bears close resemblance to an idea floated by Bill Clinton in 1999."
Philadelphia Inquirer: Aiming to win over moderate women, Trump proposes subsidies for child care, paid maternity leave -- "Donald Trump proposed new federal subsidies to make child care more affordable during a Delaware County campaign stop Tuesday, aiming to appeal to moderate women voters in the suburbs of Philadelphia and other cities who have resisted his candidacy. The initiative, which includes a promise of paid maternity leave, would rely on a series of tax deductions and rebates for low-income households, and would offer a new tax-advantage savings account for dependent care."
Mother Jones: Will Hillary Clinton's Education Policy Break From Obama's in a Huge Way? — "When it comes to reform ideas after preschool, Clinton's campaign page contains relatively few policy details. It does call for investing in K-12 teachers and schools through a 'national campaign to elevate and modernize the teaching profession,' rebuilding crumbling public school buildings, and increasing funding for teaching computer science. The boldest and most detailed section discusses the need to disrupt the 'school-to-prison pipeline'; Clinton promises to send $2 billion to states to reduce suspensions and expulsions that disproportionately affect black students and 'implement social and emotional support interventions.'"
This program aired on September 14, 2016.