Week In The News: First Debate, 9/11 Veto Override, Aleppo Under Fire
Resume
The first debate. Congress overrides Obama's veto on 9/11.  Shimon Peres. Arnold Palmer.  Our weekly news roundtable goes behind the headlines.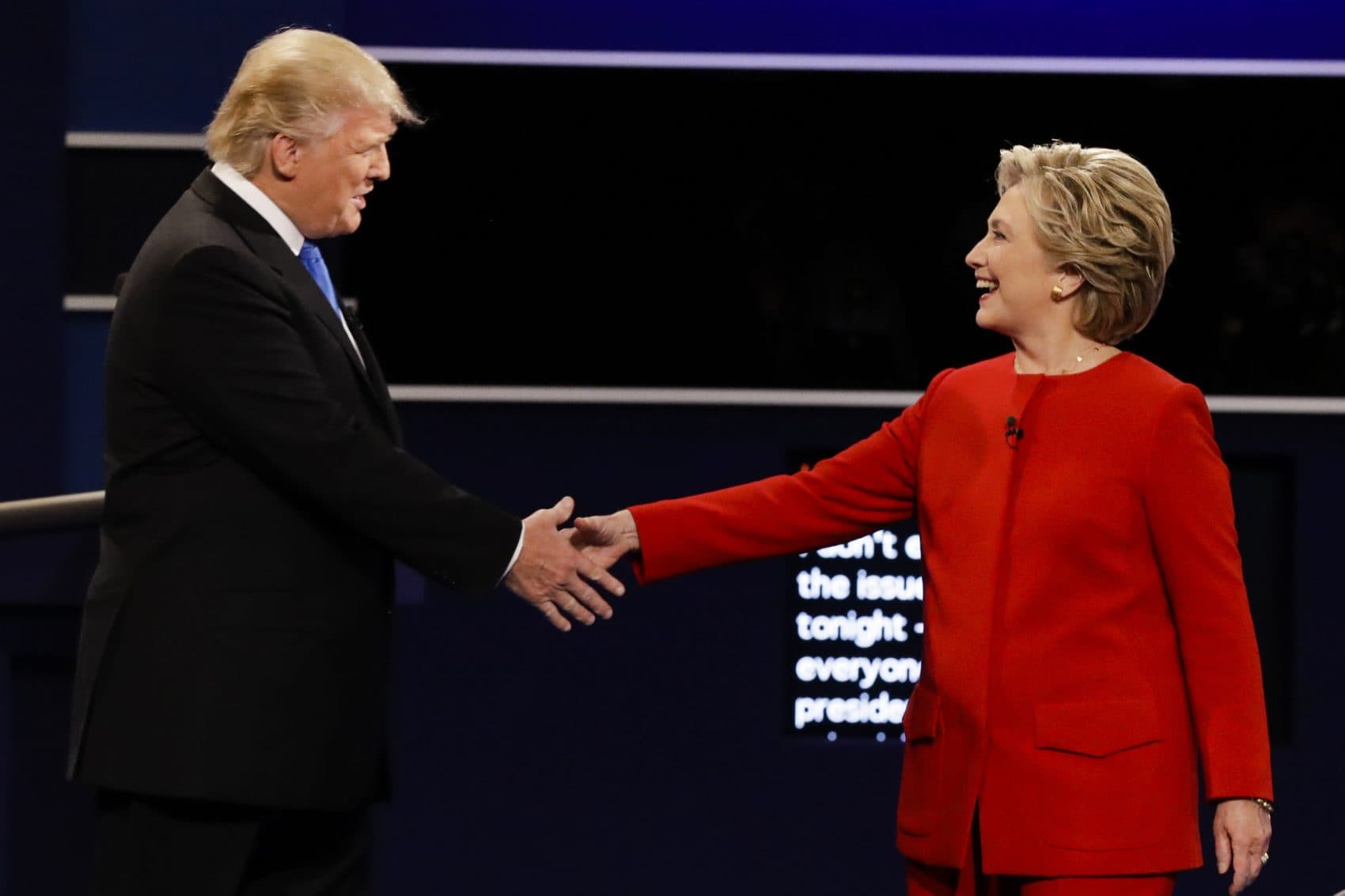 Debate politics this week, as Trump and Clinton meet head to head for the first time in the full spotlight. No knockout blows. Surveys give it to Hillary, but millennials are still holding out on her. Donald trips on a woman problem. In Aleppo, the bombs rain down. In Hoboken, a commuter train injures 100, kills one. Shimon Peres is dead. Wells Fargo's chief is dunned $40 million. This hour On Point, our weekly news roundtable goes behind the headlines. — Tom Ashbrook
Guests
Beth Reinhard, national politics reporter for The Wall Street Journal. (@bethreinhard)
Michael Crowley, senior foreign affairs correspondent for POLITICO. (@michaelcrowley)
Jack Beatty, On Point news analyst. (@JackBeattyNPR)
From Tom's Reading List
The Wall Street Journal: Donald Trump Looks to Turn Iowa Red as Early Voting Begins — "Republican Donald Trump swept through this city in the western and most conservative swath of Iowa to drum up support for his presidential campaign one day before early voting begins in this pivotal swing state."
POLITICO: Bill Clinton's unfinished business in Israel -- "The future of the peace process is sure to be on Clinton's mind when he attends his late friend's funeral in Israel on Friday. Peres was seen as perhaps his country's most determined advocate for a deal with Palestinians in which Israel would surrender long-occupied territory in exchange for an end to terrorist attacks. But while sources said Clinton, should he return to the White House, might feel compelled to try his hand at the peace process again, it's far from clear whether that would make political sense for Hillary Clinton — or whether it would be more likely to succeed in a Middle East much changed since he left office 15 years ago."
New York Times: Hoboken Train Crash Leaves at Least One Dead and Dozens Injured -- "A commuter train crashed into one of the busiest train stations in the New York area during the morning rush on Thursday, killing at least one person, injuring dozens of others and creating a scene of chaos and destruction, the authorities and witnesses said."
This program aired on September 30, 2016.