Trump's Comments On Women Ignite G.O.P. Panic
Play
This article is more than 6 years old.
Women after the Trump video tape bombshell, and could another candidate step in.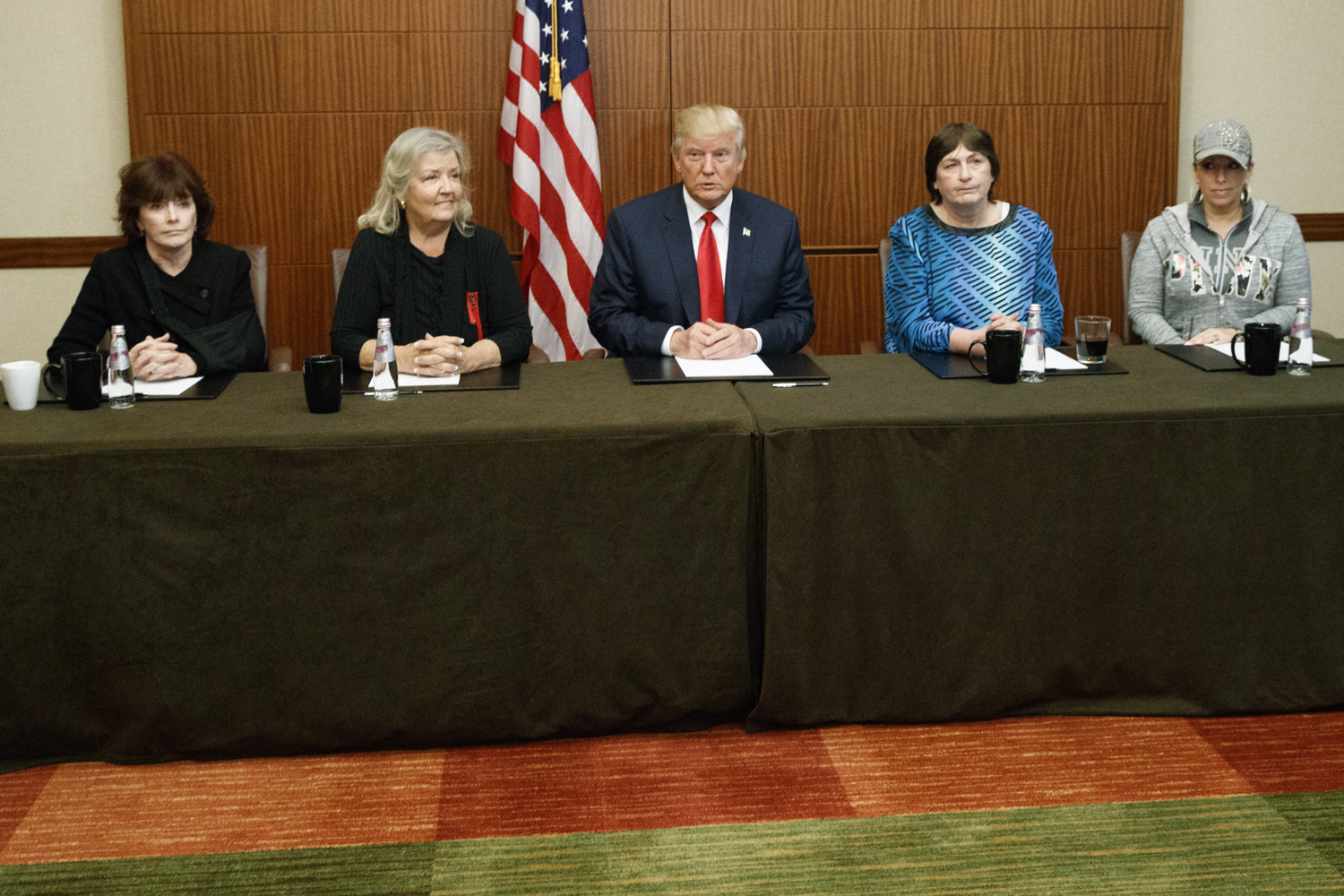 The bombshell tapes out over the weekend of Donald Trump talking women and groping and maybe sexual assault, in very explicit detail, have rocked the political world one month before election day. The video and audio are so vivid, so obscene, they've led a parade of Republicans to disavow Donald Trump. He already had a deep problem with women in polling across the country. What now?  This hour On Point, women and Donald Trump, again, after the weekend bombshells. — Tom Ashbrook
Guests
Marc Fisher, senior editor at the Washington Post. Co-author, with Michael Kranish, of "Trump Revealed." (@mffisher)
Mona Charen, syndicated columnist and political analyst. Senior fellow at the Ethics and Public Policy Institute. (@monacharenEPPC)
Emily Bazelon,  staff writer for the New York Times Magazine and co-host of the Slate Political Gabfest. Fellow at the Yale University Law School. (@emilybazelon)
Matt Viser, deputy Washington bureau chief for the Boston Globe. (@mviser)
From Tom's Reading List
Washington Post: More Trump tapes surface with crude sex remarks -- "Republican presidential nominee Donald Trump, already under siege for vulgar comments about forcing women into sex, also had crude, sexually explicit conversations in a series of radio interviews over the past 23 years, even noting how 'voluptuous' his daughter was."
National Review: Who Trump Is — "I'm not sure why the Earth is opening up under him now and not a hundred other times in the past 16 months, but it's a long, long, overdue reckoning.    It is tragic for the country that this likely means a Clinton victory. But as between a Clinton and Trump presidency, the former is probably less devastating to the things we treasure than the latter."
Boston Globe: What can the GOP do about Trump? — "On July 22, balloons dropped and Republicans cheered in Cleveland. They had formally nominated Donald Trump as their presidential standard-bearer. He had accepted. A marriage was cemented. On Saturday, many Republicans around the country asked: Can we get a divorce?"
This program aired on October 10, 2016.