Eliot Fisk Takes Bach's Cello Suites To His Guitar
Resume
World-renowned classical guitar virtuoso Eliot Fisk joins us in the studio, playing Bach's cello suites on classical guitar.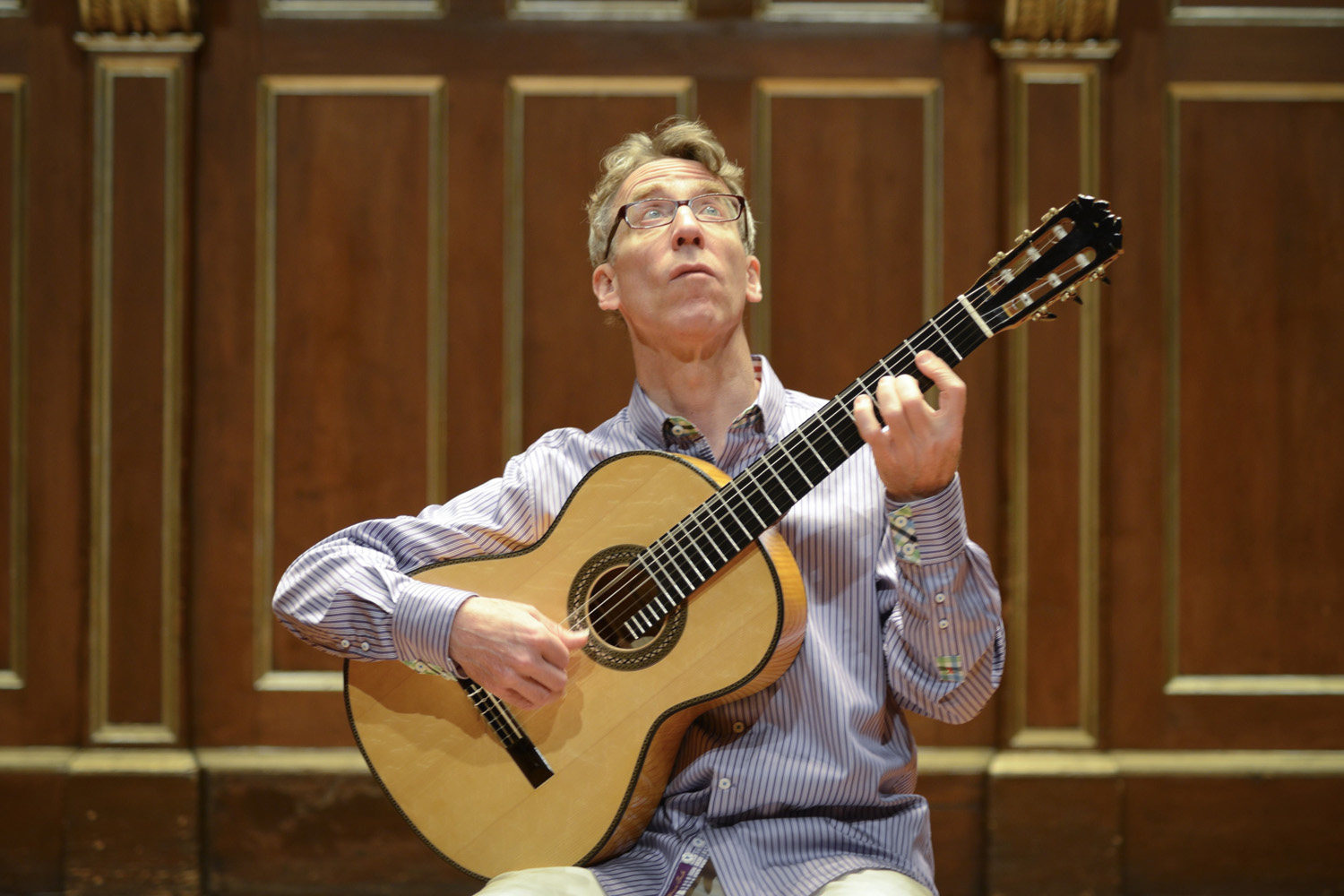 Johann Sebastian Bach wrote six cello suites so beautiful you know them even if you don't know you know them. They're among the greatest of all works of classical music. Meditative, rhapsodic, rocking, earthy. That single bow and a single line, drawing all the depth and grandeur of the world. Now classical guitarist Eliot Fisk has brought the greatest cello work to his guitar. He's with us. Up next, On Point: Eliot Fisk plays Bach's great cello suites. — Tom Ashbrook
Guest
Eliot Fisk, world-renowned classical guitarist and musician. (@eliotfisk)
From Tom's Reading List
Washington Post: Guitarist Eliot Fisk impresses with his uncanny ability to convey Bach's polyphony -- "Transferring music conceived for a bowed stringed instrument to one with plucked strings poses considerable challenges. But, as Fisk pointed out in his remarks, the only surviving manuscript source of these pieces in Bach's hand is a transcription he made of the Suite No. 5 for baroque lute, another plucked instrument. That provided Fisk with a starting point and model."
Arts Atl: Guitarists Eliot Fisk and Ángel Romero join for an informal, intimate Spivey recital -- "Fisk, who was the last direct student of the legendary Andrés Segovia, performed his solo set. All of his selections, save one — a traditional 'Merengue Venezolano' arranged by Alirio Diaz — were his own transcriptions of music by Rodrigo, Manuel Ponce and Isaac Albéniz. The redolent Spanish flavor of their compositions permeated the air."
Huffington Post: Boston GuitarFest Past, Present and Future — "The first Boston GuitarFest team consisted of my wife, Zaira Meneses, now also an NEC faculty member, one DMA student, Steven Lin, and myself. Even in that inaugural year, organized on the fly over 10 feverish days in October of 2005, we managed to bring together an astonishing array of talent from across the spectrum of the musical world: the great musicologist Dr. Christoph Wolff spoke on 'Bach and the lute'; Professor Peter Row performed on sitar and taught a workshop on Indian music; Professor John Gibbons played Bach lute works on the harpsichord and coached guitarists on Bach and Scarlatti; and I myself was privileged to perform with NEC's Borromeo String Quartet."
Live And Recorded Tracks By Eliot Fisk
This program aired on December 9, 2016.