Adjusting To A New White House Press Corps
Resume
The new White House press corps. Along with the regulars, there are more right wing reporters. We'll look at why it matters.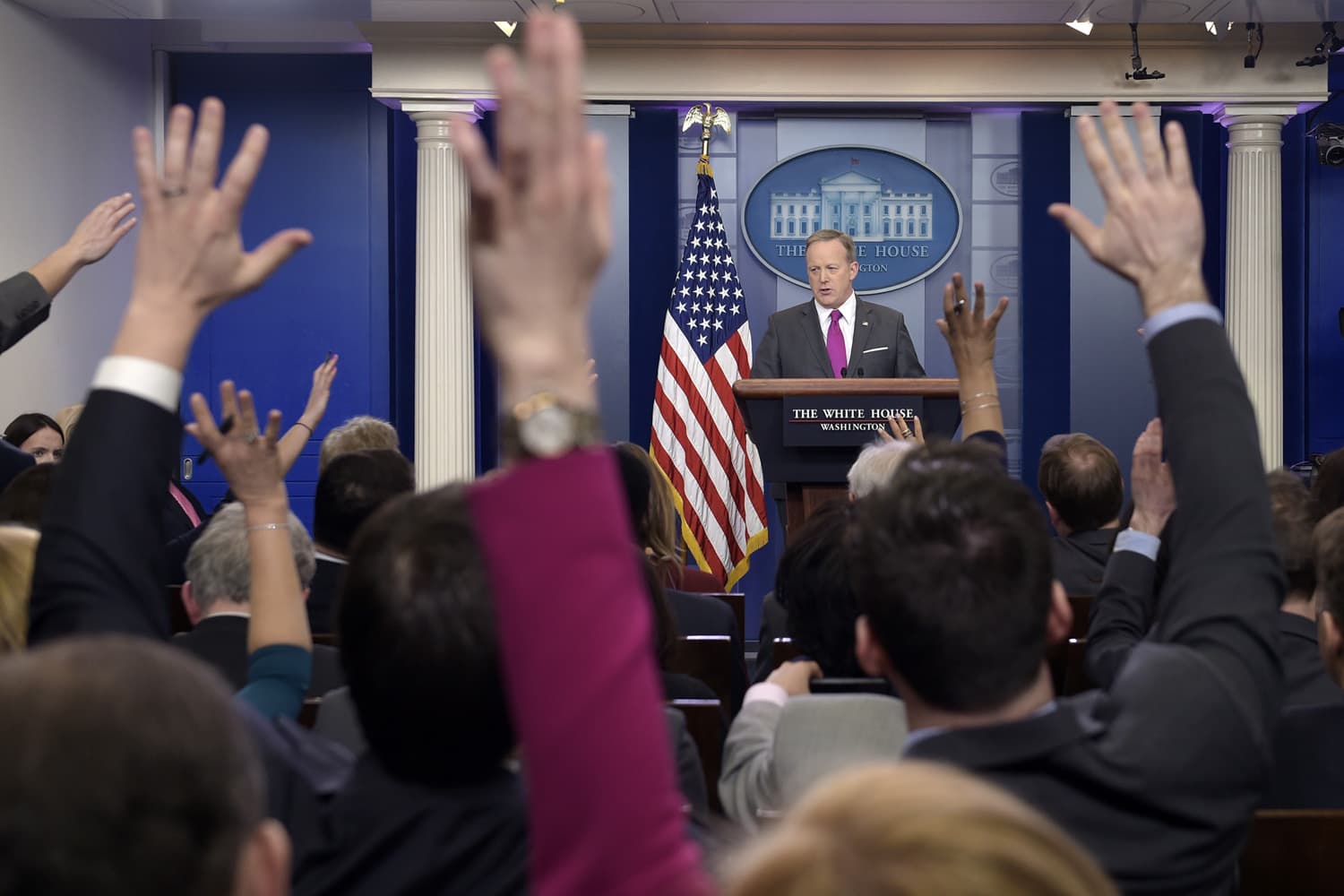 In case you hadn't noticed, White House press briefings these days are not what they used to be. White House spokesman Sean Spicer is ready to mix it up hard with the press corps there. It gets fiery. And the press corps itself is changing. Once-fringe conservative or right-wing outlets are now regularly called on for questions. It changes the tone, the focus. It changes what we learn. What we know. This hour On Point: The White House press corps in the time of Trump. — Tom Ashbrook
Guests
Andrew Marantz, writer for the New Yorker. (@andrewmarantz)
Jeff Mason, White House correspondent for Reuters. President of the White House Correspondents' Association. (@jeffmason1)
From Tom's Reading List
New Yorker: Is Trump Trolling the White House Press Corps? -- "A longtime Washington reporter from a mainstream network echoed that sentiment. 'I don't mind them bringing in conservative voices that they feel have been underrepresented,' he said. 'Personally, I don't even mind them fucking with the front-row guys, the Jonathan Karls of the world. Those guys are a smug little cartel, and it's fun to watch them squirm, at least for a little while. But at what point does it start to delegitimize the whole idea of what happens in that room? When does it cross the line into pure trolling?'
POLITICO: The disappearing Sean Spicer -- "There is a concern in the White House that a combative briefing can take away from the administration's attempt at orchestrated news, and the president prefers controlling the message himself, one White House official said."
Washington Post: The White House's Politico slime job, from start to finish — "Here we have a White House official threatening to go to extreme lengths in an apparent effort to quash a pending story, or at least a component of it. That's hardly a surprise given what that story itself documented about this man's attempts to stifle leaks."
This program aired on March 13, 2017.