Week In The News: Health Care Vote, Comey's Nausea, Clinton's Blame
47:03
Play
This article is more than 4 years old.
Another attempt to replace Obamacare.  James Comey in the hot seat. Hillary Clinton on why she lost. Our weekly news round table goes behind the headlines.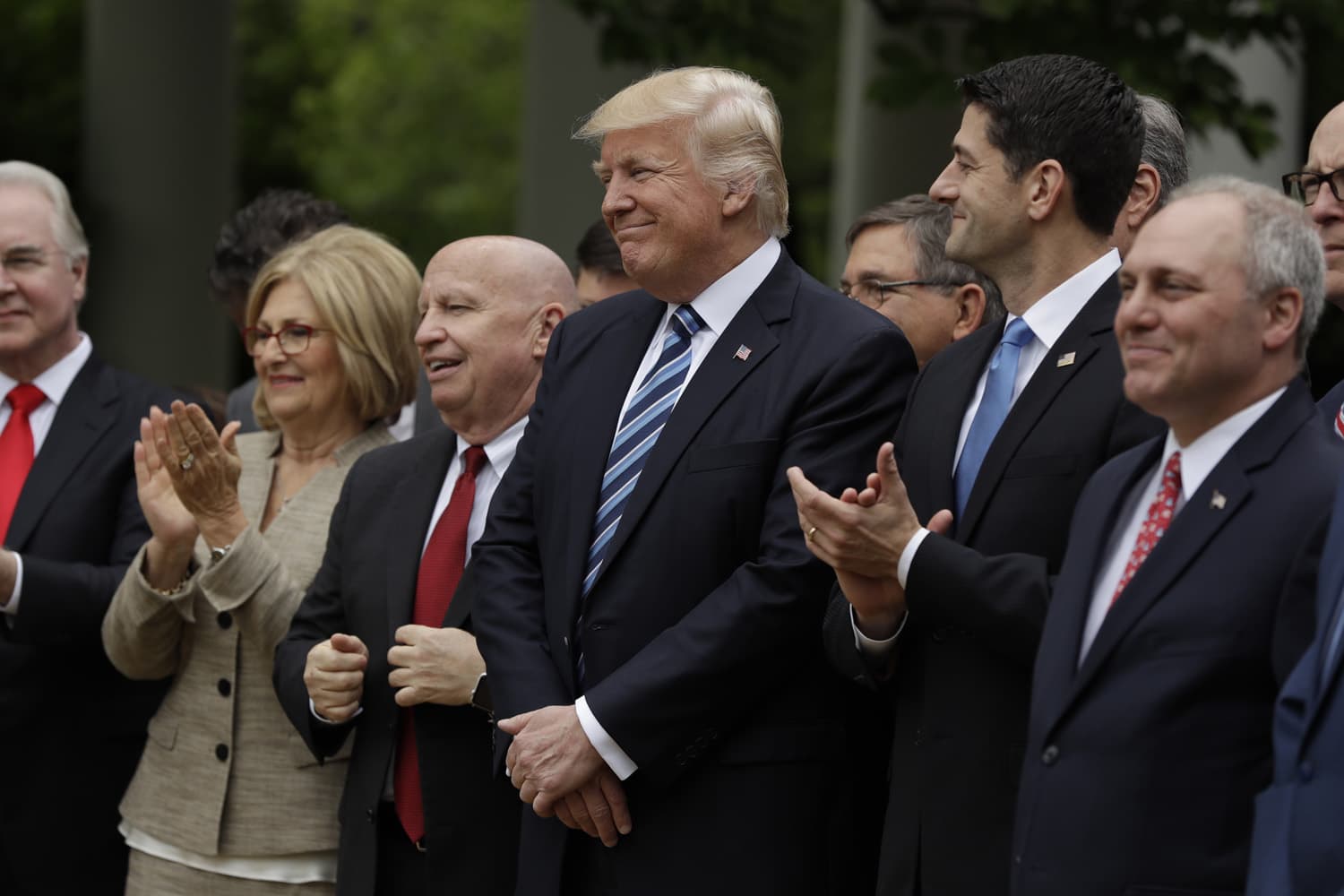 Now it's Trumpcare, at least for the moment this week. The House, in a straight party-line vote, re-scrambling American healthcare. New winners and losers. Now it's all on the Senate.  Twenty-sixteen was back. FBI chief James Comey saying he felt sick intervening but he'd do it again. Hillary Clinton saying she'd have won if Comey and the Russians had stayed out. Andrew Jackson's back. North Korea's got a "smart cookie." Mississippi flooding.This hour On Point, our weekly news roundtable goes behind the headlines. — Tom Ashbrook
Guests
Lisa Desjardins, correspondent for the PBS NewsHour. (@LisaDNews)
Yochi Dreazen, deputy managing editor and foreign editor for Vox. (@yochidreazen)
Jack Beatty, On Point news analyst. (@JackBeattyNPR)
From Tom's Reading List
PBS NewsHour: What's on Steve Bannon's policy white board? Now we know -- "It appears to be the policy map for the Trump White House, or at least for chief strategist Steve Bannon. And now we can see it thanks to Twitter. Bannon's fabled white board, filled with a list of policy goals, appeared to show up in the background of a photo posted Tuesday evening by Rabbi Shmuley Boteach. Boteach is posing with Bannon in front of the white board in the picture, which was presumably taken in Bannon's West Wing office."
Vox: Trump's love for brutal leaders like the Philippines' Rodrigo Duterte, explained — "Philippines President Rodrigo Duterte launched a bloody war on drugs that has killed more than 7,000 people, brags about personally executing criminals, and has compared himself to Hitler. President Donald Trump just praised Duterte for 'fighting very hard to rid [his] country of drugs' and invited him to visit the White House."
POLITICO: House approves Obamacare repeal bill -- "The House passed legislation Thursday to repeal and replace Obamacare, as Republicans came closer than ever to realizing their seven-year pledge to overturn the Democratic law and remake health insurance for millions of Americans. The plan, the American Health Care Act, was approved mostly along partisan lines, 217-213, with just one vote to spare. No Democrats backed the bill, and a slew of Republicans opposed it as well."
Week In the News: Health Care Vote, Comey's Nausea, Clinton's Blame
This program aired on May 5, 2017.