Sentencing Reform – And Reversal – In The Trump DOJ
46:54
Play
This article is more than 3 years old.
With guest host Jane Clayson.
Attorney General Jeff Sessions orders tougher sentences for federal crimes. We'll look at what they would look like.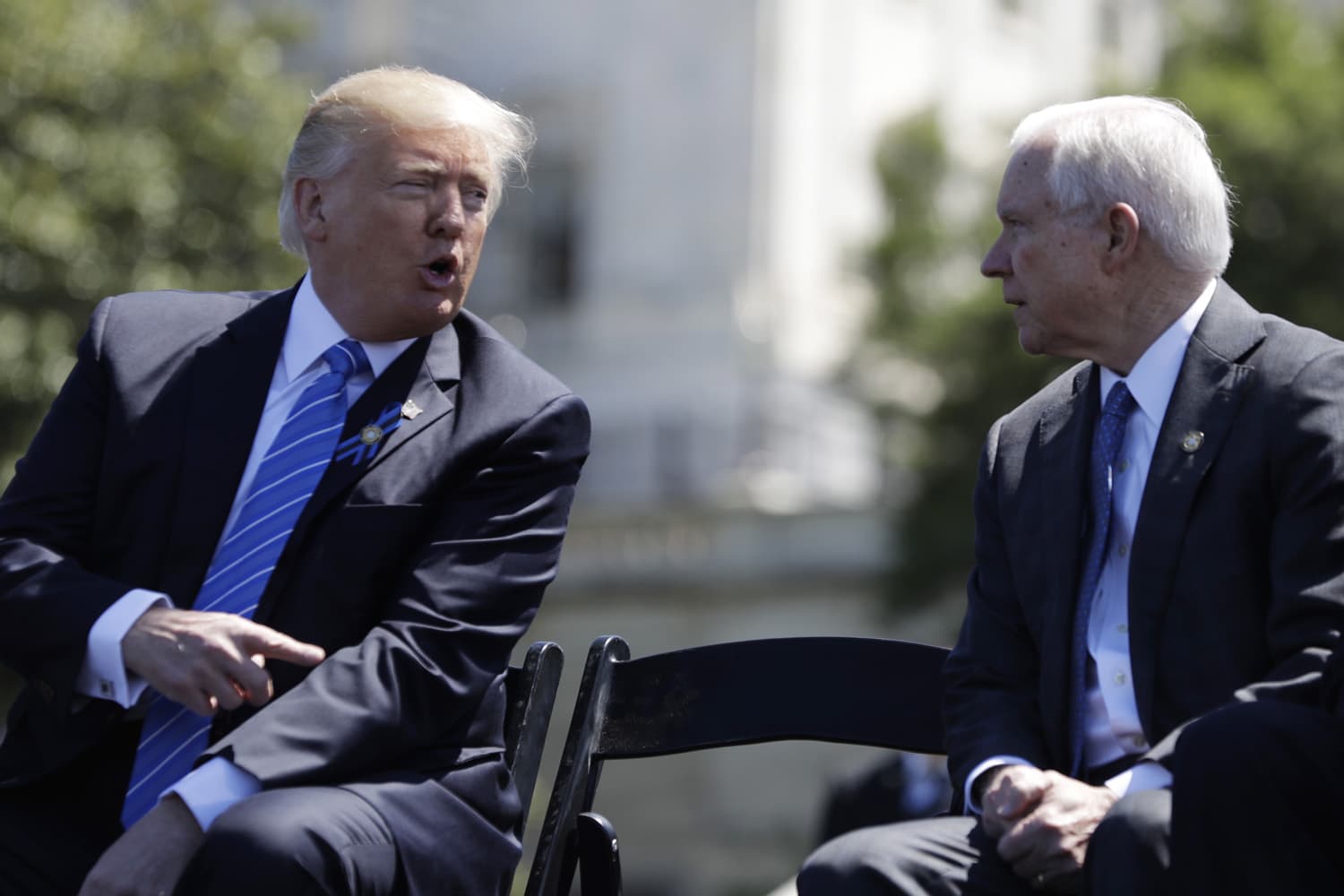 The Washington Post drops a bombshell. Their report says President Donald Trump shared highly classified information with Russian officials.Information so sensitive that is was withheld even from U.S. allies. National Security Adviser H.R. McMaster says the report is false. Plus, we'll look at U.S. Attorney General Jeff Sessions' message to federal prosecutors. This hour On Point, Trump, classified information and Jeff Sessions lock 'em up.
Guests
Matt Zapotosky, reporter covering the Justice Department for the Washington Post's national security team. (@mattzap)
Bill Otis, adjunct professor of law at the Georgetown University Law Center. Former Assistant U.S. Attorney for the Eastern District of Virginia.
Todd Cox, director of policy at the NAACP's Legal Defense and Educational Fund. Former director of criminal justice policy at the Center for American Progress. (@toddacox)
From The Reading List
Washington Post: Sessions issues sweeping new criminal charging policy — "Attorney General Jeff Sessions said Friday that he has directed his federal prosecutors to pursue the most severe penalties possible, including mandatory minimum sentences, in his first step toward a return to the war on drugs of the 1980s and 1990s that resulted in long sentences for many minority defendants and packed U.S. prisons."
Vox: The Trump administration just took its first big step to escalate the war on drugs — "Sessions's latest move gives some of the most powerful actors in the criminal justice field even more power to impose long drug sentences. Prosecutors have the discretion to decide what someone gets charged with — or if a defendant is charged at all. Some prosecutors, such as former Brooklyn District Attorney Kenneth Thompson, have used this power to refuse to charge certain low-level drug offenders. Sessions is now telling federal prosecutors that they should no longer do that, and that they should, as a general matter, charge defendants with the most stringent penalties possible."
The Atlantic: Jeff Sessions Reinvigorates the Drug War -- "Democratic and Republican officials alike took up the banner of criminal-justice reform over the past five years, hoping to reduce the nation's unprecedented prison population and scale back the harshest punishments of the tough-on-crime era. Now Attorney General Jeff Sessions has taken a major step toward rolling back their efforts."
Caller Perspectives On Prison Sentences
Jim in Sarasota, FL told us he considers himself a 'career criminal.' He said he's served state and federal prison sentences, with his most recent sentence lasting from 1991 to 2000. But he's been a 'model citizen,' as he describes himself, ever since. Jim told us he sees some value in mandatory minimums that keep offenders locked up for longer:
"I think once they've federalized a lot of things, it's just enforcing the law," Jim said. "So you can quibble with the mandatory minimums in certain instances, but really like I said, as someone that committed a lot of crimes, you just get away with a lot, and then especially in state courts, you just plea bargain, you do this and do that and you're right back out to do it again."
Elaine in Des Moines, IA told us she grew up with two parents who went to prison for minor drug offenses. She said hearing about Sessions' policy memo is like a "nightmare revisited." Elaine said she disagrees with long, mandatory sentences as a way to fight drug crimes.
"It tears families apart," Elaine said. "When you parents come back out of prison, you're a different person, you don't know your parents anymore. They can't get gainful employment. It's just, I think people need to really think about how this impacts an entire family, other than just putting somebody away and being tough on drugs, because it doesn't work."
This program aired on May 16, 2017.