What's Next For The U.S. And North Korea
Resume
President Trump threatens North Korea with "fire and fury." Is he taking the country to war? And what would that look like?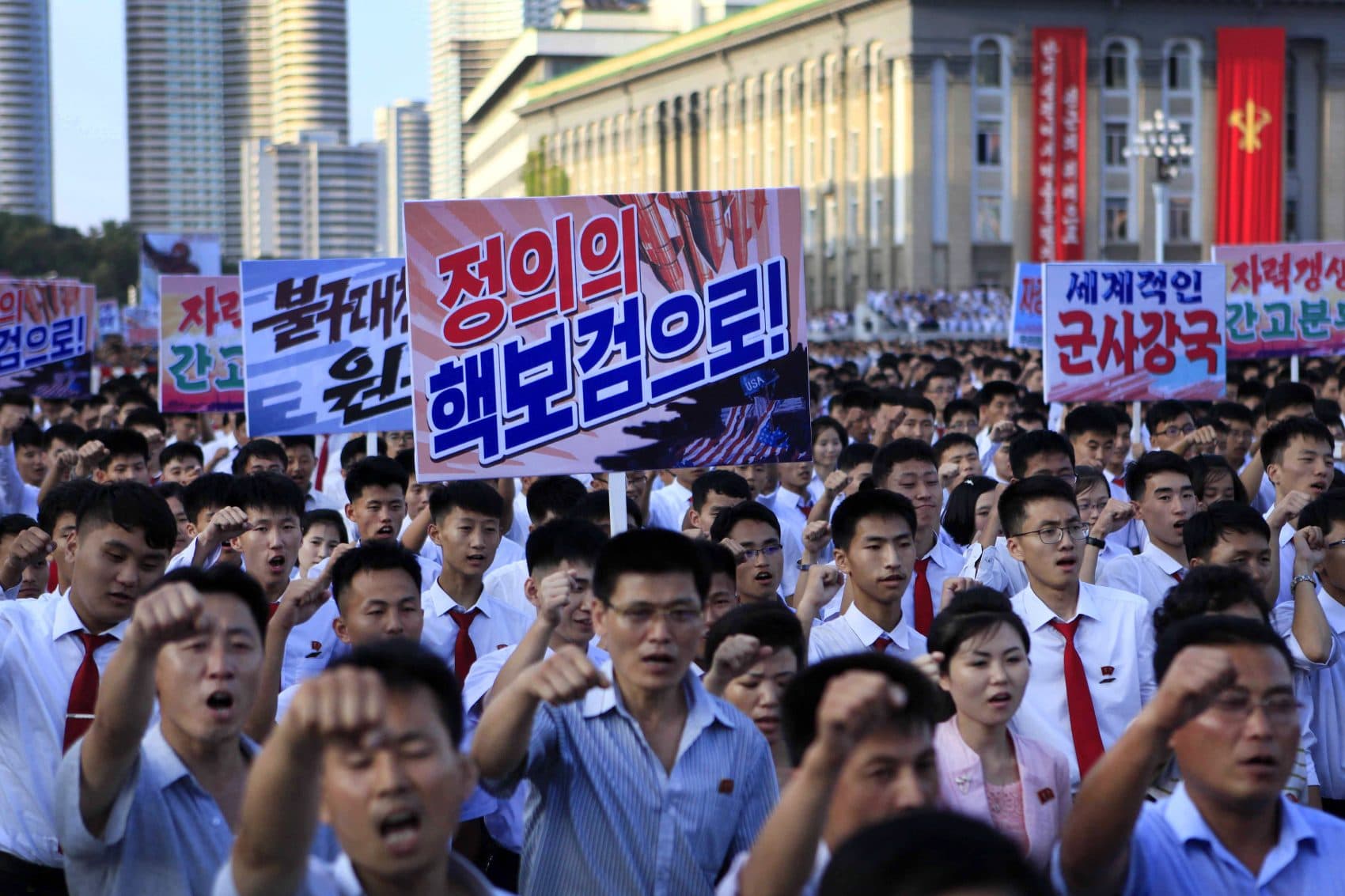 We're not used to a president of the United States talking like the leader of North Korea. This week, one did. Asked about advancing North Korean nuclear capacity and threats, the American president promised "fire and fury like the world has never seen" if Pyongyang makes the wrong move. That sounded like a hot threat of nuclear war. What would take us there? Who's actually minding the store at the Pentagon? At the White House? This hour On Point: the threat of war, North Korea, and the Trump administration. -- Tom Ashbrook
Guests
Nancy Youssef, senior national security correspondent for BuzzFeed News. (@nancyayoussef)
Jon Wolfsthal, nuclear policy expert at Harvard University's Belfer Center and Carnegie Endowment for International Peace. Former special assistant to the president for national security affairs and senior director at the National Security Council in the Obama administration. (@JBWolfsthal)
Mark Hertling, retired lieutenant general of the U.S. Army, who conducted several exercises in South Korea, rehearsing rapid deployment in an armed conflict with North Korea. (@MarkHertling)
Keir Lieber, professor of security studies at the Edmund A. Walsh School of Foreign Service at Georgetown University.
Brian Myers, analyst of North Korean ideology and propaganda. Professor at Dongseo University in Busan, South Korea.
From Tom's Reading List
New York Times: Trump's 'Fire and Fury' Threat Raises Alarm in Asia — "President Trump's threat to unleash "fire and fury" against North Korea sent a shudder through Asia on Wednesday, raising alarm among allies and adversaries and, to some observers, making the possibility of military conflict over the North's nuclear program seem more real. With North Korea responding that it would, if attacked, strike American military forces in Guam, analysts warned that the escalating statements increased the likelihood of war — perhaps one based on miscalculation, should one side's fiery rhetoric be misread by the other."
BuzzFeed News: The Defense Secretary Says North Korea's Actions Could Lead To The "Destruction Of Its People" — "Secretary of Defense Jim Mattis on Wednesday followed President Trump's promise of 'fire and fury' against North Korea with strong language of his own, saying the isolated regime needs to 'cease any consideration of actions that would lead to the end of its regime and the destruction of its people.' Mattis is the latest administration official to talk tough against Kim Jong Un after it was reported Tuesday that intelligence officials had concluded the North had developed a miniature nuclear warhead that can be placed atop a long-range missile."
The Atlantic: The President vs. His Own Secretary of State — "It's not the first time Tillerson has tried to serve as Trump's interpreter. The secretary of state has massaged the president's message on nearly every single foreign-policy challenge faced by Trump's young administration. When Trump described NATO, the bedrock of Western security after World War II, as obsolete, and suggested that U.S. military support for its partners in alliance was conditional upon their military spending, Tillerson tried to assuage the concerns this raised among NATO partners—and reportedly received an ovation from them."
This program aired on August 10, 2017.