Week In The News: The President On — And Off — Script, Afghanistan Plan, Border Wall Funding
46:27
Play
This article is more than 3 years old.
With guest host Bob Oakes. 
Trump in Phoenix. More troops headed to Afghanistan. Threat of government shutdown over border wall funding. Our weekly news roundtable goes behind the headlines.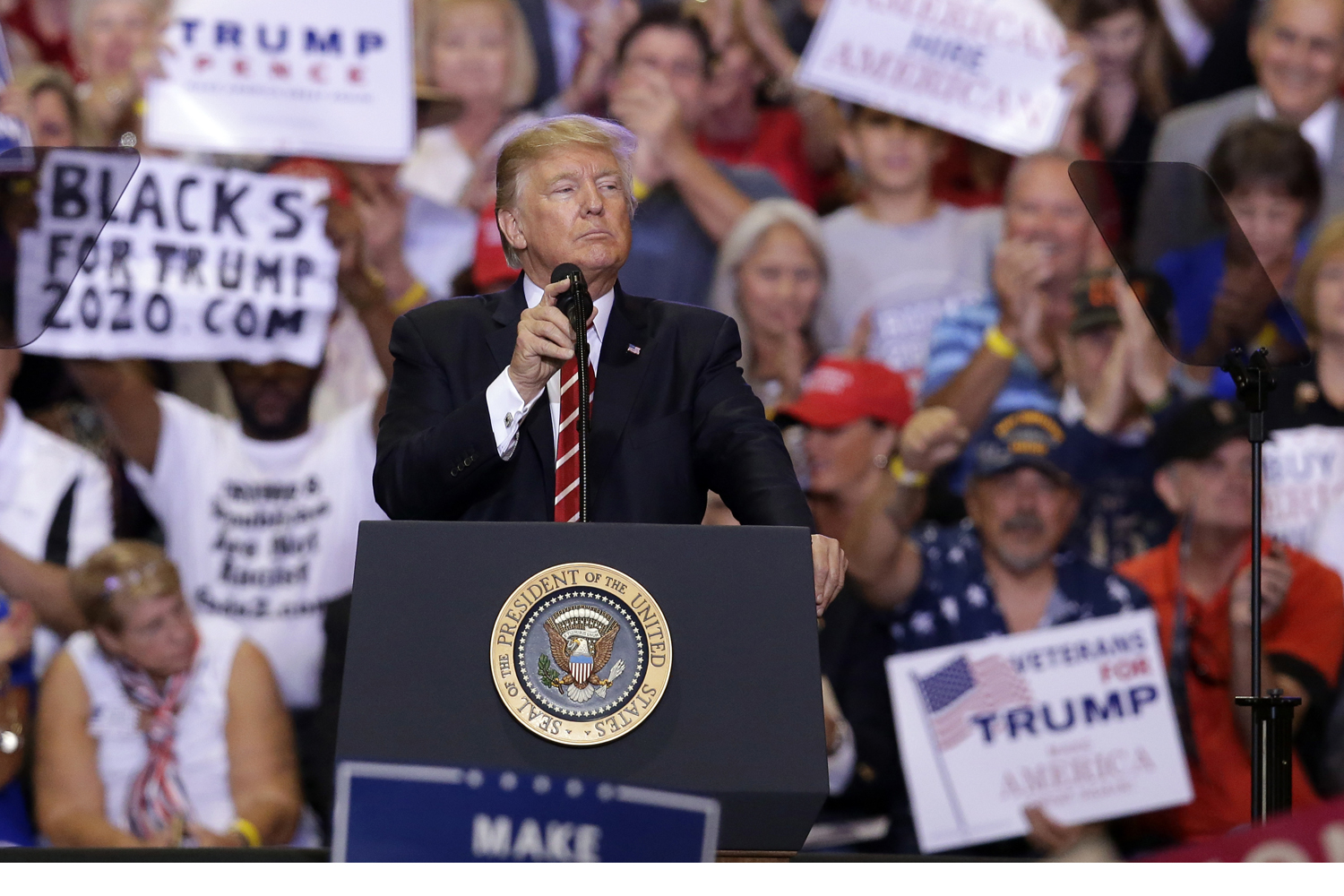 From somber on Afghanistan to fiery in Phoenix, President Trump has taken on a range of tones in this week's speeches. A new strategy for Afghanistan that will send more troops abroad. A border wall at all costs – including shutting down the government. New missile plans out of North Korea, China demands the US withdraw sanctions. And a solar eclipse wows the nation. This hour, On Point: Our weekly news roundtable goes behind the headlines. -- Bob Oakes.
Guests
Jennifer Epstein, White House reporter for Bloomberg News. (@jeneps)
Jonathan Landay, national security correspondent for Reuters. (@JonathanLanday)
Jack Beatty, On Point News Analyst. (@JackBeattyNPR)
From the Reading List
Bloomberg: Trump Hits Media, Angrily Defends Charlottesville Response — "Trump spent more than 20 minutes of a 75-minute speech delivering a selective account of his handling of the violence in Charlottesville, where he overlooked his initial statement blaming "many sides," as well his subsequent remarks that there were good people marching alongside the white supremacists."
Reuters: Despite Expected U.S. Troop Hike, No End In Sight To Afghan War — "His effective embrace of an open-ended U.S. deployment contrasts with the expectations of his political base that he would extract the United States from a war estimated to have cost more than $700 billion and claimed the lives of more than 2,400 U.S. service members. But Trump, who has railed against the war for years, finds himself boxed in."
NBC News: Trump Team Escalates Threats to Shut Down Government — "The Trump administration official told NBC News that such a showdown with Congress, over funding for construction of the border wall, could come in September when lawmakers return from their August break or after the passage of a short-term spending bill in December. A Sept. 30 deadline is approaching to continue funding the government. If Congress failed to pass a funding resolution, the government would shut down."
This program aired on August 25, 2017.