As Harvey Spreads East, The Excruciating Choice Of Whether To Evacuate
Resume
The evacuation call. Should Houston have made it before the big storm? We'll look at the tough call to evacuate a city.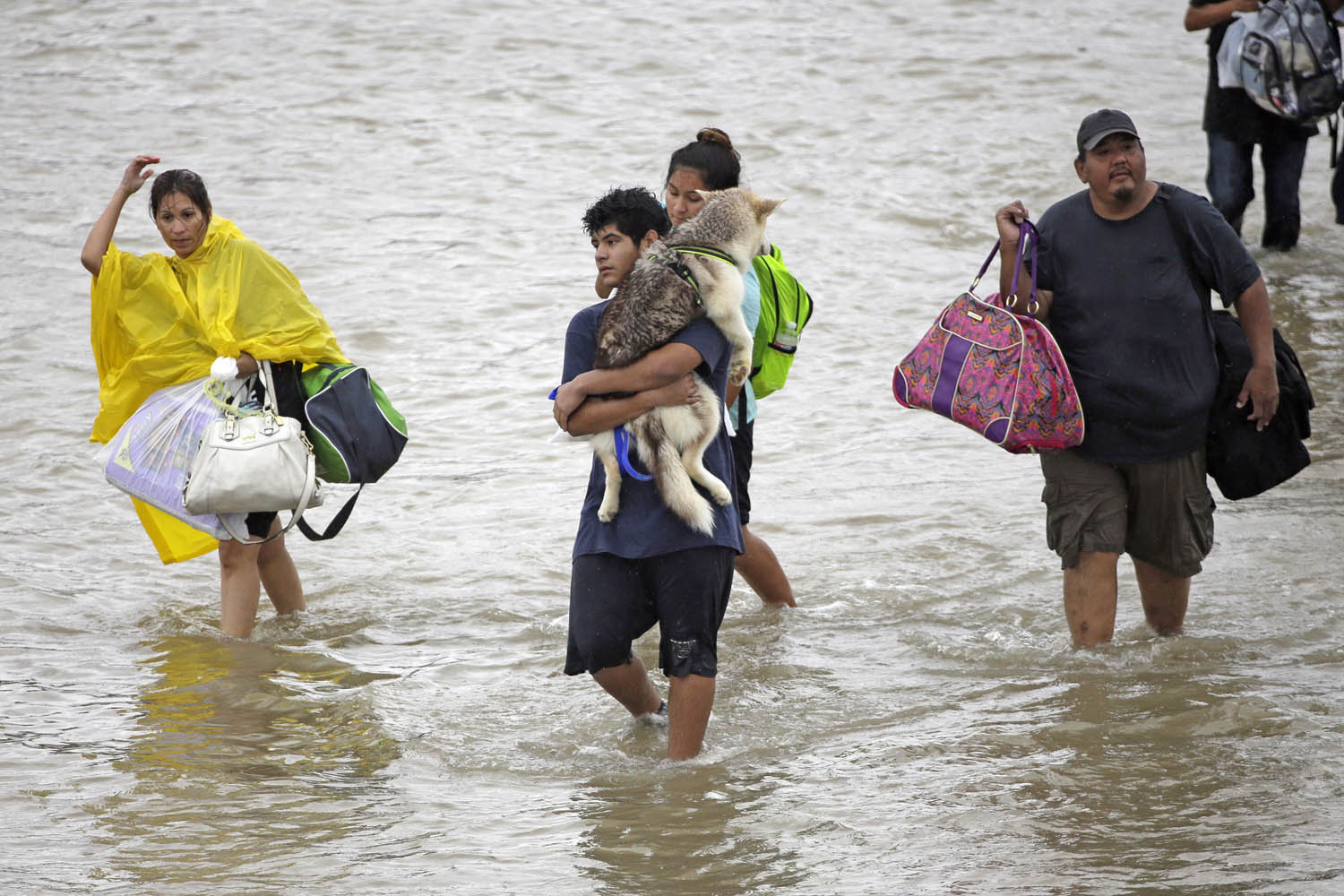 Hurricane Harvey is now the all-time record-holder for rainfall in a single storm in the continental US.  Houston's third "500-year storm" in three years.  Thirty to forty thousand homes estimated destroyed just around Houston.  Should the city have been evacuated? Before the deluge?  It's a tough call. But more cities will surely have to make it in the climate-changed years ahead. This hour, On Point:  When the big one comes, how to decide whether to stay or go.  To evacuate or hunker down. -- Tom Ashbrook.
Guests
Nathan Rott, Reporter for NPR's National Desk. (@NathanRott)
Jessica Rosgaard, Supervising Editor and Producer for flood recovery at WWNO in New Orleans. @jessicarosgaard)
Aarian Marshall, Transportation Writer at WIRED. (@AarianMarshall)
Brant Mitchell, Director of the Stephenson Disaster Management Institute at Louisiana State University.
From The Reading List
WIRED: The Agony Of Deciding To Evacuate A City — "Asking a metro area of 6.7 million people (the fifth largest in the country) to flee for higher ground is not a decision anyone makes lightly. And it's important to note that, even now, there's no consensus on whether local leaders made the right decision. Even with the benefit of hindsight, experts will debate the question for years. They may never agree."
ABC News: Louisiana Begins Evacuations For Harvey On 12th Anniversary Of Hurricane Katrina — "The catastrophic flooding from Hurricane Harvey is not limited to Texas, it's also affecting parts of southwest Louisiana where preparations are underway to evacuate some areas. As the heavy band of rain stretches over southwest Louisiana, residents in the Lake Charles region are once again bracing for impact like they did for Hurricane Katrina 12 years ago."
The New York Times: Trump, in Texas, Calls Hurricane Harvey Recovery Response Effort a 'Real Team' — "As he exited the firehouse, Mr. Trump noticed a crowd of about 1,000 people, some of them cheering. He grabbed a lone star Texas flag and shouted back to the crowd, seeming to forget, for the moment, that he was at the scene of a disaster and not one of his rallies.'What a crowd!' he said. 'What a turnout!'"
This program aired on August 30, 2017.